I received some Cutco knives for review and I am impressed.  If you don't already own some Cutco knives you likely know someone who does.  I was introduced to Cutco for the first time about 5 years ago when we were visiting my brother-in-law and I saw his collection.  He absolutely raved about them but I didn't have an opportunity to try them.  Still, the name stuck in my mind and I've been curious about them ever since.  A few weeks ago I came across a Cutco demo in a local store and was able to handle and try out a few of the knives.  I immediately fell in love.  I've since picked up three of their knives and have been using them every day since.
I really love these knives for several reasons and the top two are performance and customer service.
Aside from their excellent construction, ease of handling and superior performance (read more about that here), Cutco has absolutely phenomenal customer service!
Proudly made in the U.S.A. with a commitment to high quality products and exceptional service, Cutco's knives come with a forever guarantee.  That means a multi-lifetime warranty.  And not just for your lifetime, but the lifetime of your children and grandchildren and great-grandchildren, or your friends – to whomever you choose to pass on your knives.  Cutco's been around since 1949 and three generations of knife owners have already been enjoying that guarantee.
If your knives ever break, Cutco will repair or replace them.  If you decide for whatever reason you're not happy with them, they'll either correct the problem or replace them.  If your knives need sharpening, Cutco provides unlimited free sharpening.  You can either send the knives in or request in-home service.  No receipt or registration is required.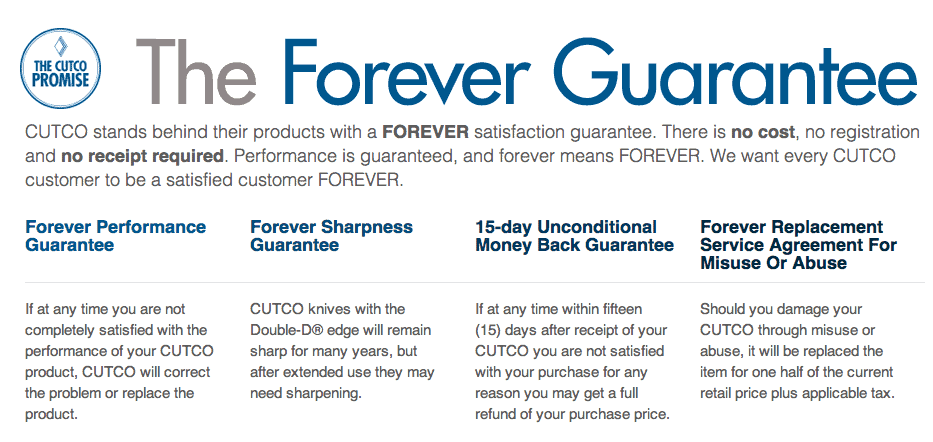 You could definitely say I give my knives a run for their money.  I don't misuse or abuse them, but I put them to work.  I use them multiple times every day, day after day.  And when you spend that kind of money on a knife I'm sure you can imagine the peace of mind that comes from a Forever Guarantee like that of Cutco's.  Aside from their knives' excellent performance, Cutco's superior customer service alone is enough to win me over.
Another convenient plus:  While most other knives of their class require high maintenance, sharpening after each use and hand-washing, Cutco's knives are dishwasher friendly.  Their knives are constructed to deliver top performance while making your life easier.
For the past few weeks I've been using Cutco's Kitchen Classics Knife Set on a daily basis (chef knife, trimmer and pairing knife).  I still look forward to handling them every opportunity I get.
I had my mom come over to try out my new knives and the moment she started slicing she exclaimed, "oh, wow!"
Oh, wow is right.  I LOVE my Cutco knives.
So let's talk performance.  The Trimmer is absolutely amazing for things like tomatoes and oranges (segmenting oranges is a breeze), the pairing knife is razor sharp and accurate, and the chef knife cuts through things like butter.  They're all incredible.
I've put together a brief 3-minute video demo of these 3 Cutco knives in action.
That's right, Cutco is giving away this awesome set!  The Kitchen Classics set contains all of the "essential" knives you need on an everyday basis, the ones that will get the most use.
We're using Rafflecopter for this giveaway which will generate a randomly selected winner at the end of the giveaway period.  For your blog comment to count towards an entry, be sure to check it off in the giveaway box below along with any other bonus tasks you complete.
Cutco gave me a knife set for review without any obligation to write a positive review.  As always, all opinions are entirely my own.