Slow Cooker Split Pea and Ham Soup with Homemade Croutons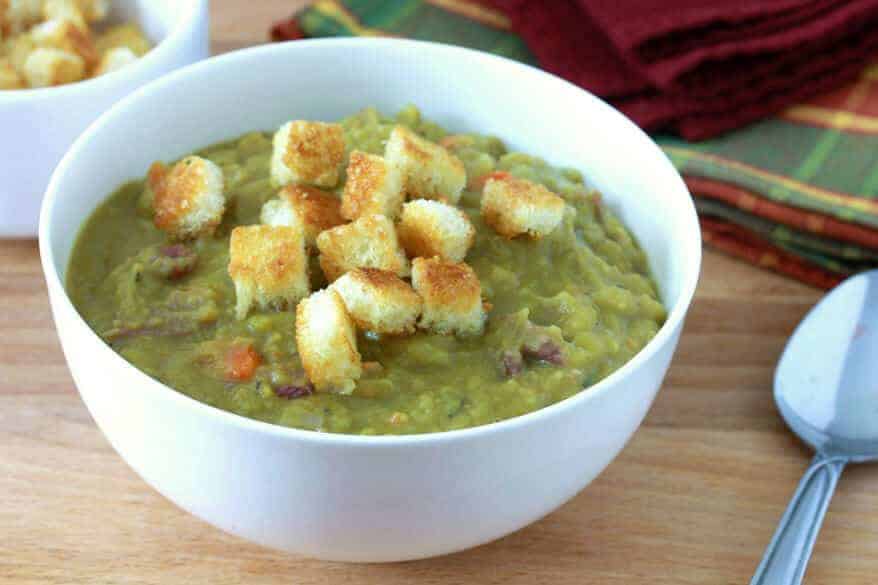 :
The Daring Gourmet, www.daringgourmet.com
1 lb dried green slit peas, rinsed and drained
1 large smoked ham hock
2 medium carrots, diced
2 celery stalks, diced
1 small yellow onion, diced
2 cloves garlic, minced
1 large bay leaf
¼ teaspoon dried thyme
¼ teaspoon dried parsley
¼ teaspoon dried marjoram
1 teaspoon salt
¼ teaspoon freshly ground black pepper
6 cups chicken stock
For the Croutons:
4 slices sandwich bread, crusts removed and cut into ¼ inch cubes
2 tablespoons butter
Place all the ingredients in the slow cooker in the order listed. Cook on HIGH for 4-5 hours or LOW for 8-10 hours. Remove the meat from the ham hock, shred it and return it to the slow cooker.
For the Croutons: Heat the butter in a skillet over medium-high heat. Add the bread cubes and cook, tossing occasionally, until browned on all sides.
Serve the soup with the croutons.
Recipe by
The Daring Gourmet
at https://www.daringgourmet.com/slow-cooker-split-pea-ham-soup-homemade-croutons/