Moroccan Chicken with Preserved Lemon and Olives (Djej Makalli)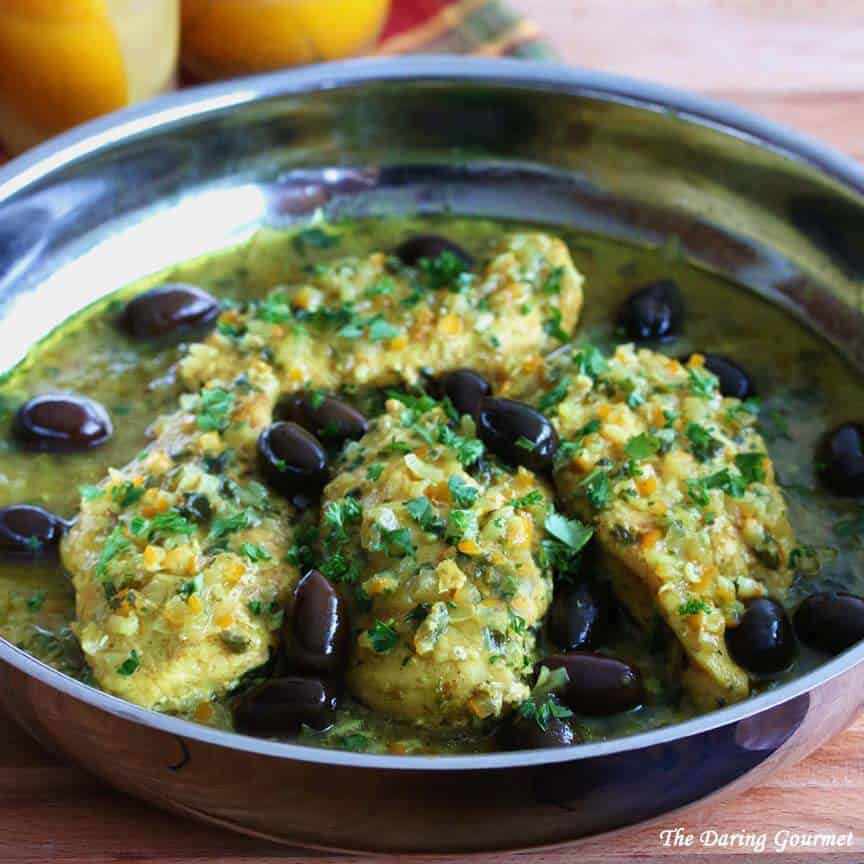 :
The Daring Gourmet, www.daringgourmet.com
2 large boneless, skinless chicken breasts cut in half lengthwise to make 4 fillets (you can use 4 chicken breasts if you prefer a larger serving, you can also use bone-in chicken pieces if you prefer)
For the marinade:
2 tablespoons extra virgin olive oil
3 cloves garlic, crushed and finely minced
2 teaspoons fresh minced ginger
¾ teaspoon ground cumin
½ teaspoon ground turmeric
½ teaspoon salt
½ teaspoon freshly ground black pepper
2 tablespoons extra virgin olive oil
¾ cup chicken broth
1 medium yellow onion, finely chopped
1 preserved lemon, pulp discarded, peels thoroughly rinsed and finely chopped
½ cup pitted or whole Kalamata olives, rinsed
2 tablespoons chopped fresh parsley
2 tablespoons chopped fresh cilantro
2 teaspoons freshly squeezed lemon juice
Salt and pepper to taste
To make the marinade, combine the olive oil, garlic, ginger, cumin, turmeric, salt and pepper. Place the chicken in a zip-lock bag and pour the marinade over. Swish around to ensure the chicken is thoroughly coated. Let marinate for at least 4 hours or overnight for maximum flavor.
Heat 2 tablespoons olive oil in a skillet or Dutch oven over medium high heat. Cook the onions until soft and translucent, 5-7 minutes. Add the chicken and cook just until it turns white, about 2 minutes on each side. Add the broth and any remaining marinade from the zip-lock bag. Bring it to a boil. Reduce the heat to low, cover and simmer for 20 minutes, turning the chicken over once after 10 minutes.
Add the preserved lemon, parsley, cilantro and olives, stir to incorporate into the sauce, cover and simmer for another 15 minutes. Stir in the lemon juice and add salt to taste. Serve immediately with a leafy green salad, couscous or bread.
Recipe by
The Daring Gourmet
at https://www.daringgourmet.com/moroccan-chicken-preserved-lemon-olives-djej-makalli/