Domada (Gambian Peanut Stew)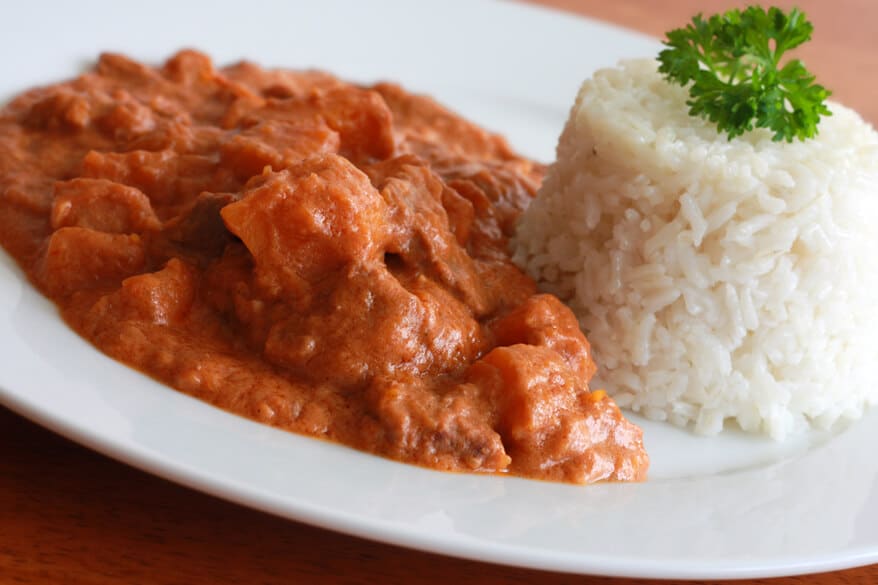 :
The Daring Gourmet, www.daringgourmet.com
1 lb beef steak or 1 lb chicken breast, cut into ½ inch chunks (or use bone-in chicken pieces and simmer them in the sauce; once cooked leave the pieces whole or remove the meat from the bones and add it back to the stew.)
1 large onion, diced
2 tablespoons olive oil
3 cloves garlic, minced
3 Roma tomatoes, diced
½ can (3 oz) tomato paste
¾ cup natural, unsweetened peanut butter
4 Maggi or Knorr tomato bouillon cubes
3 cups water
Scotch bonnet chilies, diced, according to heat preference
4 cups pumpkin or sweet potato, diced
Salt and pepper to taste
Heat the oil in large Dutch oven. Saute the onions until golden. Add the beef and garlic and continue to sauté until the beef is no longer pink. Add the tomatoes and cook for 3 minutes. Add the tomato paste, chilies, peanut butter and stir to combine. Add the water and bouillon cubes. Bring to a boil, reduce heat, cover, and simmer for 15 minutes, stirring occasionally. Add squash, cover, and continue to cook for 35-40 minutes or until the pumpkin is tender, stirring occasionally. Season with salt and pepper.
Serve hot with rice. This stew tastes even better the next day.
Recipe by
The Daring Gourmet
at https://www.daringgourmet.com/domoda-gambian-peanut-stew/