Spiced Chicken Kabobs with Tahini Yogurt Sauce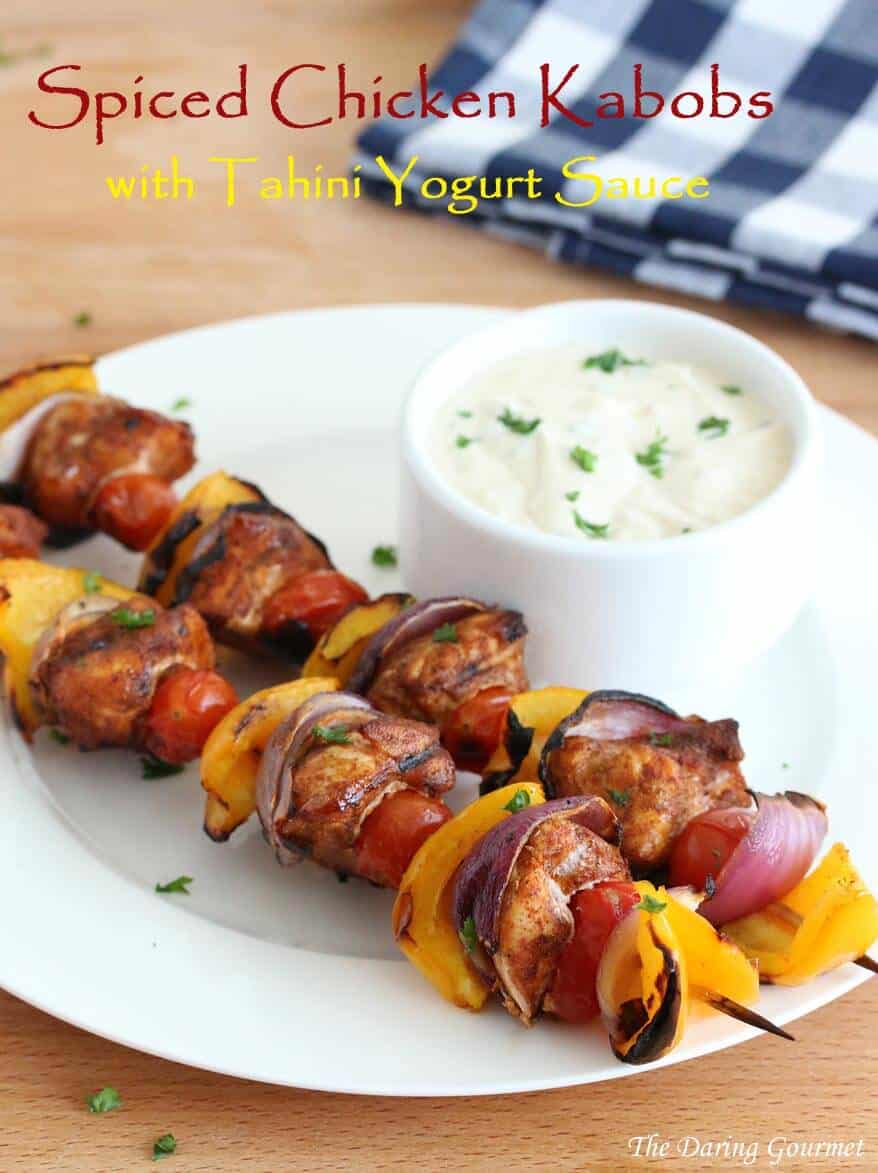 :
Kimberly Killebrew, www.daringgourmet.com
For the Tahini Yogurt Sauce:
1 cup whole milk Greek yogurt
2 heaping tablespoons Easy Homemade Tahini (or, if you must, store bought)
1½ tablespoons fresh lemon juice
1 clove garlic, minced
1 teaspoon extra virgin olive oil
¾ teaspoon salt
1 teaspoon honey
2 teaspoons finely chopped Preserved Lemon
2 tablespoons chopped fresh mint
For the Seasoning Blend:
2 teaspoons ground cumin
1 teaspoon ground coriander
2 teaspoons paprika
⅛ teaspoon ground cinnamon
¼ teaspoon ground ginger
¼ teaspoon freshly ground black pepper
1 teaspoon salt
½ teaspoon cayenne pepper (+ more if you like it spicy)
For the Kabobs:
2 large chicken breasts, cut into 1-inch pieces (lamb also works great)
1 tablespoon extra virgin olive oil
2 large bell peppers
1 large red onion
1 pint cherry or grape tomatoes
1 medium zucchini
Combine all the Tahini Yogurt ingredients, cover and refrigerate for at least 1 hour before using, preferably longer.
Combine the seasoning blend in a small bowl. Add it to the chicken along with the olive oil and toss to thoroughly coat. Cover and marinate for at least 30 minutes, preferably longer.
Arrange the chicken and vegetable pieces on skewers and brush the vegetables with olive oil. Preheat the grill to medium and grill the kabobs for about 7-8 minutes on each side or until done.
Serve with the Tahini Yogurt sauce and your choice of sides (e.g., steamed basmati rice or couscous and leafy green salad with vinaigrette dressing).
Recipe by
The Daring Gourmet
at https://www.daringgourmet.com/spiced-chicken-kabobs-tahini-yogurt-sauce/