Mega Healthy Dog Biscuits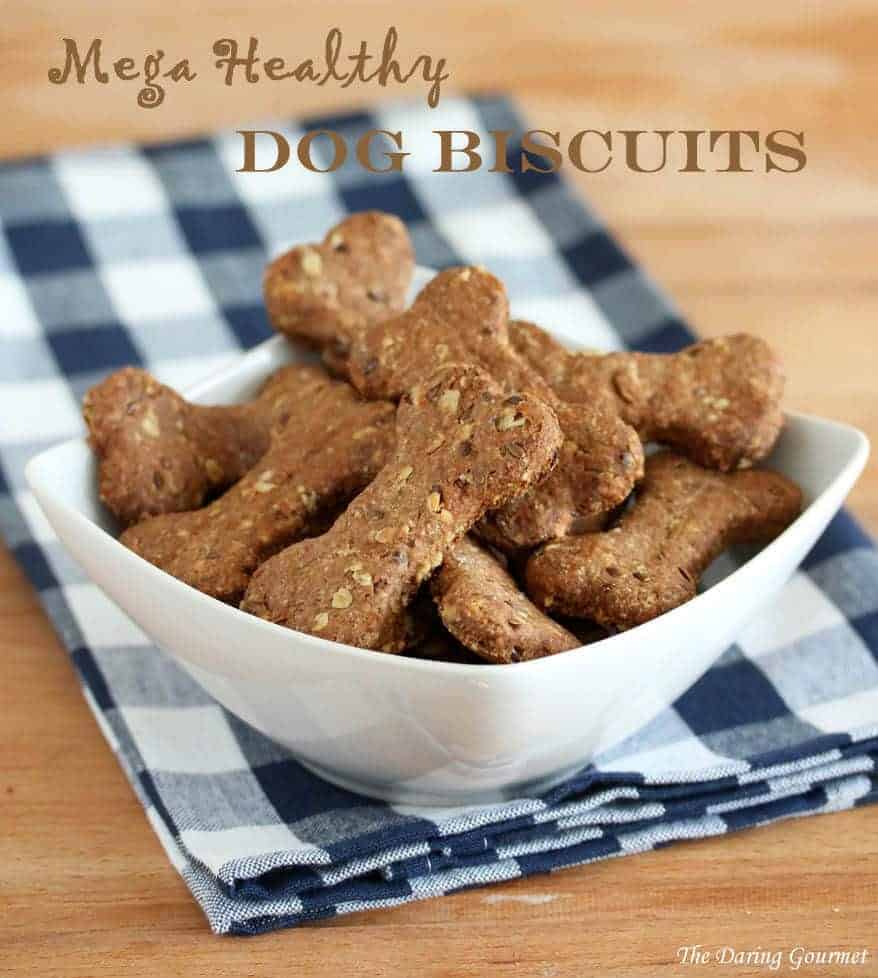 :
Kimberly Killebrew, www.daringgourmet.com
Serves:
About 18 2-inch bone-shaped biscuits
2 cups whole wheat flour
½ cup old-fashioned oats
½ cup wheat germ
2 tablespoons unsalted sunflower seeds
2 tablespoons flax seeds
1 teaspoon ground cinnamon
⅓ cup natural unsweetened peanut butter
¼ cup coconut oil
¼ cup extra virgin olive oil
4 high quality fish oil capsules
1 tablespoon raw honey
½ to ¾ cup water
Preheat the oven to 350 degrees F. Line a cookie sheet.
Combine all the dry ingredients in a large mixing bowl. Add the remaining ingredients, except for the water, squeezing the fish oil from the capsules into the bowl with the other ingredients. Stir the mixture until it resembles coarse sand. Slowly add the water, starting with ½ cup and add more as needed. You want a thick dough that holds together without being too sticky. Use your hands to knead the dough a few times to make sure all the ingredients are incorporated.
Turn the dough out onto a lightly floured work surface and roll it out to ¼ inch thickness. Use a cookie cutter to cut out biscuits and place them on a lined cookie sheet. Gather up the scraps of dough, roll it out again, and cut out the remaining biscuits.
Bake for about 40 minutes or until the biscuits are golden and hard. Let cool completely and keep stored in an airtight container. Will keep for several days.
Recipe by
The Daring Gourmet
at https://www.daringgourmet.com/mega-healthy-dog-biscuits/