Creamy Fettuccine with Shiitake & Porcini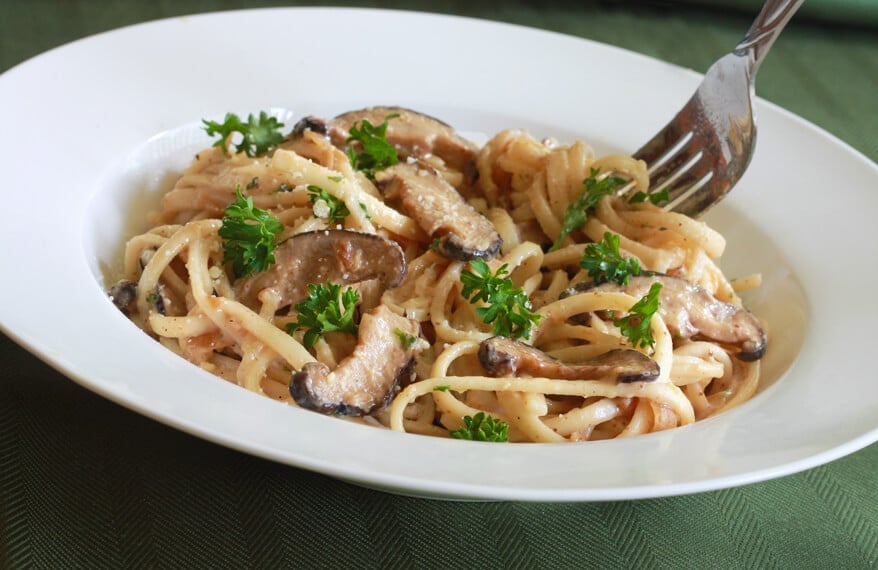 :
The Daring Gourmet, www.daringgourmet.com
1 lb fresh shiitake mushrooms, sliced, stems discarded (you can also use half cremini mushrooms)
1 medium yellow onion, diced
2 large cloves garlic, minced
3 tablespoons butter (vegans: use vegetable spread, such as Earth Balance)
2 tablespoons olive oil
2 teaspoons ground dried porcini mushrooms
1 teaspoon salt
½ cup white wine
½ teaspoon freshly ground black pepper
3 tablespoons fresh parsley, chopped
¼ teaspoon lemon zest
½ cup Parmesan cheese, grated (vegans: use Parmesan substitute such as Parma Zaan Sprinkles)
¾ cup heavy cream (vegans: use soy milk blended with some vegan sour cream, such as Tofutti Sour Supreme, for a creamier consistency)
1 lb fettuccine, cooked al dente
Heat the butter and oil in a large skillet over medium-high heat. Add the onions and saute until translucent and just beginning to brown. Add the garlic and saute another minute. Add shiitake mushrooms, ground porcini, salt and pepper. Stir to combine and saute for 2 minutes. Add the wine, bring to a boil, reduce the heat to low, cover, and simmer for 10 minutes.
Add the parsley, lemon zest and heavy cream and simmer for another 5 minutes.
Add the fettuccine and Parmesan cheese to the skillet. Stir to combine and allow it to thoroughly heat through. Drizzle with a little extra olive oil and toss to coat.
Serve immediately garnished with fresh parsley and a sprinkle of Parmesan.
Recipe by
The Daring Gourmet
at https://www.daringgourmet.com/creamy-fettuccine-with-shiitake-porcini/