Stuffed Mexican Cornbread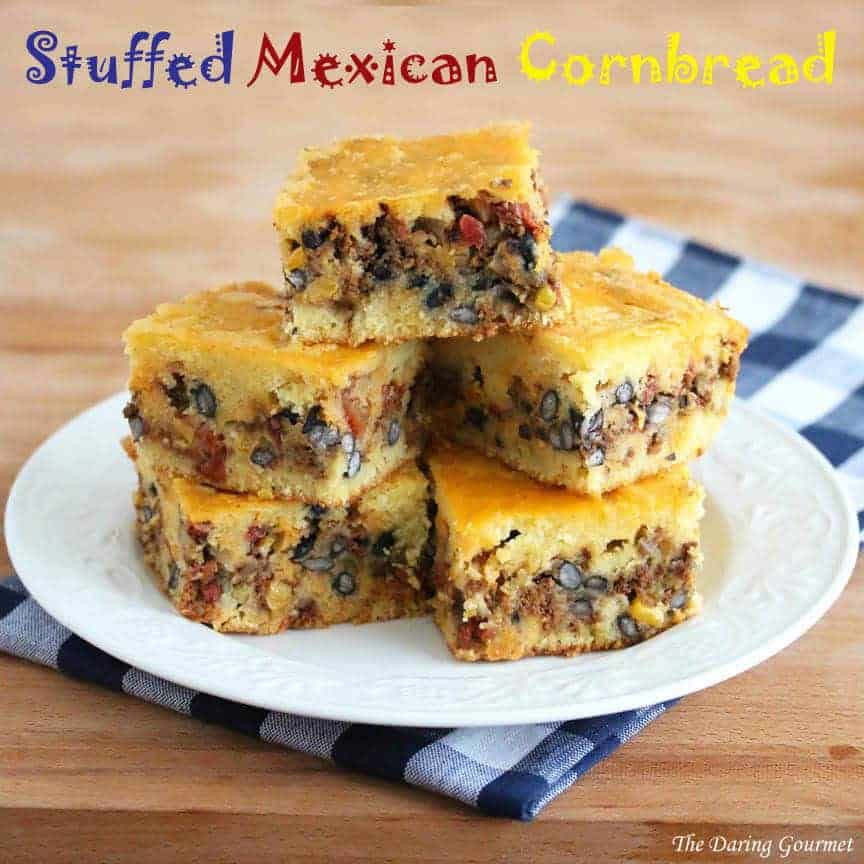 :
Kimberly Killebrew, www.daringgourmet.com
For the Filling:
2 tablespoons extra virgin olive oil
1 medium yellow onion, finely diced
½ pound ground beef
⅓ pound Easy Homemade Mexican Chorizo (read post for why homemade is recommended)
1 (14.5 ounce) can petite diced tomatoes
2 chipotles en adobo, chopped + 2 teaspoons adobo sauce
1 teaspoon ground cumin
⅛ teaspoon ground cinnamon
2 tablespoons chili powder
½ teaspoon freshly ground black pepper
½ teaspoon dried oregano
½ teaspoon garlic powder
½ teaspoon onion powder
1½ teaspoon salt
½ can corn, drained
½ can black beans, drained
3 tablespoons chopped fresh parsley or cilantro
1½ cups grated Cheddar cheese
For the Cornbread:
1½ cups cornmeal
2½ cups milk
2 cups all-purpose unbleached flour
⅓ cup sugar
1 teaspoon salt
1 tablespoon baking powder
½ cup oil (I use coconut oil, melted before adding)
2 large eggs
Preheat the oven to 400 degrees F. Grease a 9x13 inch baking dish.
Heat the oil in a large skillet or Dutch oven over medium-high heat. Cook the onions until soft, 5-7 minutes. Add the ground beef and chorizo and cook until no longer pink. Add the spices and cook for another minute.
Add the tomatoes, chipotles and adobo sauce and simmer, uncovered, for 10 minutes.
Add the corn, black beans, parsley/cilantro and cook for another 2-3 minutes.
To make the cornbread:
Combine the cornmeal and milk in a large mixing bowl and let sit for at least 20 minutes while you're preparing the meat filling.
In another bowl, combine all the dry ingredients. Add the dry mixture to the wet mixture and beat just until combined, leaving some lumps. Add the oil and eggs and beat just until combined. Be careful not to overmix or the cornbread will be dry and dense.
Pour half of the batter into a greased 9X13 inch baking dish. Spoon the filling evenly over the batter then top with the remaining batter.
Bake for 15-18 minutes, top with the Cheddar cheese, and bake for another 2 minutes until the cheese is melted.
Let the cornbread cool for at least 10 minutes before cutting into squares.
Recipe by
The Daring Gourmet
at https://www.daringgourmet.com/stuffed-mexican-cornbread/