Japanese Mushroom, Tofu and Vermicelli Soup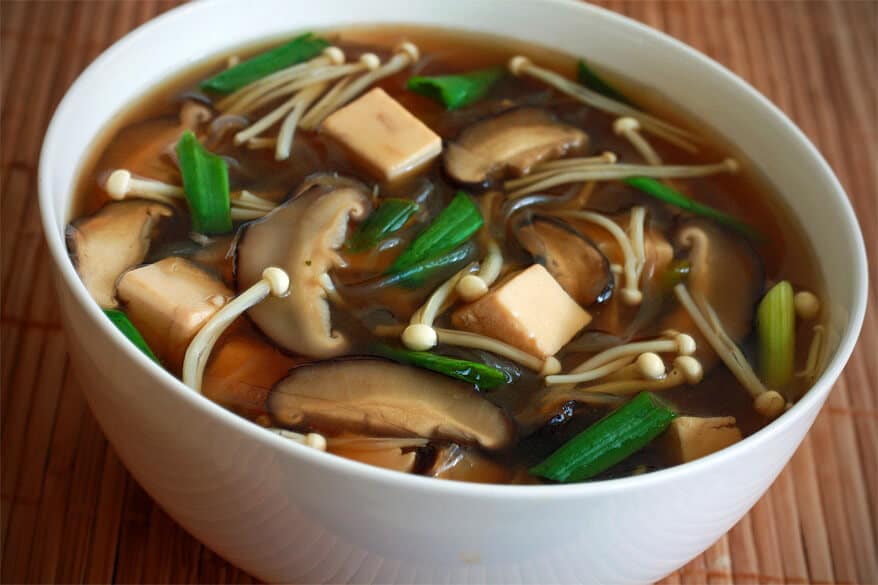 :
The Daring Gourmet, www.daringgourmet.com
4 cups chicken stock (vegetarian/vegan: use vegetable broth)
2 tablespoons soy sauce
1 tablespoon miso paste
1 tablespoon mirin (can substitute sherry and a dash of sugar)
1 tablespoon sake (can substitute white wine and a dash of rice vinegar)
4 oz. tofu, cut into ½ inch cubes
3 oz shiitake mushrooms, thinly sliced, stems discarded
2 oz enoki mushrooms
3 green onions, sliced diagonally
Extra enoki mushrooms and green onions for garnish
Add the chicken stock, soy sauce, miso paste, mirin and sake to a medium saucepan and bring to a boil. Reduce heat and simmer for 2 minutes. Add the tofu, mushrooms, and vermicelli, return to a boil, reduce heat, and simmer for 6 minutes. Add the green onions and simmer for another 2 minutes.
Serve immediately.
Recipe by
The Daring Gourmet
at https://www.daringgourmet.com/mushroom-tofu-and-vermicelli-soup/