Classic Italian Bolognese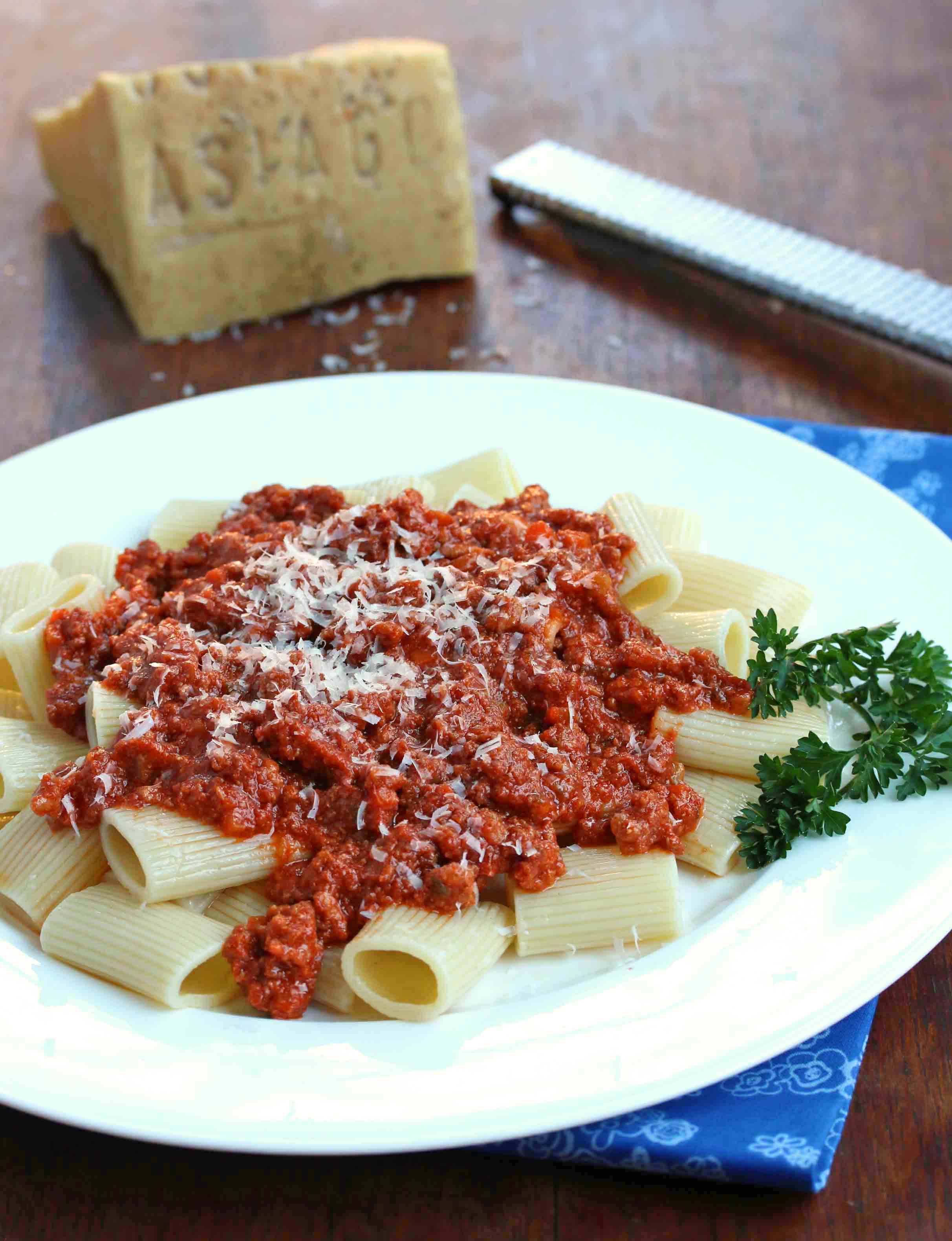 :
Kimberly Killebrew, www.daringgourmet.com
4 ounces pancetta or bacon, diced
5 tablespoons butter
1 medium yellow onion, very finely chopped
1 large carrot, very finely chopped
1 large celery, very finely chopped
2 large cloves garlic, minced
½ pound ground beef
½ pound ground veal
½ pound ground bulk pork sausage or plain ground pork
½ teaspoon salt
2 cups whole milk
1 cup veal or beef consomme
1 cup dry white wine
½ cup dry red wine
1 (28 ounce) can or jar Italian imported tomato puree or Italian imported stewed tomatoes crushed by hand
2 tablespoons ground dried porcini mushrooms
1½ teaspoons salt
¾ teaspoon freshly ground black pepper
⅛ teaspoon freshly ground nutmeg
½ teaspoon ground fennel seed
1 teaspoon sugar
1 bay leaf
2 tablespoons chopped fresh sage
1 tablespoons chopped fresh rosemary
2 tablespoons chopped fresh parsley
Fry the bacon in a large Dutch oven over medium-high heat until done (don't drain the bacon grease). Add the butter and the onion, carrot, celery and garlic and cook until softened, 5-7 minutes.
Add the ground beef, veal, sausage and salt and cook until no pink remains. Add the milk, bring to a boil, reduce the heat to low, cover and simmer for 1 hour.
Add the consomme, white and red wine, tomatoes and all remaining ingredients except for the parsley. Bring to a boil, reduce the heat to low, cover and simmer for 2 hours, stirring occasionally. If the bolognese is too runny, uncover and simmer another 30 minutes or until sufficiently thickened. Stir in the parsley and simmer for another minute.
Serve over pasta (fresh is best) with some freshly grated aged Italian cheese.
Note: This sauce freezes well and can be used in any pasta dish, including lasagna.
Recipe by
The Daring Gourmet
at https://www.daringgourmet.com/classic-italian-bolognese-recipe/