Pumpkin Eggnog Cake with Eggnog Custard Sauce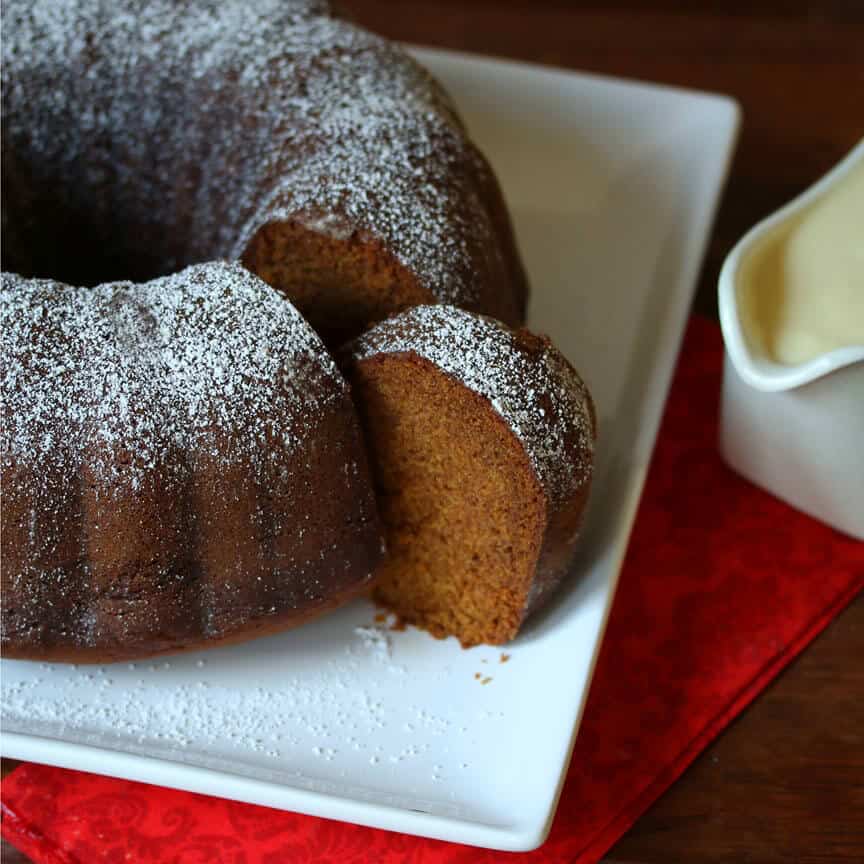 :
Kimberly Killebrew, www.daringgourmet.com
For the Pumpkin Eggnog Cake:
2 teaspoons ground cinnamon
1 teaspoon ground ginger
½ teaspoon ground cloves
½ teaspoon ground nutmeg
3 teaspoons baking soda
¾ teaspoon salt
1 cup (2 sticks) unsalted butter at room temperature
2½ cups sugar
3 large eggs
1 tablespoon quality pure vanilla extract
2 teaspoons quality pure rum extract
1 cup canned solid pack pumpkin
1 cup good eggnog
For the Eggnog Custard Sauce:
1 tablespoon all-purpose flour
⅛ teaspoon salt
¼ cup sugar
2 cups good eggnog
1 cup whole milk
3 large egg yolks, lightly beaten in a bowl
1 teaspoon quality pure vanilla extract
½ teaspoon quality pure rum extract
Preheat the oven 350 degrees F and grease and flour a Bundt pan.
To make the cake: Combine the flour, baking soda, salt, cinnamon, ginger, cloves and nutmeg in a medium mixing bowl and stir to combine. Set aside.
In a large mixing bowl, cream the butter and sugar with an electric mixer for several minutes. Add the eggs, one at a time, beating after each addition.
Add the pumpkin, vanilla and rum extracts and beat until combined.
Alternately add ⅓ of the flour mixture and eggnog, beginning and ending with the flour, beating a little after each addition.
Spoon the batter into the prepared Bundt pan and bake on the middle shelf for 65-75 minutes or until a toothpick inserted into the center of the cake comes out clean. Be careful not to over-bake or the cake will be dry.
Let the cake cool in the Bundt pan for a full 10 minutes before inverting onto a wire rack.
To make the eggnog custard sauce:
While the cake is either baking or cooling, prepare the custard sauce. It can also be made in advance and reheated.
Place the flour, sugar and salt in a medium saucepan and whisk in the eggnog and milk. Bring to a simmer, whisking frequently, until the mixture just starts to simmer. Remove ½ cup of the hot mixture and whisk it into the bowl of egg yolks until smooth. Pour the egg yolk mixture back into the saucepan with the rest of the sauce, whisking constantly until combined. Return the sauce to a simmer, reduce to medium-low heat and continue whisking for a couple of minutes until the sauce is thickened.
Pour the custard through a fine sieve into a bowl and discard any clumps.
If not serving immediately, cover with plastic wrap once cooled, pressing the plastic directly on top of the sauce so it's touching to prevent a film from developing on top of the sauce.
Serve the cake on individual plates with some warmed eggnog custard sauce poured over and extra sauce in a gravy boat for serving.
Recipe by
The Daring Gourmet
at https://www.daringgourmet.com/pumpkin-eggnog-cake-with-eggnog-custard-sauce/