German Pea Soup with Egg Dumplings (Erbsensuppe mit Eierschwämmchen)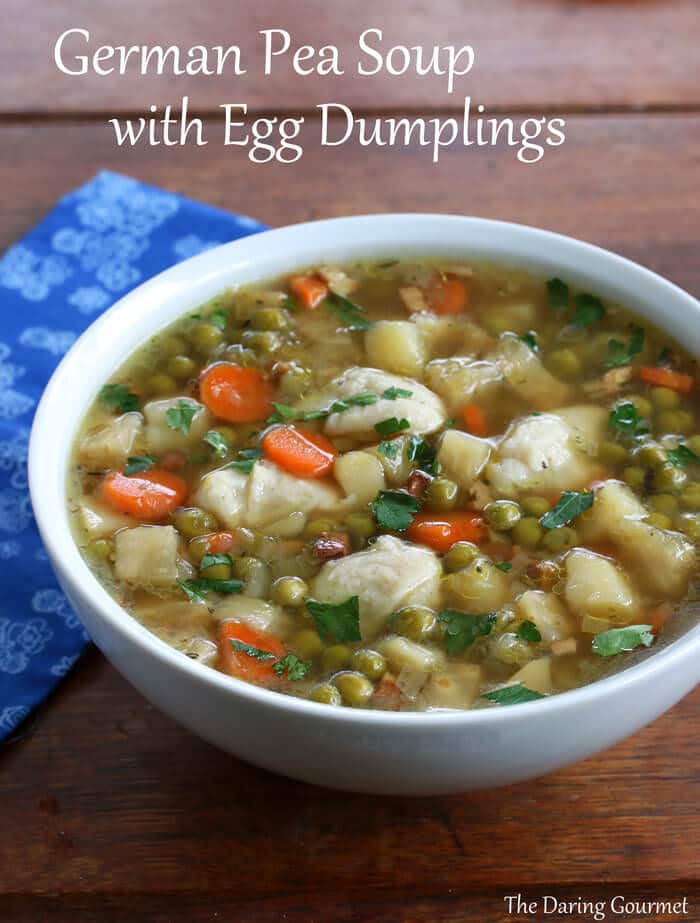 :
Kimberly Killebrew, www.daringgourmet.com
6 oz bacon, diced
2 tablespoons butter
1 medium yellow onion, finely chopped
10 cups beef broth
14 oz frozen peas
1 smoked ham hock
2 large carrots, peeled and sliced
1 large leek, sliced, rinsed and drained
1 small celery root (ie, celeriac), peeled and diced
2 medium potatoes, diced
1 bay leaf
½ teaspoon salt
¼ teaspoon freshly ground black pepper
½ teaspoon dried marjoram
¼ teaspoon dried thyme
Some chopped fresh parsley for garnish
For the Dumplings:
¼ cup butter, melted and at room temperature
1 cup all-purpose flour
3 large eggs
½ teaspoon salt
⅛ teaspoon ground nutmeg
In a large soup pot over medium-high heat, fry the bacon until done. Add the butter and onions and cook until soft and translucent, 5-7 minutes. Add all remaining ingredients and bring to a boil. Reduce the heat to medium-low, cover and simmer for 90 minutes.
Before the soup is done, making the dumplings: Bring a pot of lightly salted water to a boil. Combine all the ingredients in a stand mixer fitted with the paddle attachment. Beat on "2" (bread setting) for 8-10 minutes. Use a small spoon to scoop about 2 teaspoon's worth of dough at a time and drop the dumplings into the the boiling water. The dumplings will float to the bottom. Once the dumplings have floated to the top let them simmer another 5 minutes and then use a slotted spoon to remove them and add them to the soup. Let the dumplings simmer in the soup for another 5 minutes before serving. Add salt and pepper to the soup according to taste.
Serve sprinkled with a little chopped fresh parsley.
Recipe by
The Daring Gourmet
at https://www.daringgourmet.com/german-pea-soup-egg-dumplings-erbsensuppe-mit-eierschwammchen/