Pan-Seared Chicken With Pink Grapefruit Cream Sauce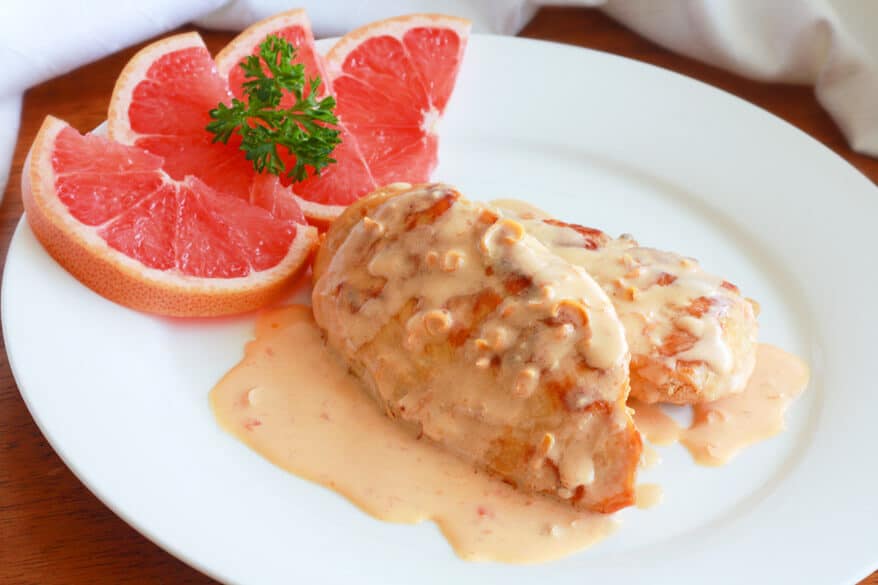 :
The Daring Gourmet, www.daringgourmet.com
4 boneless, skinless chicken breasts (either whole, or 2 large chicken breasts cut in half)
Salt
4 tablespoons unsalted butter
½ cup freshly squeezed pink grapefruit juice
1 tablespoon pink grapefruit zest
½ cup heavy cream
2 tablespoons cream cheese
¼ cup white wine
¼ teaspoon freshly ground white pepper
¼ teaspoon sugar
Salt to taste
Sprinkle both sides of the chicken breast with salt. Melt the butter in a stainless steel skillet over medium heat. Fry the chicken on both sides until browned, about 4 minutes on each side. Add the grapefruit juice and zest. Bring to a boil. Reduce the heat to low and simmer, covered for 10 minutes or until the chicken is no longer pink in the center. Transfer the chicken to a plate, cover with aluminum foil and place in a warmed oven until ready to serve.
Add the heavy cream, cream cheese, white wine, white pepper and sugar to the pan. Boil the sauce for 3-4 minutes or until the sauce has thickened slightly. Add salt to taste.
Arrange the chicken breasts on a serving platter, or on individual plates, drizzle with the sauce and garnish with fresh slices of pink grapefruit and a few sprigs of fresh parsley.
Serving recommendation: Serve over or with pasta.
Recipe by
The Daring Gourmet
at https://www.daringgourmet.com/pan-seared-chicken-with-pink-grapefruit-cream-sauce/