German Lentils with Spaetzle (Schwäbische Linsen mit Spätzle)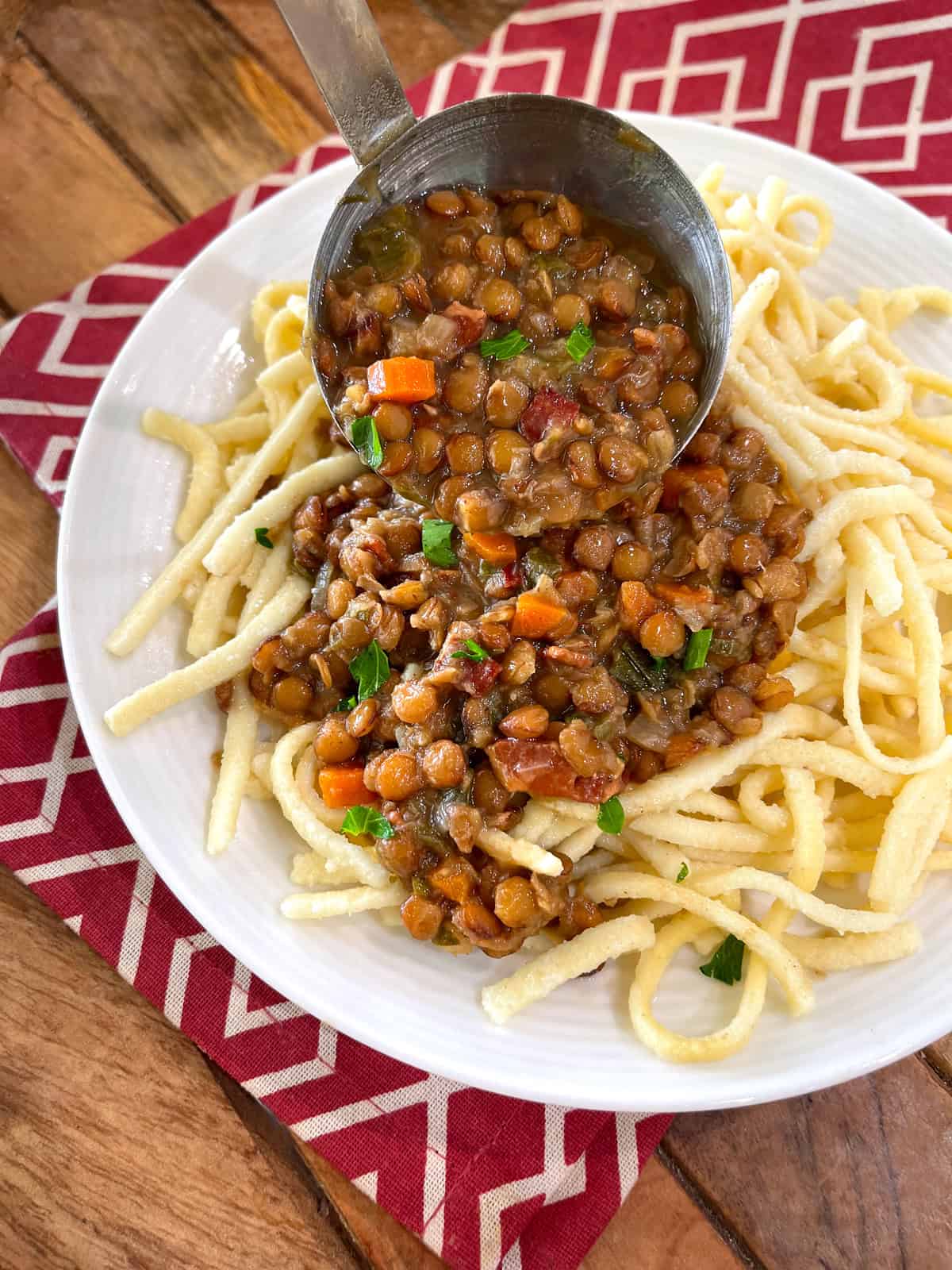 :
Kimberly Killebrew, www.daringgourmet.com
5 slices thick cut bacon, diced
1 large yellow onion, finely diced
1 tablespoon butter
1 carrot, finely diced
1 leek, finely chopped, thoroughly rinsed and drained
1 pound dried brown lentils, rinsed and drained (no need to soak)
7 cups beef broth
1 bay leaf
1 teaspoon salt
¼ teaspoon freshly ground black pepper
1 teaspoon white sugar
¼ cup white vinegar
3 tablespoons chopped fresh parsley
Cook the bacon over medium-high heat until done (for best flavor don't drain the bacon grease). Add the onions and cook until soft and translucent 5-7 minutes. Add the butter, carrots and leek and cook for 5 minutes.
Add the lentils, broth, bay leaf, salt, pepper and sugar and bring to a boil. Reduce the heat to medium-low, cover and simmer for 40 minutes. Add the vinegar and parsley and simmer another 3-4 minutes. If too thick for your taste, add a little extra beef broth. Add more salt, pepper, sugar and vinegar to taste.
Serve over hot Homemade German Spätzle with a sausage (preferably German Saitenwurst if you can find it).
Recipe by
The Daring Gourmet
at https://www.daringgourmet.com/swabian-style-german-lentils-with-spaetzle-schwabische-linsen-mit-spatzle/