Chicken Cacciatore with Polenta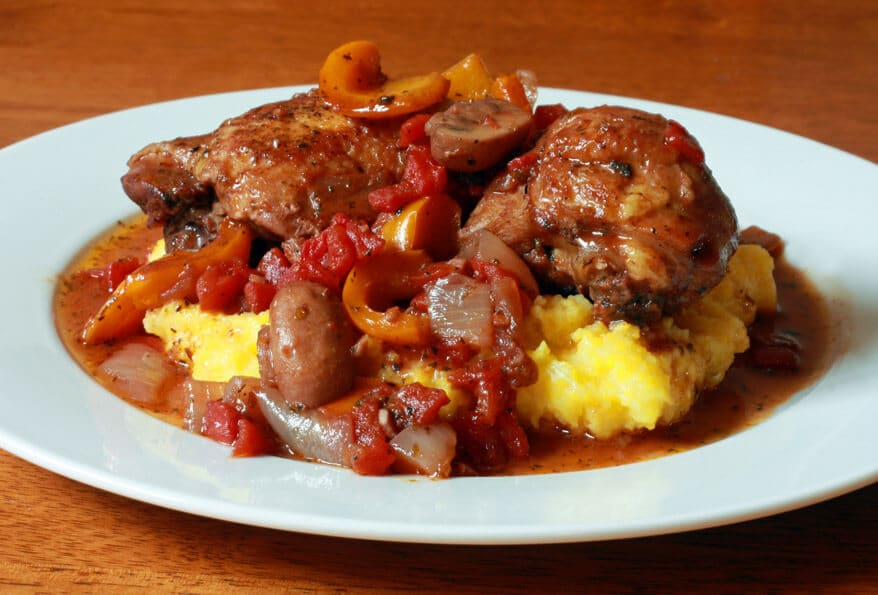 :
The Daring Gourmet, www.daringgourmet.com
4 chicken thighs and 4 drumsticks, bone-in, skin-on
Salt and freshly ground black pepper
2 tbs olive oil
1 yellow onion, chopped
1 medium orange bell pepper, seeded and chopped
1 medium yellow bell pepper, seeded and chopped
10 oz fresh cremini or white button mushrooms, brushed clean
2 cloves garlic, minced
1 teaspoon dried basil
1 teaspoon dried rosemary
1 teaspoon dried oregano
⅛ teaspoon red pepper flakes
1 bay leaf
1 cup hearty red wine
1 can (28 oz) diced tomatoes, drained
1 tsp ground dried porcini mushrooms
1 cup non-instant polenta (coarse cornmeal), cooked (See https://www.daringgourmet.com/2013/02/18/polenta-lasagna/ for directions on how to prepare polenta, only change quantity to 1 cup coarse cornmeal and 3 cups chicken broth.)
Sprinkle the chicken pieces with salt and pepper. Heat the oil in a Dutch oven over medium-high heat. Once the oil is hot, add the chicken pieces, four at a time to avoid over-crowding - and fry until both sides are browned, about 5 minutes on each side. Repeat with the remaining chicken and transfer to a plate.
Add the onion and bell pepper and saute over medium heat for 5 minutes, until softened. Add the mushrooms and garlic and saute another 5 minutes until the mushrooms are tender. Add the dried herbs and red pepper flakes.
Add the red wine and bring it to a boil over heat heat until the liquid is reduced by half, about 5 minutes. Add the tomatoes and ground porcini mushrooms. Stir to combine and return to a boil. Return the chicken to the Dutch oven and cover. Reduce the heat to medium low and simmer for 30 minutes, or until the chicken is cooked through, showing no signs of pink when cut into near the bone.
Transfer the chicken to a warmed platter and cover with aluminum foil to keep warm. Return the sauce to a boil over high heat and cook until it has thickened a little, 3-5 minutes. Add salt and pepper to taste.
Dish out the polenta onto four plates, arrange two pieces of chicken on top of each serving of polenta, and spoon the sauce and vegetables over the chicken and polenta. Serve immediately.
Recipe by
The Daring Gourmet
at https://www.daringgourmet.com/chicken-cacciatore-with-polenta/