Broccoli and Pasta Salad with Olives, Parmesan & Toasted Walnuts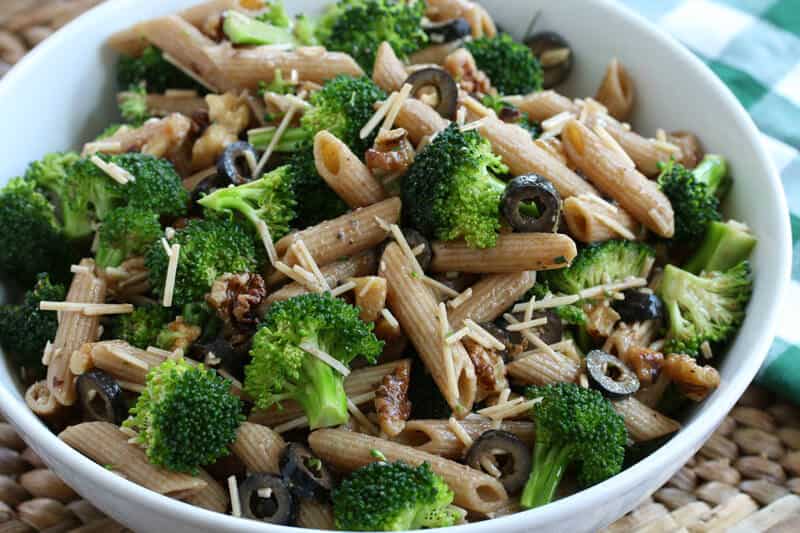 :
Kimberly Killebrew, www.daringgourmet.com
3 cups uncooked broccoli florets
3 cups cooked whole wheat penne pasta (for GF, use gluten-free pasta)
¾ cup coarsely chopped toasted walnuts
¾ cup sliced black olives
½ cup shredded Parmesan cheese
For the Vinaigrette:
4 tablespoons extra virgin olive oil
2 tablespoons red wine vinegar
2 tablespoon balsamic vinegar
1½ teaspoons Dijon mustard
2 teaspoons chopped fresh rosemary
1 teaspoon sugar
¾ teaspoon salt (see note)
¼ teaspoon freshly ground black pepper
¼ teaspoon onion powder
¼ teaspoon garlic powder
Combine the vinaigrette ingredients in a small bowl, whisking until emulsified, and set aside until ready to use (can be made in advance and refrigerated).
To toast the walnuts, preheat oven to 350°F. Arrange walnuts on a cookie sheet in a single layer. Bake 8 to 10 minutes, checking frequently. Let cool completely.
Combine the salad ingredients in a bowl, pour the vinaigrette over, and toss to combine. Refrigerate for at least an hour before serving.
* Depending on how much salt you use to cook the pasta, adjust accordingly.
* This salad tastes better the longer it sits. Can be made a day in advance.
Recipe by
The Daring Gourmet
at https://www.daringgourmet.com/broccoli-pasta-salad-with-olives-parmesan-toasted-walnuts/