Beef Stir-fry with Snow Peas and Mushrooms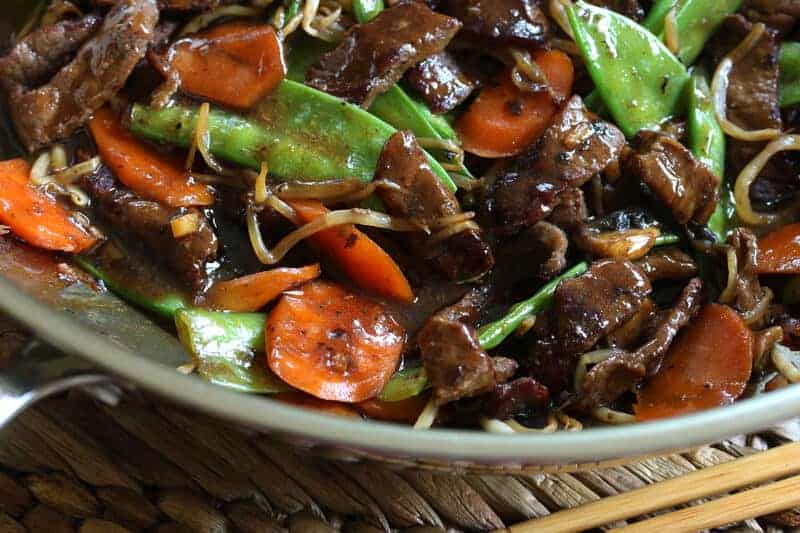 :
Kimberly Killebrew, www.daringgourmet.com
1 pound lean beef, cut against the grain into thin strips
2 tablespoons high heat cooking oil (I recommend avocado oil as a healthy, high smoke point oil, also available at Costco)
2 teaspoons fresh ginger, minced
1 tablespoon fresh garlic, minced
1 large carrots, thinly sliced at a diagonal
2 cups snow peas, ends trimmed
1 cup sliced mushrooms
1 cup bean sprouts
For the Sauce:
¼ cup soy sauce (paleo: use coconut aminos)
¼ cup water
¼ cup packed brown sugar
2 tablespoons hoisin sauce (paleo: omit) or make your own
2 teaspoons toasted sesame oil
½ teaspoon freshly ground black pepper
1 tablespoon cornstarch
Combine the sauce ingredients in a small bowl, stirring until the sugar and cornstarch is dissolved. Set aside.
Heat the wok over high heat and add the oil. Once very hot, working quickly add the beef and fry, searing all sides, for 1-2 minutes. Add the carrots, garlic and ginger and fry for another minute. Add the remaining vegetables and fry for another minutes. Do not over-cook, you want the vegetables to retain some "crunch." Stir in the sauce and simmer for 1 minute then remove from heat.
Serve immediately with steamed rice.
Recipe by
The Daring Gourmet
at https://www.daringgourmet.com/beef-stir-fry-with-snow-peas-and-mushrooms/