Best Italian Chicken Meatballs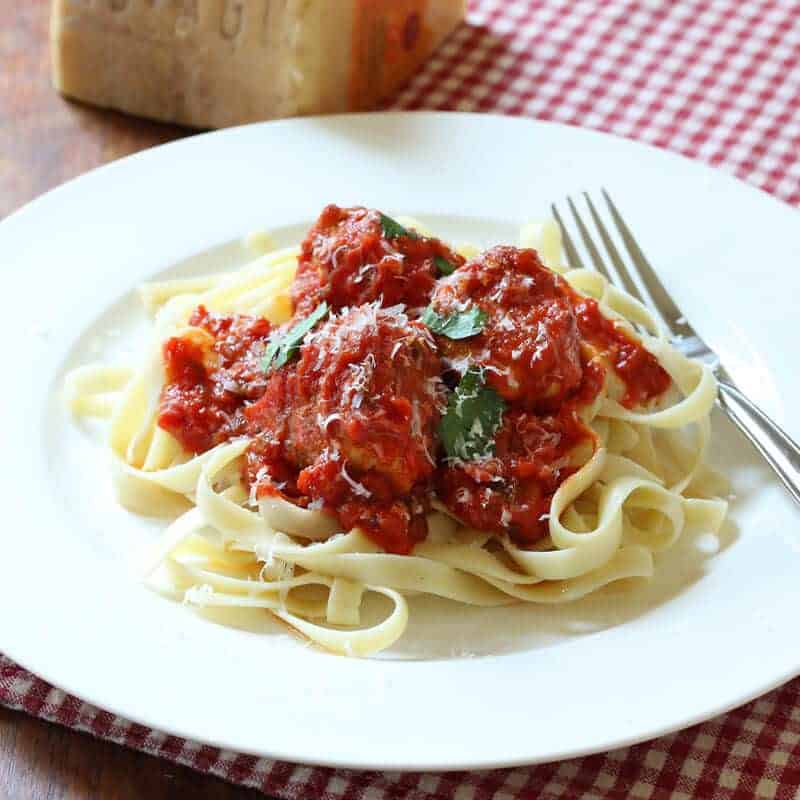 :
The Daring Gourmet, www.daringgourmet.com
1 pound ground chicken breast (or ground beef)
1 large egg
½ cup plain breadcrumbs (gluten-free, use GF breadcrumbs)
1 teaspoons salt
¼ teaspoon freshly ground black pepper
½ cup chopped fresh parsley
1½ teaspoons chopped fresh thyme
1½ teaspoons chopped fresh sage
1½ teaspoons chopped fresh rosemary
1 tablespoon ground dried porcini mushrooms (buy pre-ground or grind them yourself for optimal flavor)
For the Tomato Sauce:
4 tablespoons extra virgin olive oil
3 cloves garlic, minced
1 (28 ounce) can imported whole Italian DOP San Marzano tomatoes (see Note), crushed or blended to a thick and slightly chunky puree
⅓ cup chopped fresh parsley
⅓ cup chopped fresh basil
1 teaspoon salt
Combine all the meatball ingredients in a food processor or a large mixing bowl and combine. Form into 1-inch or larger meatballs. Heat the oil in a large skillet and lightly brown on all sides. Transfer to a plate and set aside.
Add the garlic to the skillet and saute for one minute. Add the tomato puree and bring to a rapid boil for 2 minutes. Add the salt, parsley and basil and simmer for another 3-5 minutes.
Return the meatballs to the sauce, stir to coat, cover and simmer over medium for about 15 minutes.
Serve with pasta.
*These meatballs freeze well (see Note).
*There is no substitute for sun-ripened, DOP-certified Italian tomatoes. Using the standard tomatoes from grocery stores will result in a sauce that is bland and flavorless. The DOP San Marzano tomatoes are widely considered the best. You can also find them in specialty stores. If you can't find DOP-certified San Marzano's, use another quality Italian-imported brand.
*Either freeze the meatballs raw and make the sauce the day you're ready to eat them or freeze them cooked in the sauce. Place them single-layer in ziplock freezer bags. Thaw completely and slowly reheat them to retain moistness.
Recipe by
The Daring Gourmet
at https://www.daringgourmet.com/best-italian-chicken-meatballs/