French Connection Sandwich (Two Ways)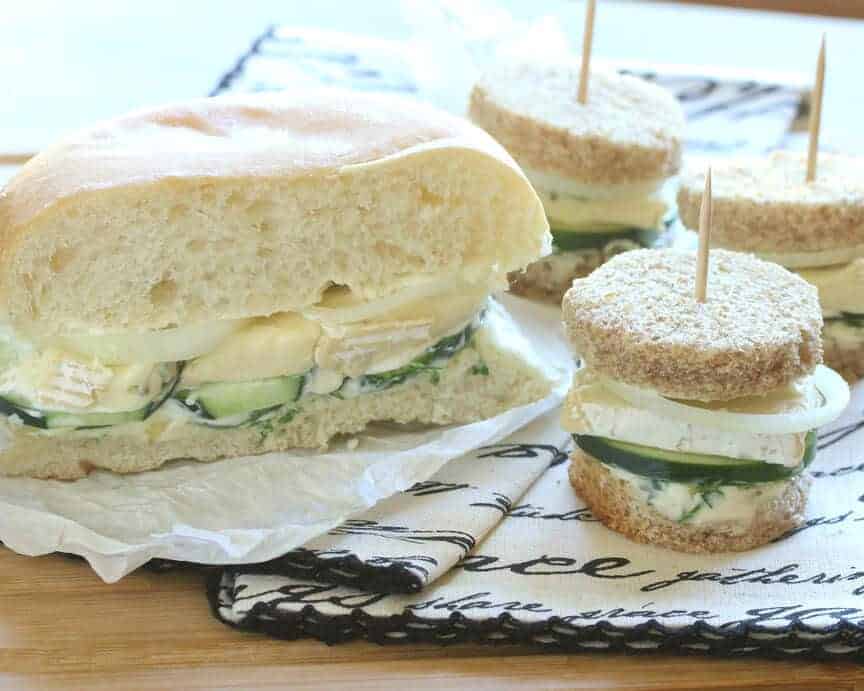 :
Kimberly Killebrew www.daringgourmet.com
Serves:
4 sandwiches or 12 hors d'oeuvres
4 large soft rolls (if making hors d'oeuvres instead, cut 24 round circles out of sandwich bread about 2 inches in diameter and proceed using the standard directions)
Large wedge of brie, at room temperature
1 cucumber, washed and thinly sliced
1 small onion, thinly sliced
Mayonnaise
For the Garlic Butter:
¼ cup unsalted butter, at room temperature
2 large cloves garlic, smashed and finely minced
2 tablespoons chopped fresh parsley
⅛ teaspoon salt
Combine the ingredients for the garlic butter and set aside until ready to use. If storing it in the fridge, let is soften at room temperature before using it.
Spread the bottom half of each roll with a generous amount of garlic butter and top halves with mayonnaise. Layer the sandwiches with cucumber, brie and onion and place the top half of the sandwich on top. If making hors d'oeuvres with the sandwich rounds, use on slice of cucumber and you can secure the sandwiches by sticking a toothpick down the center.
Recipe by
The Daring Gourmet
at https://www.daringgourmet.com/french-connection-sandwich-two-ways/