Mega Healthy Triple Chocolate Cupcakes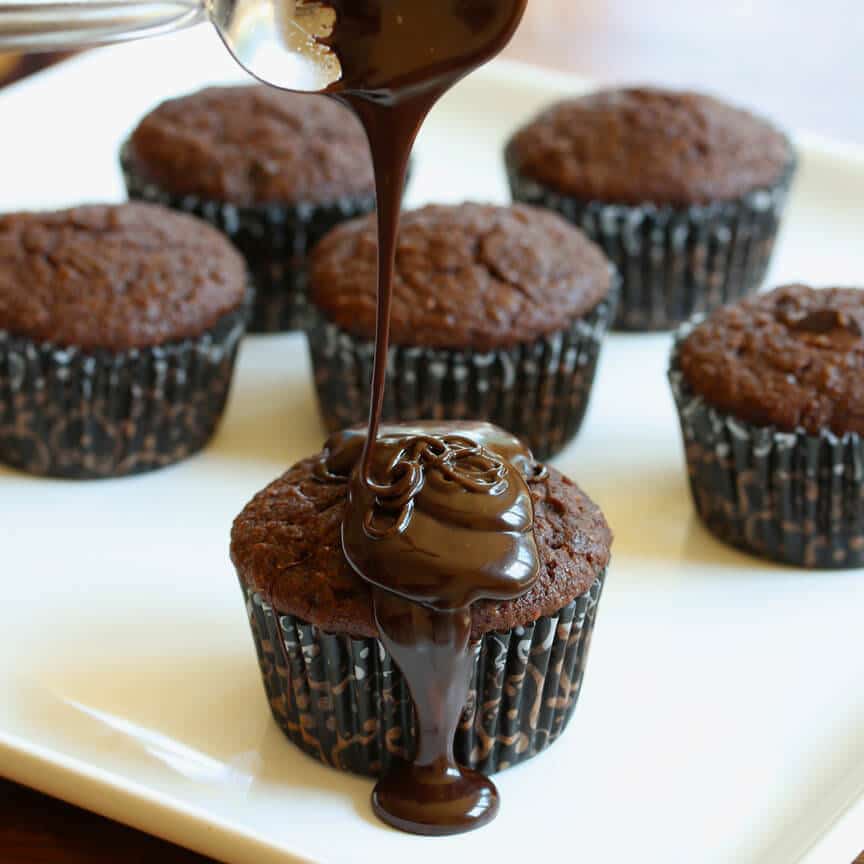 :
Kimberly Killebrew, www.daringgourmet.com
2 cups spelt flour or whole wheat flour (I recommend spelt, an ancient grain that tastes like wheat but is milder, bakes up softer, and is more easily digested)
¼ cup wheat germ
¼ cup Dutch cocoa powder
1 teaspoon baking powder
1 teaspoon baking soda
½ teaspoon salt
2 large eggs (vegan: use liquid egg substitute)
½ cup raw honey (vegan: use sweetener of choice)
½ cup coconut oil (heat until softened but not hot)
2 teaspoon quality pure vanilla extract
2 teaspoons vinegar
1 cup SILK Chocolate Cashew Milk (or regular chocolate milk)
1 large banana, mashed
1 cup cooked quinoa (be sure to rinse grains thoroughly before cooking or they will taste bitter)
1 cup shredded zucchini or other squash
½ cup chocolate chips
For the Chocolate-Honey Glaze:
3 tablespoons raw honey
1 tablespoon coconut oil
3 ounces quality semi-sweet or dark chocolate, chopped
Preheat the oven to 350 degrees F. Line 12-cup standard muffin tin with paper liners.
Combine the first six dry ingredients in a bowl and set aside.
In a large mixing bowl, beat the eggs, honey, and coconut oil until combined. Add the mashed banana, vanilla, vinegar and chocolate milk and beat until combined.
Use a rubber spatula to fold the flour mixture into the wet mixture just until combined. Be careful not to over-stir or the muffins won't rise as well and will be dense.
Stir in the cooked quinoa and zucchini. Stir in the chocolate chips.
Fill the cupcake liners ¾ full and bake for 15-18 minutes or until a toothpick inserted into the center of a cupcake comes out clean. Let the cupcakes cool completely.
To make the Chocolate-honey Glaze:
Place all the ingredients in a bowl and microwave, stirring occasionally, for a few seconds until the chocolate is melted. It will be runny at first but firms up very quickly. Spread on the cooled cupcakes. Work quickly when spreading glaze on cupcakes as the glaze will become firm. If it becomes too firm simply microwave for a few seconds.
See NOTE about advance preparation.
* If you're making these cupcakes in advance, wait to glaze them just before serving. If you have any leftover, keep them refrigerated so the glaze stays firm.
Recipe by
The Daring Gourmet
at https://www.daringgourmet.com/mega-healthy-triple-chocolate-cupcakes/