Double Apple Crisp Streusel Muffins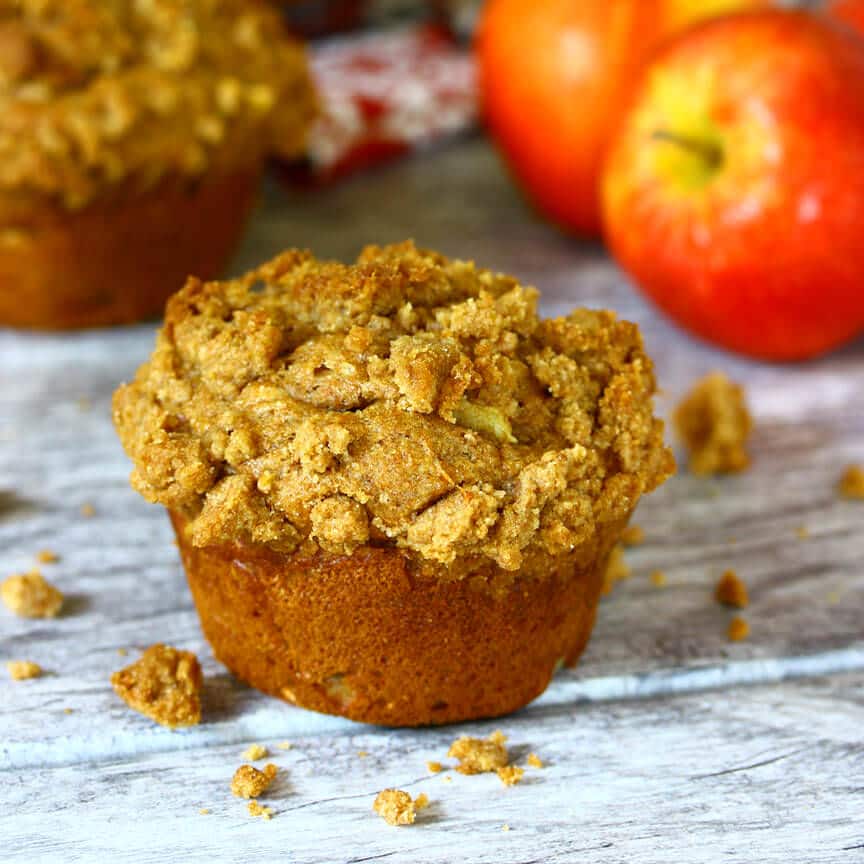 :
Kimberly Killebrew, www.daringgourmet.com
Serves:
6 jumbo or 12 regular muffins
2 cups spelt flour (can substitute whole wheat but spelt is milder and bakes up more softly, I use and highly recommend it)
½ teaspoon salt
1 teaspoon baking powder
1 teaspoon baking soda
1 teaspoon ground cinnamon
2 large eggs
½ cup brown sugar
½ cup oil (I use and recommend avocado oil or coconut oil - for this I used avocado)
1 teaspoon quality pure vanilla extract
2 x 6 ounce containers Yoplait Original Apple Crisp yogurt
1 cup finely chopped apple, peel removed
¼ cup old-fashioned oats
For the Streusel Topping:
½ cup spelt flour
¼ teaspoon salt
⅓ cup brown sugar
¼ teaspoon ground cinnamon
¼ cup butter, at room temperature
Preheat the oven to 375 degrees F. Butter a 6-cup jumbo muffin pan or a 12-cup regular muffin pan.
In a medium-sized bowl, combine the flour with the salt, baking soda, baking powder and cinnamon. Set aside.
In a large mixing bowl beat together the eggs, brown sugar, oil and vanilla extract until combined then add the yogurt. Gradually stir in the flour mixture then stir in the oats and apples before the mixture is completely combined. Be careful not to over-stir or the muffins will be heavy and dense.
Spoon the batter into the muffin cups, filling them just barely over the ¾ full mark.
Make the streusel topping: Combine all the ingredients in a bowl and work with your fingers to make crumbles.
Sprinkle the streusel over each muffin. Bake on the middle rack for 22-25 minutes or until a toothpick inserted into the center of a muffin comes out clean. Let the muffins sit for a couple of minutes before carefully removing them from the pan.
Recipe by
The Daring Gourmet
at https://www.daringgourmet.com/double-apple-crisp-streusel-muffins/