Pressure Canner Chili Con Carne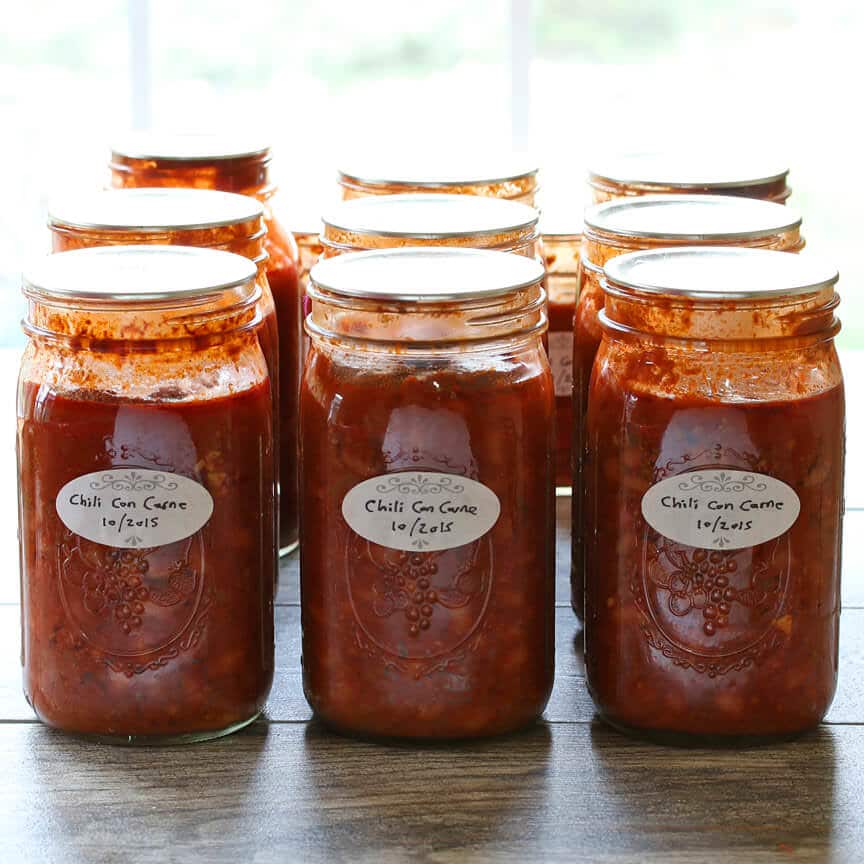 :
Kimberly Killebrew, www.daringgourmet.com
3 pounds dried kidney or pinto beans (or combination), soaked overnight then drained and rinsed
3 tablespoons oil
3 pounds lean ground beef
3 large yellow onions, chopped
6 cloves garlic, minced
⅓ cup chili powder
1 tablespoon sugar
2 tablespoons salt
2 tablespoons ground cumin
3 tablespoons beef bouillon granules/powder
1 teaspoon freshly ground black pepper
1 tablespoon onion powder
1½ teaspoons garlic powder
6 (14.5 ounce) cans diced tomatoes
6 (14.5 ounce) cans tomato sauce
3 cups water
Place the soaked/rinsed beans in clean water in a large stock pot and bring to a rapid boil. Reduce the heat to medium and simmer for 30 minutes. Drain and rinse. Set aside.
Heat the oil in a very large stock pot (at least 12 quarts) and brown the ground beef. Add the onions and garlic and cook until soft and translucent, 6-8 minutes. Drain off as much fat as you can. (Too much oil will interfere with the canning process and prevent the jars from sealing properly.)
Add the seasonings and cook for another minute. *Remember, do not add any flour or cornstarch for thickening, it will interfere with the canning process.
Add all remaining ingredients. Bring it to a boil, reduce the heat and simmer for 5 minutes.
Ladle the chili into hot sterilized jars leaving 1 inch headspace. Using a funnel is best to avoid spillage. Then use a wet paper towel or cloth and run it along the rim of the jar to make sure there is no sauce or oil (which will prevent the lids from sealing).
Tap the jars to remove any air bubbles (again, bubbles will interfere with the canning process and can cause the contents to leak out).
Place the lids on each jar and firmly (but not excessively so) screw on the rims.
Follow your pressure canner's instructions for processing. I use the Presto 23-quart Pressure Canner (you'll need one this large to process quart-sized jars). For this model you'll bring 4 inches of water to a boil, place the bottles inside and let it vent for 10 minutes. Then place the weight cap on it and process pint jars at 10 pounds for 75 minutes. (If canning quarts increase the time to 90 minutes.) Remove the pot from the heat and let it cool until the temperature drops to zero. Remove the jars and let them sit undisturbed for 24 hours, then store in a cool, dark place. Will keep for at least one year.
Recipe by
The Daring Gourmet
at https://www.daringgourmet.com/pressure-canner-chili-con-carne/