Bobotie (South African Meatloaf Bake)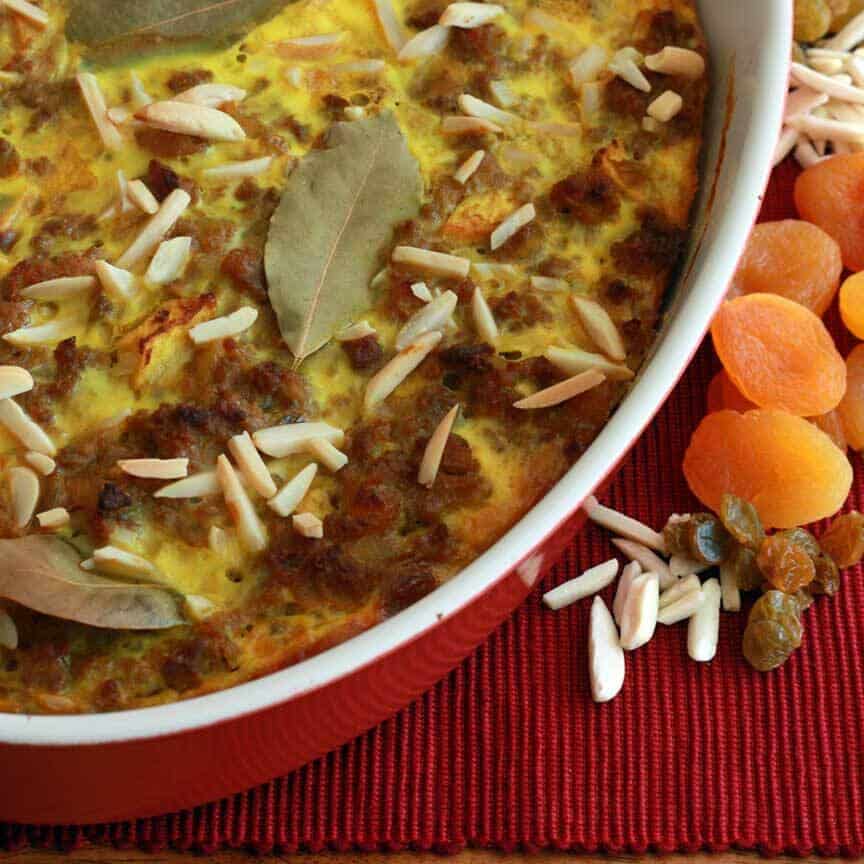 :
The Daring Gourmet, www.daringgourmet.com
1 lb ground beef, lamb, pork, or combination
2 tablespoons butter or olive oil
1 large yellow onion, chopped
2 cloves garlic, minced
1½ tablespoons curry powder
1 teaspoon turmeric
¼ teaspoon cumin
⅛ teaspoon nutmeg
⅛ teaspoon cloves
⅛ teaspoon allspice
1½ teaspoons salt
½ teaspoon freshly ground black pepper
2 tablespoons apricot jam or mango chutney
1 tablespoons malt or cider vinegar
2 slices stale bread, crusts removed, and cubed, soaked in about ½ cup milk (use gluten free if necessary)
1 large egg
1 cup diced apple, peeled and cored (about 1 medium-sized apple)
¼ cup finely diced dried apricots
¼ cup golden raisins
For the custard:
1 cup whole milk
2 large eggs
¼ teaspoon salt
½ teaspoon turmeric
For topping:
6 bay leaves
2 tablespoons slivered almonds
Preheat the oven to 350 degrees F. Grease a medium (about 8x10) casserole dish.
Heat the butter or oil in a large frying pan and saute the onions and garlic until soft and translucent. Add the ground meat and cook until most of the pink is gone. Add the curry, turmeric, cumin, nutmeg, cloves, and allspice and cook for another 2 minutes.
Add the salt, pepper, apricot jam and vinegar and stir to combine.
Squeeze excess milk from the bread and add the bread to the meat mixture. Stir to combine. Add the egg to the mixture and stir to thoroughly combine.
Add the apples, apricots and raisins and stir to combine.
Scoop the meat mixture into the greased casserole dish.
To make the custard, combine the milk, eggs, salt and turmeric and whisk together until blended. Evenly pour the custard over the meat mixture. Place the bay leaves on top and evenly sprinkle over the slivered almonds.
Baked uncovered for an hour or until the mixture is set and the top is golden brown. Serve with yellow rice (*see note)
To make yellow rice, prepare some white rice as normal but add ½ teaspoon turmeric per cup of uncooked rice.
Recipe by
The Daring Gourmet
at https://www.daringgourmet.com/bobotie-south-african-meatloaf-casserole/