Perfect Indian Naan Bread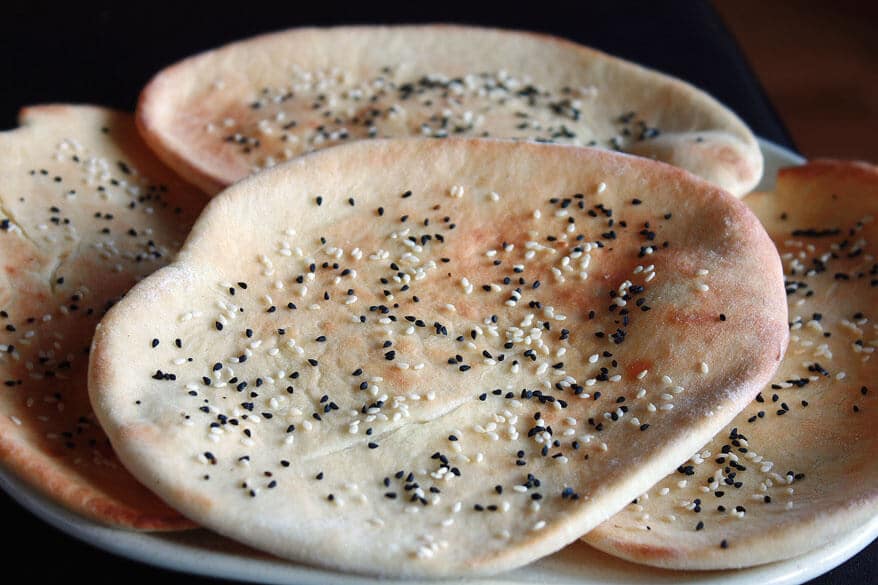 :
The Daring Gourmet, www.daringgourmet.com
2 teaspoons dry yeast
1 cup lukewarm milk
3½ cups all-purpose unbleached flour
1½ teaspoons salt
1 teaspoon sugar
3 tablespoons plain whole fat yogurt
2 tablespoons ghee or butter, melted
A mixture of nigella/kalonji seeds and sesame seeds for sprinkling
Extra melted ghee or butter for brushing
Stir the yeast into ½ cup of the lukewarm milk (be careful it's not too hot or it will kill the yeast and the dough will not rise properly). Let sit for 5 minutes until frothy.
Combine the flour, salt and sugar in the bowl of a standing mixer. Make a well in the center of it and add the yeast mixture, yogurt, and melted ghee or butter.
Knead the dough with a dough hook on the bread setting for about 7-8 minutes, adding the remaining ½ cup milk toward the beginning as needed. (Alternatively, you can knead the dough by hand: Stir the mixture until it comes together in a stiff, sticky dough. Then turn it out onto a lightly floured work surface and knead steadily for about 10 minutes.) The dough will be stiff, smooth, and elastic.
Remove the dough and form it into a ball. Spray the bowl with oil and return the dough to the bowl.
Cover the bowl loosely with plastic wrap or a clean dish towel. Let the dough sit in a warm place free of drafts for about 3-4 hours or until doubled in size. Punch the dough down and let it rest for 10 minutes.
Divide the dough into four equal pieces. On a lightly floured work surface, roll each piece to form a a round disk about 6 inches across and ¼ inch thick. Pull one side of the disk to form a tear shape. Brush each piece with melted ghee or butter and sprinkle with your choice of sesame, nigella, and/or cumin seeds.
Set the oven to the "Grill" setting (about 500 degrees F) and preheat a baking sheet in the oven for about 2 minutes. Carefully pull out the baking sheet and place the dough on the hot baking sheet. Bake the dough for about 2-3 minutes then flip over and bake for another 2 minutes, until puffy and golden.
Stack the baked naan bread on top of each other and cover with a clean, dry cloth until ready to serve to prevent the bread from drying out. Best served immediately.
Recipe by
The Daring Gourmet
at https://www.daringgourmet.com/perfect-indian-naan-bread/