Best Gluten Free Gingerbread Cookies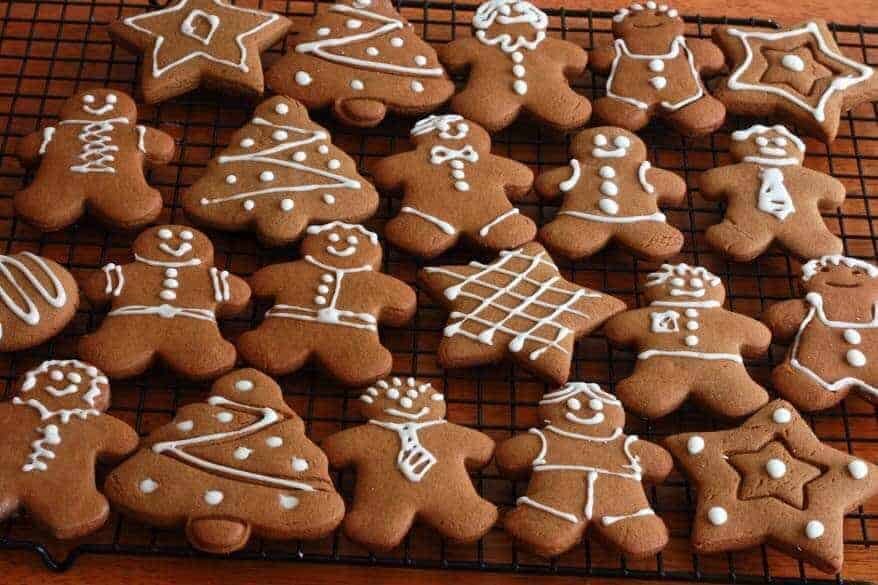 :
Kimberly Killebrew, www.daringgourmet.com
½ cup gluten free oat flour
⅓ cup brown rice flour
⅓ cup white rice flour
⅓ cup buckwheat flour
2 tablespoons cornmeal
1½ teaspoons ground cinnamon
1 teaspoon ground ginger
¼ teaspoon ground nutmeg
⅛ teaspoon ground cloves
1½ teaspoons baking powder
½ teaspoon baking soda
¼ teaspoon salt
3 tablespoons butter, at room temperature
3 tablespoons coconut oil, melted and slightly cooled (or 6 tablespoons coconut oil instead of butter)
4 tablespoons unsulphured molasses
½ cup packed brown sugar
1 tablespoon honey
1 large egg
1 teaspoon quality pure vanilla extract
Combine the dry ingredients in a bowl.
In a separate large bowl, beat the butter, oil, molasses and sugar until combined then add and beat the egg and vanilla extract until combined.
Add the dry mixture to the wet mixture and beat until combined. Form into a ball, wrap in plastic wrap, and refrigerate overnight. It's critical that the dough is thoroughly chilled while working with it.
Preheat the oven to 350 degrees F and place the rack on the middle shelf.
Roll out the dough to a thickness of ¼ inch or slightly thicker (if it's too sticky, roll it between GF floured parchment or wax paper). Use a cookie cutter to cut out shapes and carefully transfer them to a lined cookie sheet using a knife or spatula.
Bake for about 8 minutes. Let the cookies cool for a couple of minutes before transferring them to a wire rack to cool completely before frosting them. Store in an airtight container (or they'll get rock hard).
These cookies freeze well. Once they've cooled down completely place them in an airtight container or in a ziplock bag and freeze them. Let them thaw completely before frosting them.
Recipe by
The Daring Gourmet
at https://www.daringgourmet.com/best-gluten-free-gingerbread-cookies/