Whole Wheat Pear Upside Down Gingerbread Cake with Caramel Sauce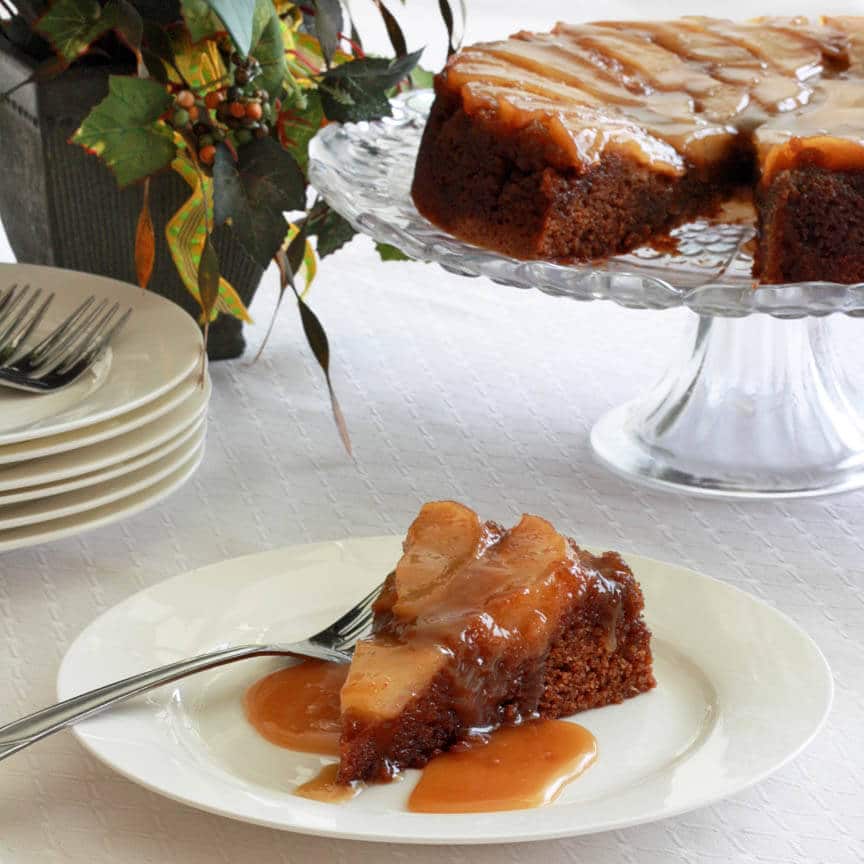 :
The Daring Gourmet, www.daringgourmet.com
1 cup firmly packed dark brown sugar
6 tablespoons butter, cut into several pieces
2 pears, peeled, cored, and cut into wedges
1½ cups whole wheat flour
1 cup granulated sugar
1 teaspoon baking soda
1 teaspoon baking powder
½ teaspoon salt
2 teaspoons ground cinnamon
¼ teaspoon ginger powder
⅛ teaspoon nutmeg
2 large eggs
½ cup oil
½ cup buttermilk
2 teaspoons grated fresh ginger
For the caramel sauce:
½ cup whipping cream
½ cup firmly packed dark brown sugar
½ cup granulated sugar
½ cup unsalted butter
1 teaspoon vanilla extract
Preheat the oven to 325 degrees F.
Grease a 9X3 inch round cake pan (I use Magic Line)
Spread the brown sugar out evenly on the bottom of the cake pan and spread out the butter pieces on top of the sugar. Place the pan in the oven for 8 minutes.
Remove the pan and stir the butter/sugar mixture until combined and smooth. Spread it out evenly on the bottom of the pan.
Lay the pear wedges on top of the butter/sugar mixture in spoke/circular fashion.
In a large mixing bowl, combine the flour, sugar, baking soda, baking powder, salt, cinnamon, nutmeg, and ground ginger. Add the eggs, oil and milk and beat just until combined. Add the fresh grated ginger and beat just until combined.
Pour the batter evenly over the pears in the pan. Bake in an oven preheated to 325 degrees F for 1 hour or until a toothpick inserted into the middle of the cake comes out clean. Remove the cake from the oven and let it cool in the pan for 20 minutes before inverting it onto a cake platter.
To make the caramel sauce: Place all sauce ingredients in a saucepan and bring to a boil. Once the butter is completely melted, let the sauce simmer for another 3 minutes. Remove from heat and stir in the vanilla extract.
Spread about 2 tablespoons of the caramel sauce evenly over the warm cake (on top of the pear wedges).
Serve the cake with the remaining caramel sauce to drizzle over.
Recipe by
The Daring Gourmet
at https://www.daringgourmet.com/whole-wheat-pear-upside-down-gingerbread-cake-with-vanilla-caramel-sauce/