Sichuan Chicken and Cashew Noodle Salad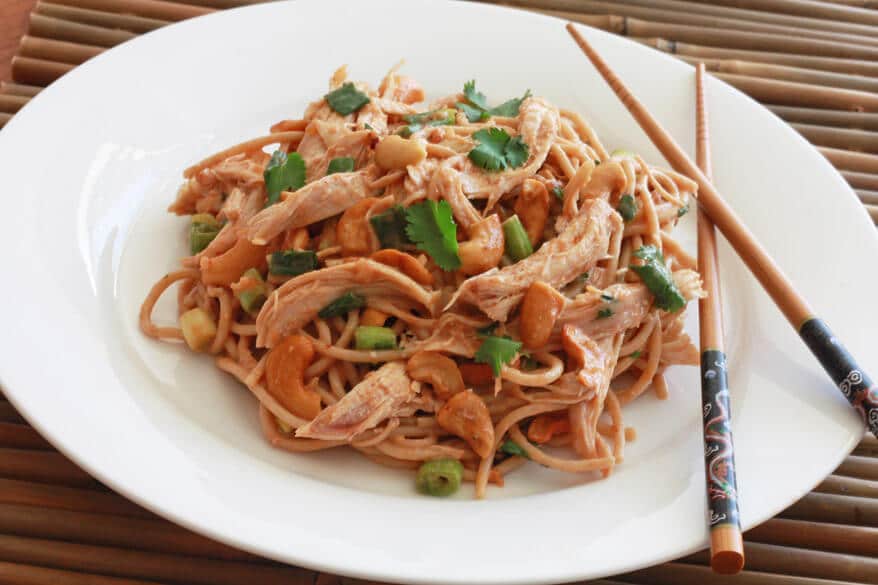 :
The Daring Gourmet, www.daringgourmet.com
1 package (1 lb) whole wheat spaghetti noodles, or Chinese egg noodles, prepared according to package directions
1 large chicken breast, bone-in/skin-on (or about 2 cups shredded chicken)
⅓ cup roasted cashews
6 green onions, chopped
¼ cup fresh cilantro, chopped
3-4 garlic cloves, minced
¼ cup smooth natural peanut butter
¼ cup chili sauce
2 tablespoons soy sauce
2 tablespoons red wine vinegar
2 tablespoons sesame oil
¼ cup extra virgin olive oil
¼ cup chicken broth
1½ teaspoons dry roasted sichuan pepper, crushed
Place the chicken breast in a saucepan and add enough water to just cover the chicken. Add ½ teaspoon salt. Bring to a boil, reduce the heat to medium, cover and simmer for 30 minutes or until the chicken is done. Reserve ¼ cup of the chicken broth. Save the rest for another use.
While the chicken is cooking, cook the noodles.
In a medium bowl, combine all ingredients except for the noodles, chicken, and cashews.
Place the noodles in a large bowl and add the chicken and cashews. Toss to combine. Pour the sauce over the noodles and toss and stir until combined.
Serve at room temperature.
Recipe by
The Daring Gourmet
at https://www.daringgourmet.com/sichuan-chicken-cashew-noodles/