Sweet Potato Corn Chowder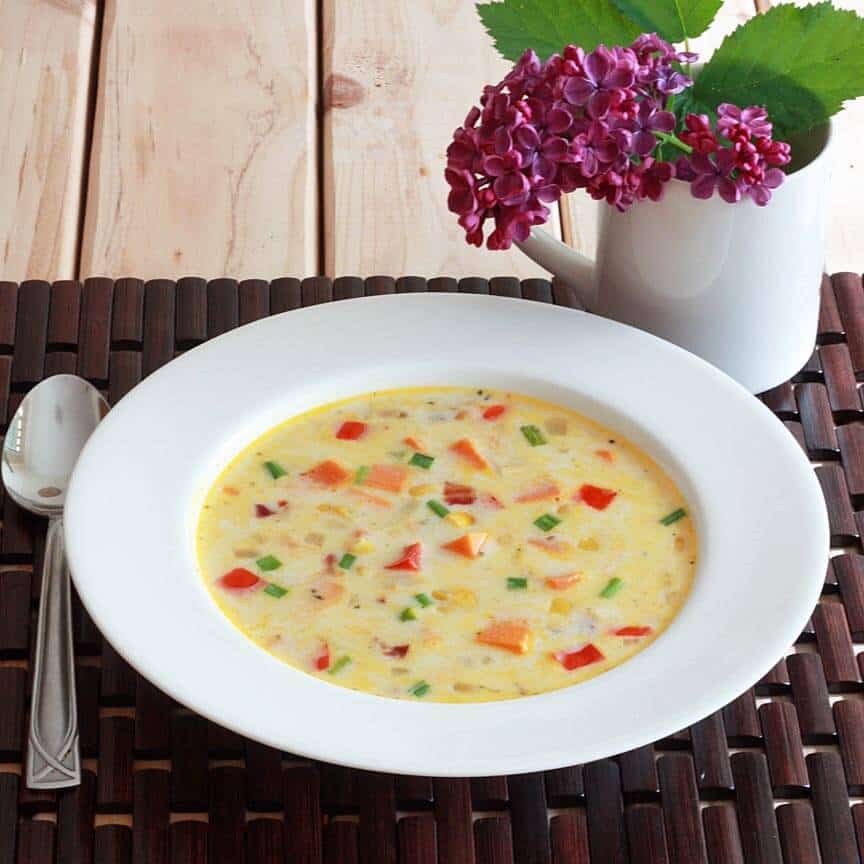 :
The Daring Gourmet, www.daringgourmet.com
4 thick-cut bacon slices, diced
1 sweet onion (like Vidalia or Walla Walla)
1 red bell pepper, diced
2 cups diced sweet potato
¼ cup all-purpose flour
1 (15 oz) can corn, drained
3½ cups chicken broth
¼ teaspoon dried thyme
¼ teaspoon dried marjoram
1 cup heavy cream (or half and half for less calories)
2 green onions, chopped
Salt and freshly ground pepper to taste
Fry the bacon in a Dutch oven or stock pot. Transfer to the bacon to a plate, leaving the bacon grease in the Dutch oven.
Saute the onions in the bacon grease over medium-high heat until tender and translucent, about 7-8 minutes. Add the red bell pepper and cook for another 4 minutes. Add the sweet potato and cook for another 4 minutes. Add the flour and stir until dissolved.
Add the broth, corn, thyme and marjoram. Bring to a boil, reduce the heat, cover, and simmer for 15-18 minutes or until the sweet potatoes are tender. If you prefer a creamier texture, puree about ⅓ of the mixture and return it to the pot.
Add the cream, green onions and bacon and heat through. Add salt and pepper to taste. Serve.
Recipe by
The Daring Gourmet
at https://www.daringgourmet.com/sweet-potato-corn-chowder/