Restaurant Style Chinese Hot and Sour Soup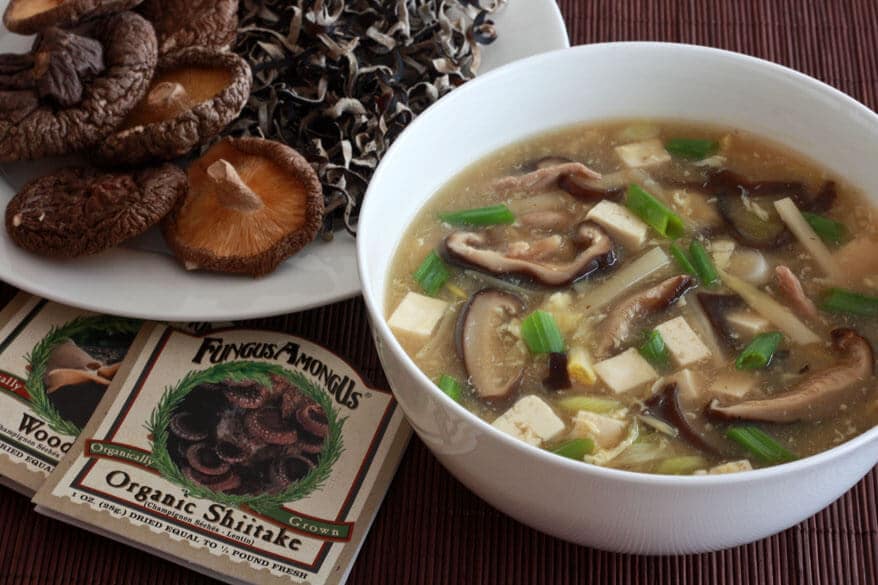 :
The Daring Gourmet, www.daringgourmet.com
4 large dried shiitake mushrooms
¼ cup wood ear mushrooms
½ cup dried day lilies
¼ lb pork, finely julienned
1 teaspoon fresh ginger, finely minced
1 teaspoon soy sauce
5 cups chicken broth
1 cup reserved mushroom soaking liquid
3 tablespoons soy sauce
1 teaspoon sugar
1 teaspoon ground white pepper
4-5 tablespoons black vinegar according to desired sourness (see note)
½ cup bamboo shoots, drained and julienned
1 tablespoon cornstarch mixed in ¼ cup water
1 cup tofu, cut into ¼ inch cubes
2 eggs, lightly beaten
2 teaspoons sesame oil
2 teaspoons chili oil, or more depending on heat preference
1 teaspoon hot sauce (optional)
2 tablespoons chopped green onions
Place the shiitake and wood ear mushrooms in a glass bowl and pour boiling water over them. Soak for 20 minutes. Reserve 1 cup of the mushroom liquid, discard the rest. Squeeze the liquid from the mushrooms. Slice the shiitakes and chop the wood ear mushrooms.
While the mushrooms are soaking, quickly rinse the dried day lilies and soak them in hot water for 20 minutes. Discard the liquid, squeezing any excess from the lilies, cut the hard tips off the bottoms, slice the lilies lengthwise and chop into 1 inch lengths.
While the mushrooms and day lilies are soaking, place the pork in a small bowl and combine it with the ginger and teaspoon soy sauce. Set aside while you're preparing the other ingredients.
Bring the chicken broth and the reserved cup of mushroom liquid to a boil in a stock pot. Add the soy sauce, vinegar, sugar, chile oil, hot sauce (adding more according to desired level of heat), and pepper.
Add the pork, stirring to prevent the pork from sticking together, the bamboo shoots, and mushrooms. Simmer for 2 minutes.
Add the day lilies and the cornstarch mixture. Return to a boil and simmer for another minute until slightly thickened. Add the tofu and simmer for another minute.
Pour the egg mixture in a steady stream into the simmering soup, remove from heat, and let sit for 20 seconds to let set in fine strands. Stir gently.
Add the sesame oil and green onions.
If you don't have black vinegar, the closest substitute is balsamic vinegar.
Recipe by
The Daring Gourmet
at https://www.daringgourmet.com/restaurant-chinese-hot-and-sour-soup/