Whole Wheat Banana Buttermilk Truffle Muffins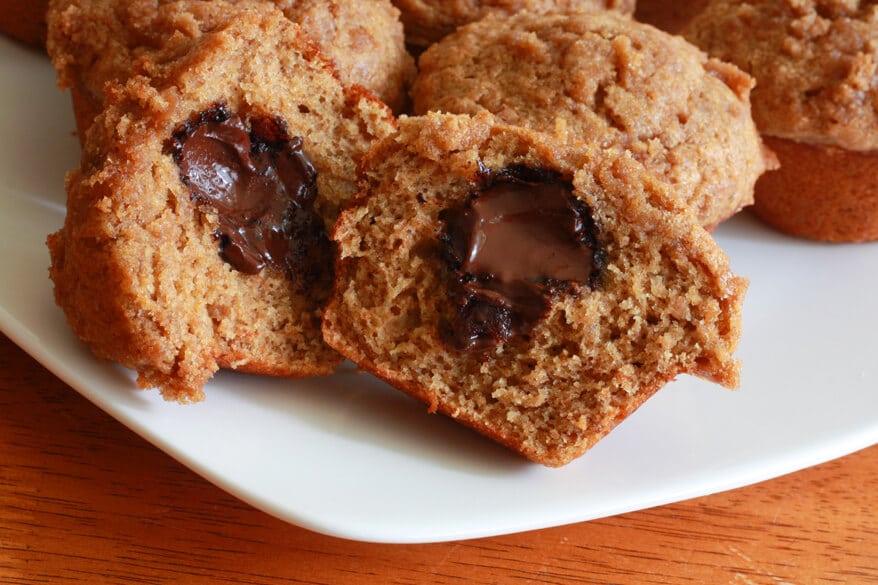 :
The Daring Gourmet, www.daringgourmet.com
2 cups whole wheat flour
1 teaspoons baking powder
1 teaspoons baking soda
½ teaspoon salt
1 cup mashed bananas
2 eggs
¼ cup oil (I use avocado oil)
1 cup brown sugar
¾ cup buttermilk
1 teaspoon vanilla extract
12 chocolate truffles or Nutella
For the crumb topping
⅓ cup brown sugar
2 tablespoons flour
⅛ teaspoon cinnamon
1 tablespoon butter
Preheat oven to 375 F.
In a small bowl, combine the dry ingredients.
To make the crumb topping, place all ingredients in a small bowl and use your fingers to combine until the mixture resembles coarse wet sand. Evenly sprinkle the crumb topping over each muffin.
Beat all wet ingredients in separate large bowl, adding and beating the buttermilk last. Carefully fold in the flour in 3 batches just until combined.
Spray muffin pans with vegetable spray. Fill half full with the batter, put either one truffle in the center or 1 teaspoon Nutella. Add more batter on top to fill the muffin tin to just a little over ¾ full.
Bake for 16-18 minutes or until a toothpick inserted into the center comes out clean. Place the muffin pan on a cooling rack and allow it to cool for 5 minutes before removing the muffins.
Makes 12 muffins.
Recipe by
The Daring Gourmet
at https://www.daringgourmet.com/whole-wheat-banana-buttermilk-truffle-muffins/