Sichuan Orange Beef (+ GIVEAWAY!)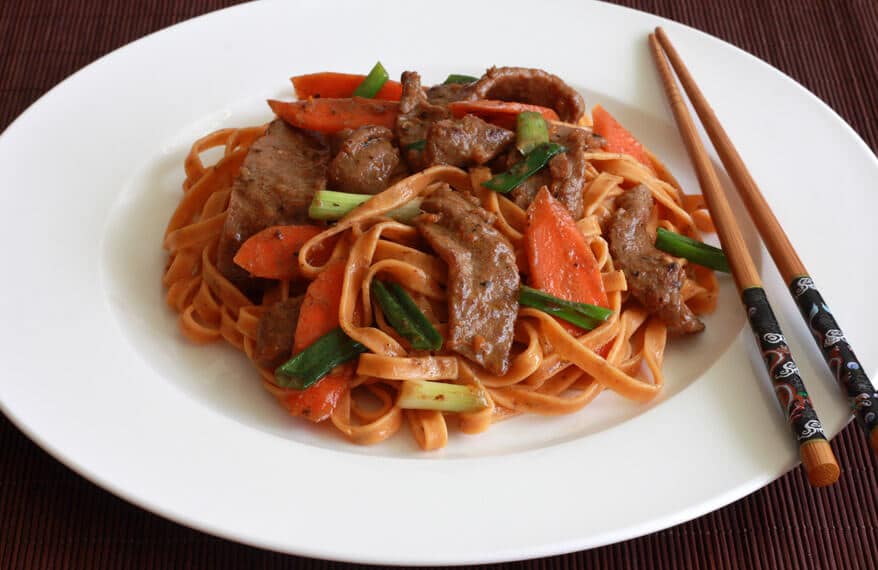 :
The Daring Gourmet, www.daringgourmet.com
8 oz. Pappardelles Orange Szechuan Linguine or pasta of choice, prepared al dente according to package directions (or serve with rice if preferred)
8 oz. lean beef steak, cut into thin strips
1 tablespoon vegetable oil
1 large carrot, thinly sliced diagonally
3 green onions, sliced diagonally in 1 inch pieces, the whites separated from the greens
For the marinade/sauce:
3 tablespoons soy sauce
2 teaspoons cornstarch
1 teaspoon sugar
2 teaspoons fresh ginger, minced
2 teaspoons sesame oil
½ teaspoon ground sichuan peppercorns
Zest of one orange (about 1 tablespoon)
Juice of one orange (about ¼-1/3 cup)
Combine all the marinade/sauce ingredients in a medium bowl. Add the beef and stir to combine. Set aside while preparing carrot and green onions.
Heat the oil in a wok or skillet over high heat. Add beef, reserving the marinade, and fry quickly until lightly browned. Add the carrot and the whites of the green onions and stir fry for 30 seconds.
Add the marinade/sauce and stir to coat. Simmer for 2 minutes. Add the remaining green onions and stir to combine.
Serve the beef mixture over the hot pasta.
Recipe by
The Daring Gourmet
at https://www.daringgourmet.com/sichuan-orange-beef/