Ultimate Chicken Chow Mein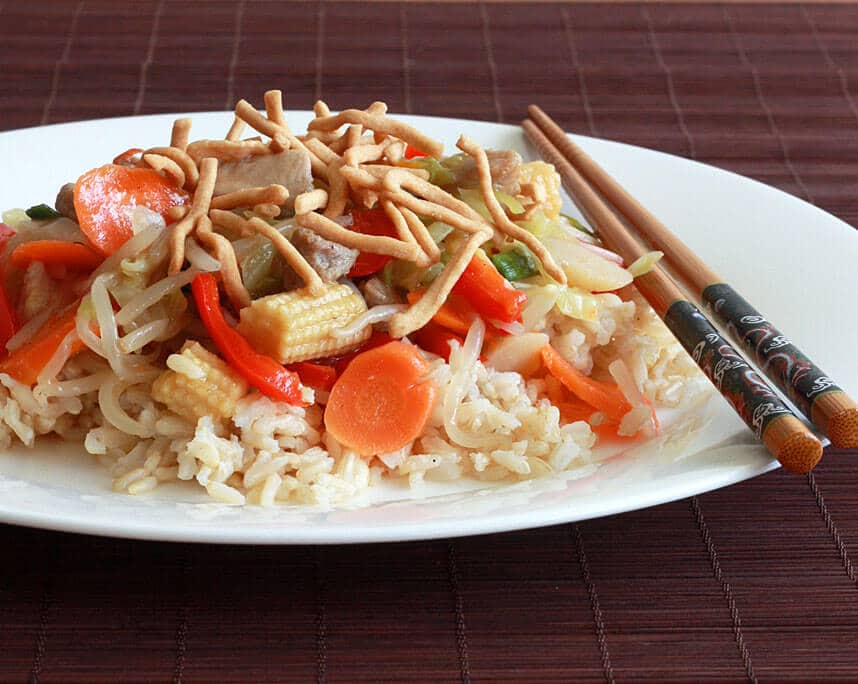 :
The Daring Gourmet, www.daringgourmet.com
Cuisine:
Chinese-American
1 tablespoon olive or vegetable oil
2 cups chicken breast or pork, cut into small cubes
3 large carrots, thinly sliced diagonally
3 large celery sticks, thinly sliced diagonally
1 red bell pepper, sliced in 1 inch long sticks
2 cups shredded green cabbage
1 (15 oz) can baby corn, drained
1 (7 oz) can water chestnuts, drained and sliced
3 cups bean sprouts
4 green onions, sliced
For the sauce:
2 cups chicken broth
3 tablespoons cornstarch
1 tablespoon sesame oil
¼ cup soy sauce
½ teaspoon garlic powder
½ teaspoon freshly ground black pepper
Serve with either: 1 lb fresh cooked egg noodles, steamed rice, and/or crispy chow mein noodles (see instructions)
Heat the oil in a wok or large skillet over high heat.
Add the meat and fry until done. Add the carrots, celery and bell pepper and fry for about 3 minutes or until slightly softened. Add the cabbage, baby corn, and water chestnuts and stif-fry for another 2 minutes.
Combine the sauce ingredients and stir until the cornstarch is dissolved.
Add the sauce to the wok, lower the heat and simmer until the sauce is thickened. If you prefer a thicker sauce, combine some cornstarch with a little more water and add it to the sauce until you've achieved the desired thickness.
Add the bean sprouts and green onions and stir to combine. Don't cook for longer than a minute so that the bean sprouts remain crispy. Add salt, pepper and soy sauce to taste. Add more sesame oil if you like.
If using fresh egg noodles, add them and stir to combine and let heat through.
Or serve with/on rice and/or crunchy deep-fried egg noodles.
**NOTE: There are East and West Coast variations and there's sometimes a fine line between chow mein and chop suey with many east coast establishments serving chow mein with rice. This recipe is easily adapted to your preferences.  If you prefer fresh egg noodles, toss them with the sauce at the end.  Or you can the sauce with/over rice and/or deep-fried crunchy egg noodles.
Recipe by
The Daring Gourmet
at https://www.daringgourmet.com/ultimate-chicken-chow-mein-recipe/