Grilled Chicken and Roasted Cherry Tomato Salad with Herbed Champagne-Dijon Vinaigrette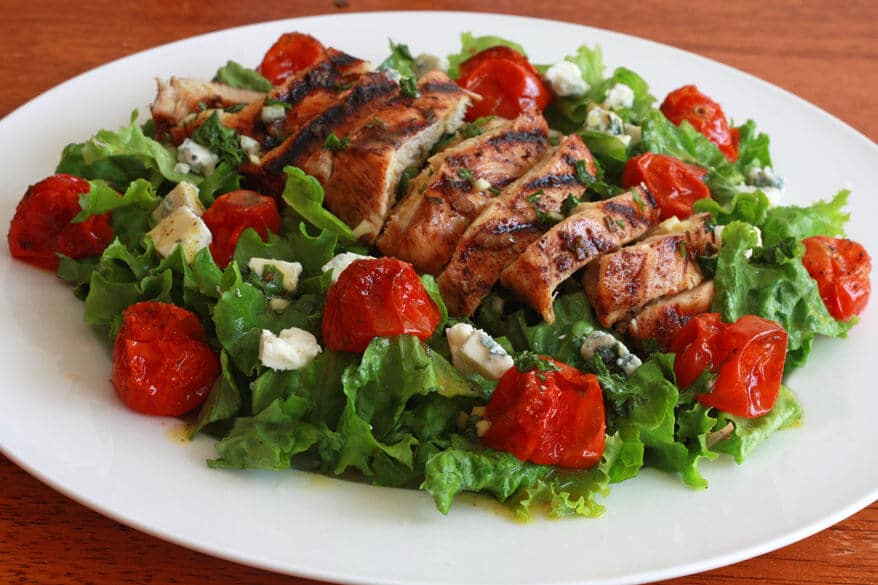 :
The Daring Gourmet, www.daringgourmet.com
For the marinade:
¼ cup balsamic vinegar
¼ cup extra virgin olive oil
1 teaspoon fresh rosemary, thyme, or herb of your choice, chopped
½ teaspoon salt
¼ teaspoon freshly ground black pepper
2 boneless, skinless chicken breasts, about 8 oz each
¼ cup crumbled blue cheese (feta also works well)
1 pint (about 2 cups) cherry tomatoes
1 head green leaf lettuce, chopped, or mixed greens
Whisk the vinegar, olive oil, herbs, salt and pepper in a small bowl until emulsified.
Place the chicken breasts in a plastic baggie and pour in the marinade. Marinate for at least 4 hours, preferably overnight.
To roast the cherry tomatoes, place them on a baking sheet covered with aluminum foil. Drizzle some extra virgin olive oil over them and lightly sprinkle with salt and freshly ground black pepper. Roast in an oven preheated to 400 degrees F for 10-15 minutes or until the skins are collapsed and are just barely beginning to brown. Remove from oven and set aside.
Grill the chicken until done, basting regularly with the marinade. Slice the chicken in slices about ¼ inch thick.
Arrange the lettuce on two plates and place the sliced chicken breasts on top. Divide the cherry tomatoes and arrange them on top of the greens. Sprinkle about 2 tablespoons of blue cheese over each plate and drizzle with the Champagne Dijon Vinaigrette. Serve immediately.
Recipe by
The Daring Gourmet
at https://www.daringgourmet.com/grilled-chicken-and-roasted-cherry-tomato-salad-with-herbed-champagne-dijon-vinaigrette/