Oven-baked Chicken & Pork Chops with Chipotle Maple Barbecue Sauce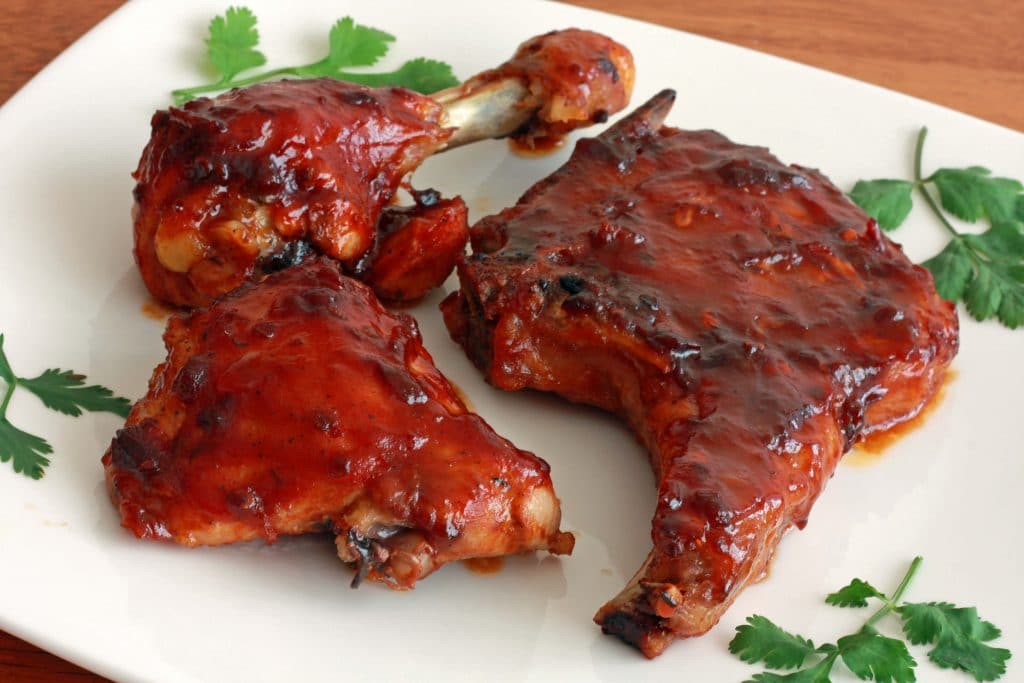 :
The Daring Gourmet, www.daringgourmet.com
6 pork chops or 6 large pieces of chicken
salt and pepper
½ cup ketchup
½ cup maple syrup
¼ cup water
1½ tablespoons brown sugar
1 tablespoon apple cider vinegar
1 teaspoon Worcestershire sauce
1 teaspoon molasses
2 chipotles en adobo sauce, finely chopped - seeded if you prefer less spicy (can be found in any Mexican store or well-stocked grocery store)
1 teaspoon adobo sauce from the can
1½ teaspoons salt
½ teaspoon onion powder
½ teaspoon garlic powder
2 teaspoons paprika
½ teaspoon black pepper
¼ teaspoon oregano
¼ teaspoon thyme
¼ teaspoon rosemary
Pat the meat dry with a paper towel. Sprinkle top and bottom with salt and pepper. Place the meat in a baking dish.
To make the barbecue sauce, combine all remaining ingredients and place them in a small saucepan. Bring to a simmer, reduce the heat to low and simmer, uncovered for 20 minutes. This barbecue sauce should ideally be made the day before and left in the fridge to allow the flavors to fully combine. This makes a big difference in flavor.
Baste the meat with half of the barbecue sauce. Cover the baking dish with aluminum foil and bake at 350 F for 1 hour. Remove the foil, baste the meat with the remaining sauce, increase the heat to 400 F and bake, uncovered for another 10 minutes. Serve with your choice of sides.
Note: This is also perfect for the grill!
Recipe by
The Daring Gourmet
at https://www.daringgourmet.com/oven-baked-chicken-pork-chops-with-chipotle-maple-barbecue-sauce/