Coconut Chicken Pumpkin Curry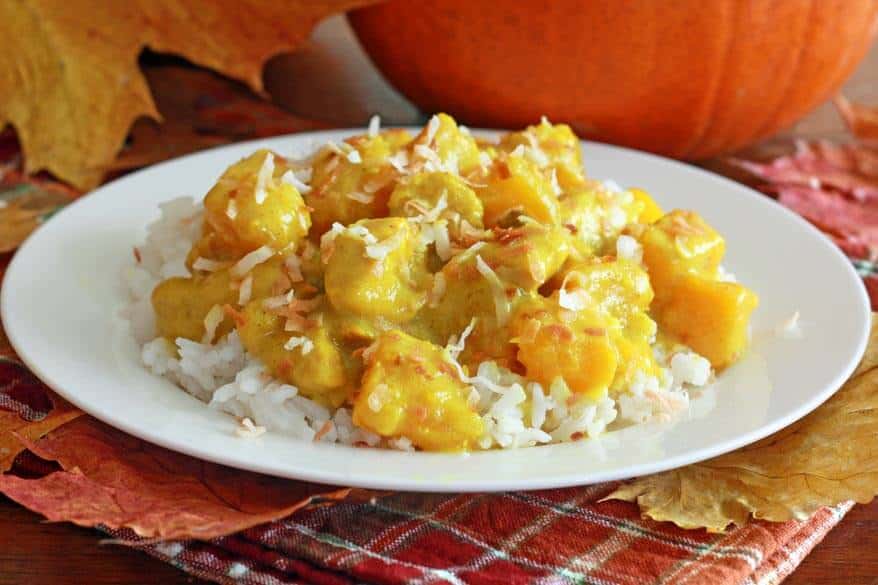 :
The Daring Gourmet, www.daringgourmet.com
4 cups sugar pumpkin (aka baking pumpkin), cut into ½ inch cubes
1 large chicken breast (3/4 to 1 lb), cut into ½ inch cubes
2 tablespoons butter
1 cup finely diced yellow onion (about 1 medium)
1 clove garlic, minced
2 tablespoons apricot jam
2 tablespoons curry powder
¼ cup all-purpose flour
1 cup chicken broth
1 (14 oz) can coconut cream (or coconut milk if you can't find cream)
2 tablespoons golden raisins
1¼ teaspoons salt
¼ cup flaked/desiccated coconut, toasted (see Note)
Heat the butter in a Dutch oven or pot over medium-high heat. Saute the onions until soft and translucent, about 6-7 minutes. Add the garlic and saute for another minute.
Add the chicken and cook until no longer pink. Add the curry powder and apricot jam and cook for another minute. Add the flour and stir to combine.
Slowly add the chicken broth and increase the heat, constantly stirring, until the flour is dissolved. Add the coconut milk and salt and bring to a simmer, stirring constantly until the sauce is thickened. Add the pumpkin and raisins. Return to a simmer, reduce the heat to low, cover, and simmer for 20-25 minutes, stirring occasionally, or until the pumpkin is soft but not mushy. Add salt to taste.
Serve with steamed Basmati rice or naan bread and sprinkled with some toasted shredded coconut.
To toast the shredded coconut, place a dry skillet over medium-high heat and toast the coconut, stirring constantly to prevent burning, until golden brown.
Recipe by
The Daring Gourmet
at https://www.daringgourmet.com/coconut-chicken-pumpkin-curry/