Cranberry Almond Streusel Cake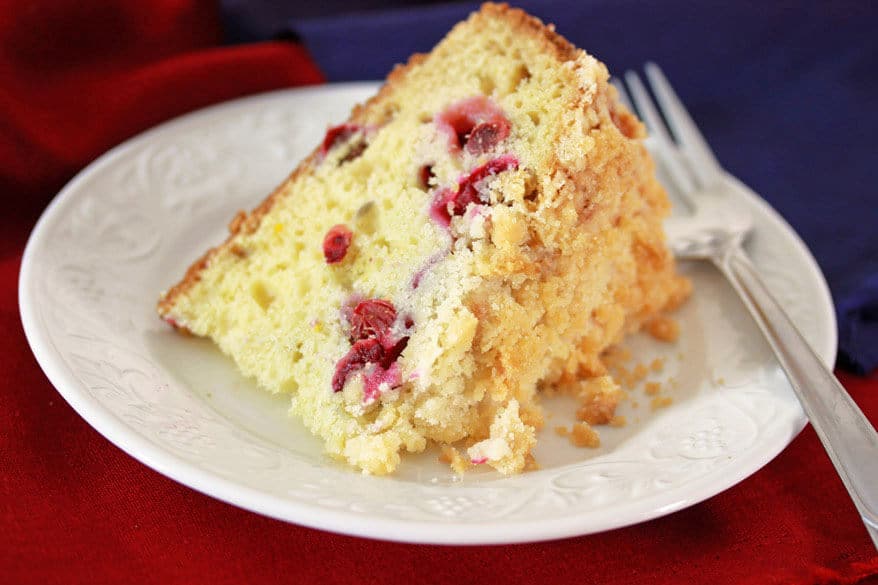 :
The Daring Gourmet, www.daringgourmet.com
½ cup (1 stick) unsalted butter, at room temperature
1 cup plus 3 tablespoons sugar
1 teaspoon vanilla extract
½ teaspoon almond extract
1 teaspoon orange zest
2 large eggs
2 cups all-purpose flour
1 teaspoon baking powder
1 teaspoon baking soda
½ teaspoon salt
1 cup full fat sour cream
⅓ cup ground almonds
2 cups fresh or frozen cranberries or cherries (is using frozen, thaw and drain but do not squeeze the cranberries)
Streusel Topping:
¼ butter, melted and cooled
½ cup all-purpose flour
½ cup sugar
Preheat the oven to 350 degrees F. Grease a 9-inch springform.
In a medium bowl, combine the flour, baking soda, baking powder and salt.
In a large bowl, cream the butter and cup of sugar, beating for several minutes until light and fluffy. Add the eggs, vanilla extract, almond extract, and orange zest. Add the sour cream.
Use a rubber spatula to fold in the ground almonds. Fold in the flour mixture.
In a small bowl, add the cranberries and the 3 tablespoons of sugar, tossing to combine.
Fold the cranberries into the cake batter. Batter will be stiff.
Spoon the batter into the springform.
To make the streusel topping, combine the streusel ingredients in a small bowl and crumble with your fingers. Evenly sprinkle the streusel topping over the cake batter.
Bake for 45-55 minutes or until a toothpick inserted into the center of the comes out moist but clean.
Let the cake cool in the pan for 30 minutes before removing and then let cool completely. Sprinkle with powdered sugar.
Another option: Combine ½ cup powdered sugar with a tablespoon or so of freshly squeezed orange juice and drizzle over the cake while still warm.
Serve with ice cream, whipped cream, or warm vanilla sauce or custard.
Recipe by
The Daring Gourmet
at https://www.daringgourmet.com/cranberry-almond-streusel-cake/