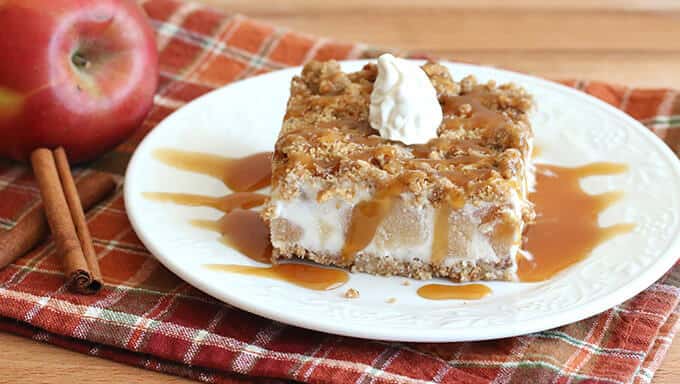 Apples.  Caramel.  Ice cream.  Cake.  EASY.
Does that sound like a good combination to you?  (Especially the "easy" part?)  This is a perfect make-ahead dessert because it can be made several days in advance. Then when you're expecting company or are just having a random sweet craving (that never happens to me.  never.) you simply pull it out of the freezer and let it sit a few minutes before slicing and serving.
I've published this recipe over at Tablespoon.com where I do freelance work.   Come grab the recipe for this Frozen Caramel Apple Crunch Cake!
Whoa!  Where'd THAT come from??!
I know this is the craziest context ever to talk about dinosaurs – I mean, dinosaurs and Caramel Apple Crunch Cake??  But I need to occasionally do something crazy to keep your interest, right?  Here is something that could actually make the perfect early Christmas present for someone (big or small) in your family who likes dinosaurs or simply appreciates a live show with great music.  To my friends in Western Washington, or anyone else willing to travel, Walking With Dinosaurs is coming to the Tacoma Dome December 17-21 and I have a DISCOUNT CODE for you.  My husband and I took our son for a special appearance of Baby T Rex at the Tacoma Dome last week and I was able to interview the show's official representative for some more information about the show.
A collaboration with Global Creatures, this is the $22 million live arena version of BBC's popular TV series.  Get this:  The show travels with 7 semi-trucks.  The smallest dinosaur in the show, besides a few remote-controlled ones and hatchlings, is 8 feet tall.  And that's Baby T Rex whom we met up close and personal.  "Baby T" comes to the knees of its mother who is 36 feet tall (that's 3 stories)!  On average, the 20 large participating dinosaurs weigh 1 1/2 tons each.   This show takes you back 65 million years and you'll leave with a grounded knowledge of how dinosaurs lived and interacted.  With many experts involved in its making, the show is scientifically accurate and backed by years of research.  It's a show that critics have called "spectacular."  Geared towards an audience ages 3 to 93+, Walking With Dinosaurs is a show for the entire family.  Educational entertainment and well-rounded in its presentation, the show encompasses the whole spectrum of human emotion, has a beautiful musical score and has been referred to as "the greatest family show ever."  Walking With Dinosaurs has performed for over 8 million people in over 240 cities around the world.
When we were initially waiting for Baby T to come out, our son could hardly wait and made use of the time by stomping around and roaring.  But when Baby T finally came out, our son was definitely a little nervous!
The dinosaurs are extremely life-like and we were amazed at the dexterity of movement.  Considering this is the smallest dinosaur in the show, we can only imagine what Baby T's 3-story tall Mommy T is going to look like!  Our son is still talking about our encounter with Baby T and we're all looking forward to attending the show in a couple of weeks.
DISCOUNT CODE FOR THE TACOMA, WA PERFORMANCE OF WALKING WITH DINOSAURS:
$5 off Price Level 2: $44.50 (reg. $49.50)
$3 off Price Level 3: $26.50 (reg. $29.50)
Offer Code: KIDFUN  
Valid on all shows except Sat 11am/3pm & Sun 1pm.  This code is only valid for the Tacoma Dome location. 
Click here for the Ticketmaster link.   Enter the code in the little box near the top in the center that says "offer code".
(Our son's expression…don't ask.  He's 4.)