I received some steak from Snake River Farms for review.  All opinions are entirely my own.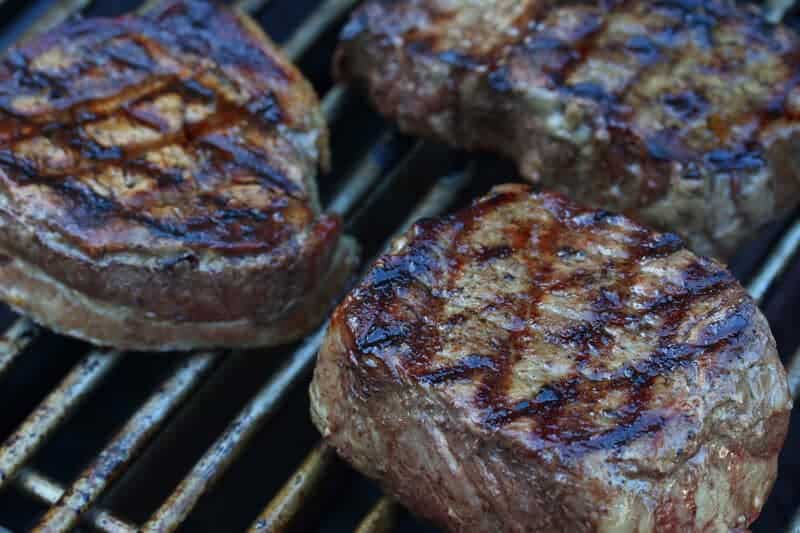 In preparation for Father's Day, Snake River Farms and Double R Ranch are offering some special Father's Day Gifts packages containing premium steaks (see special offer at the end of this post). Their beef is widely considered among the very best and is a beef of choice for many of the finest upscale restaurants including French Laundry, Per Se, CUT, Craft Steak and Wolfgang Puck. I won't sugar-coat the fact that their beef isn't cheap. But their price tag reflects the quality.
We experienced Snake River Farms' beef for the first time when we dined at John Howie Steak in Bellevue, WA. I mentioned in my restaurant review that when you walk into the restaurant the case below is one of the first things you see. It showcases the world's finest beef, including beef from Snake River Farms. Our steaks were incredible and I never thought I'd be able to replicate anything quite like them at home.
Well, earlier this week a package arrived from Snake River Farms and Double R Ranch.
We received the "Dad's Perfect Gift Package" which contains 2 bacon-wrapped filet mignons, 2 american kobe ribeye filets, 1 massive bone-in ribeye (Cowboy Chop), 2 top-sirloin filets and 1 jar of espresso brava sea salt. It arrived frozen in solid packaging with dry ice.
I couldn't wait to sample this beef and I selected one of each of the steaks, except for the large cowboy chop, to prepare yesterday.
I'm saving the massive cowboy chop for Father's Day, but I actually happen to have a picture of it prepared at John Howie Steak. I snapped this picture on the cart just before the waiter moved it to the table next to us. I heard more gasps than ours as people gawked at this Hercules of a steak. Seriously the size of a football – just the way my dad and husband would like it.
Snake River Farms and Double R Ranch steaks are aged 28 days for improved flavor and texture, hand cut by a master butcher and individually wrapped. The weight of the steaks are hand-written on the packages. The personal attention to the beef really impresses me.
When the meat was thawed and I picked it up, what immediately stood out to me was its texture. It was the softest, most tender beef I have ever handled. It was so tender it almost felt like it would melt in my hand.
I didn't want to do anything to adulterate the flavor. I wanted to experience the richness of the beef itself and so the only preparation involved was some kosher salt and freshly ground black pepper. It was ready for the grill.
I cranked up my Weber grill until scorching hot and laid the steaks on the grates over direct heat to give them a good sear.
Depending on the thickness, sear the steaks for 1-2 minutes. Then use a wide spatula to lift the steak and give it a quarter turn (90 degrees) and sear it for another 1-2 minutes. This will create those nice criss-cross grill marks. Then flip the steaks over and repeat.
There's no need to cut into the steak or use a meat thermometer to check for doneness. You can tell when a steak is done by the color of the juices that rise to the top. Depending on how done you like your steak, the juices will either be red, pink or clear.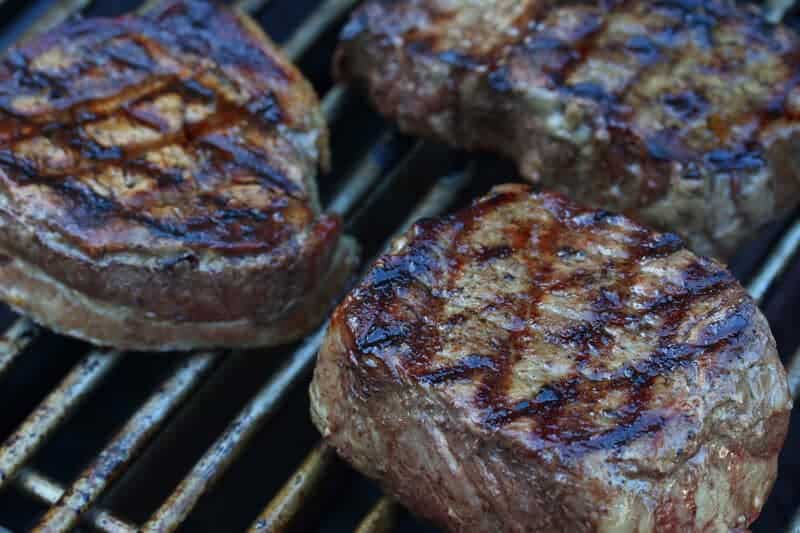 We sat down to enjoy our steaks and our 3 and 5 year old kids savored them right along with us.
These steaks were as good as the very best steaks we've had at the finest restaurants. We cannot recommend it highly enough, whether it's for a special occasion like Father's Day, a romantic couple's dinner at home, or just enjoying it solo.
Snake River Farms and Double R Ranch are offering a selection of packages for Fathers Day. If you're interested in making a special meal to celebrate the most important men in your life, take a look at their Father's Day Gifts.
How good a steak tastes has everything to do with the quality of the cut and the source of the beef. When my husband and I first met he said he had never cared much for steak, and he since has realized that was because the cuts of beef he had at restaurants and at home just weren't very good. But now steak is one of his favorite things and our experience with Snake River Farms beef at John Howie Steak is what really converted him. After savoring our steaks from Snake River Farms and Double R Ranch he was reminded of why he loves good steak so much.
Ribeye is his favorite steak of all. And I'm looking forward to preparing that 2 pound bone-in ribeye cowboy chop on the grill for him this Father's Day.
Special Offer:  Send your favorite Dad (or yourself!) one of these Father's Day gifts and you'll get free shipping by using the code: TAPFSS15.  Click here to shop Father's Day Gifts.
Thank you to Snake River Farms/Double R Ranch for sponsoring this post.  As always, all opinions are entirely my own.