I've partnered with Miele to bring you this post.  All opinions are entirely my own.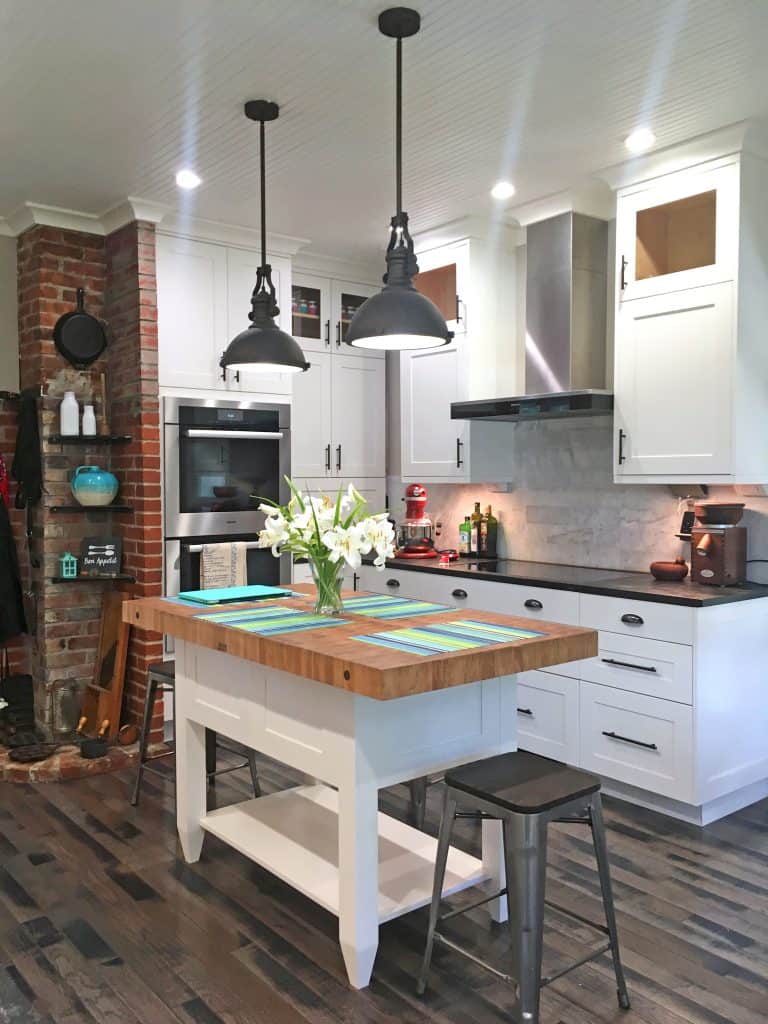 The kitchen has always been the heart of every home we've lived in, it's where we spend most of our time.  And since our recent DIY kitchen remodel the time we spend in our kitchen has been especially nice.
Cooking has always been one of my biggest passions (hence, this food blog!), and getting to work with some of the best cooking appliances in the industry has been particularly fulfilling.
Before we remodeled our kitchen there was no refrigerator in it (it was in the pantry/laundry room in the adjoining room) and there was no dishwasher at all, not even room for one.  Our kitchen had a 1940's oven in it, installed over 70 years ago!  We couldn't part with it completely so it's stored away in our barn and perhaps some day we'll find another use for it.
In its place we installed our first double wall oven, the Miele ContourLine M Touch Convection Double Oven.  (Being from Germany you know I had to go with German engineering!)  Not only is it simply stunning in appearance, its features are equally jaw-dropping.
Here are just a few of its features:
Wireless roast probe that requires no supervision and lets you know when your meat/fish/bread is done.
A unique crisp function that gives a crispy finish to things like French fries and pizza.
The upper oven comes with a rotisserie motor (rotisserie rack sold separately).
Preheating is quick, just over 8 minutes on the convection setting to reach 350 degrees F.
A variety of Special Modes and over 100 MasterChef automatic programs (more on that below).
Clean Touch Steel™ finish means that fingerprints will not adhere to the stainless steel – no smudging.
It's self-cleaning and also has a AirClean Catalyzer that reduces grease and odors and prevents deposits from collecting on walls, curtains and furniture.
The Appliance Cooling System with Cool Front ensures that all surfaces on and around the appliance remain relatively cool to protect against burns.
The Residual Heat Utilization provides ecological and economical benefits – the oven turns off early and uses residual heat to complete the cooking process.
Safety functions include automatic switch-off if you forget to turn off the oven.
The swivel door handles provide optimum ergonomics.
RemoteVision™ feature will automatically inform Miele if a malfunction occurs and customer service will contact you.
Another fabulous feature:
Steam, steam, steam!
Yes, the Miele ContourLine convection oven produces STEAM!  The Moisture Plus feature (the oven is connected to a water valve) provides steam for roasting and baking perfection. 

While it isn't a "steam oven," the oven allows for up to three, 5-8 bursts of steam into the oven cavity.  T

hink perfectly crispy, moist and juicy meat.  Think perfectly crusty bread with a light and airy crumb.
Alright, let's take a closer look at some of the incredible modes and special programs featured in this Miele oven.
The Miele ContourLine oven has a LCD panel with large, well-lit buttons that are easy to see.
With the touch of a button ("Operating Modes") you're given a huge list of options, all tailored to produce specific results depending on what you're cooking and how you want it cooked.
In addition there are several "Special Modes" from which to choose.
But the magic doesn't end there, it's only starting.
Miele's "Gourmet Center" opens up a whole world of options that not only make your life easier but produce the specific results you're looking for.  These come in the form of a long list of presets that have been preprogrammed for specific types of dishes.
Are you roasting a whole chicken and want the interior moist and juicy but want the skin nicely browned and crispy?  There's a button for it.  It will give your chicken a blast of moisture when needed and will increase and decrease the temperature as needed throughout the cooking process to give you your perfectly roasted chicken.
The Gourmet Center presets take all the guesswork out of cooking.  All you have to know is what you're cooking and the oven will take care of the how for you.
And just take a look at these bread options!  (And if you don't have a recipe already, they're included in the oven's owner manual.)  All you have to do is select the particular item you're baking and the oven does the rest.  But if you prefer a particular bread baked darker versus lighter or vice versa, you can select your desired level of browning.  And because this is a steam oven, there's no longer any need to set that pan of water on the rack under the bread.
There are also presets for a variety of other baked goods.
And just when you think the features are over….
YOU CAN PROGRAM YOUR OWN!  If you have recipes that you like to make on a regular basis that you've perfected and want to recreate perfectly again and again, you can enter the individual settings for each stage of the cooking process such as temperature variations and adjustments and cooking times.  For example, if there's a dish that you start out on a lower temperature and then gradually increase the temp (or vice versa), then broil it for a browning effect at the very end, all this can be programmed into your own custom preset.  You can then save that custom program under the name of your recipes and from then on all you have to do is push the button for that recipe and the program will start automatically.  So picture all of those buttons in the screenshots above with YOUR recipe names on them, all customized with the specific cooking instructions for your recipes.
That's just dizzyingly awesome, isn't it?
There are so many features in this remarkable oven that it's going to take me some time yet to experiment with all of them.  But so far things have been a great success and I've been turning out one great result after the other.
Whether dehydrating fruits and veggies, baking delicate items like meringues and souffles, or needing that perfect rise and browning for popovers and Yorkshire puddings and more, I've been enjoying one success after the other.
And having that second oven has been awesome during the holidays or for dinner parties when I have multiple things needing to bake at the same time and when I need to keep something warm.
I've also been super happy with my breads.  As I mentioned before, since this oven has a steam feature I no longer have to place pans of water in the oven.  And using the bread presets the oven is preprogrammed to release steam at the appropriate times.
I LOVE getting our kids involved in cooking and baking together and it's been even more enjoyable since our remodel thanks to the safety features of our Miele appliances.
Being able to have them around our ovens and cooktop (more on that to come) without worrying about them getting burned by hot surfaces has been a tremendous relief.
Bottom line:  If you're looking for a stunning oven with stunning features, look no further than Miele.  (You can get this oven single or double).
The Miele ContourLine M Touch Double Convection Oven bakes, roasts and broils to perfection with consistent results every time.
For more information about this oven, visit Miele.
I've partnered with Miele to bring you this post.  All opinions are entirely my own.