I've partnered with New Seasons Market to bring you this post about their newest location!
Confession:  I am a total grocery store GEEK.  I love grocery shopping.  (My friends think I'm totally crazy.  Somehow they  manage to love me anyway.)  Strolling down the aisles surrounded by thousands of potential ingredient combinations, conjuring up ideas for new and exciting dishes….it's electrifying.   (See, I told you.)
Yes, I get very excited about things like quality, freshness, variety, local options and good deals.
Whether you love grocery shopping like I do or are lukewarm about it, get ready for a major boost in your shopping experience because guess what?  One of the coolest grocery stores ever is coming to Seattle!
Today I attended the pre-opening party of New Seasons Market's newest location on Mercer Island, off the i-90, a ¼ mile south of exit 7a. I became so absorbed in the experience of exploring the store that I ended up spending 2 1/2 hours meandering up and down the aisles, sampling food and chatting with the staff.
I took lots of pictures and am going to take you on a virtual tour is just a moment, but for anyone unfamiliar with New Seasons Market, let me give you brief overview.
New Seasons Market is a West Coast neighborhood grocer and champion of the regional food economy.  Promoting a healthy, sustainable food system, it partners with local ranchers, farmers and producers to bring its communities peak of season regional, organic produce, sustainably sourced meat and seafood, grocery classics, and a variety of grab-and-go deli options.
Each New Seasons Market is tailored to its specific community and commits 10% of its after-tax profits back to the community it serves.  In addition, each store builds relationships with local nonprofits serving the community and gives food that cannot be sold but is still safe to eat to area residents in need, both addressing hunger and reducing food waste.  What started as a single store in Portland run by three families and some friends has now grown into 19 neighborhood stores in Oregon, California and Washington and several more stores have been announced.
But New Seasons Market is much more than a grocery store:  It's a community gathering space.  The new Mercer Island location for example includes comfortable indoor seating and a covered outdoor dining area for friends and family to gather.   Its warm and character-rich atmosphere emanates from the use of natural materials like the reclaimed Douglas fir from Seattle's historic 1909 Union Stables.
The selection at Mercer Island's New Seasons Market is awesome.  In their words, "From local, organic faves to the brands you've always loved, we cater to every craving."  That's why you'll find all kinds of pairings on their shelves:  Organic cornbread mixes next to Jiffy, non-GMO candies next to Skittles, organic soba noodles next to Top Ramen, and premium-grade pure maple syrups next to Mrs. Butterworth's.  Yes, you'll even find Cool Whip next to Truwhip.
From their website, "At New Seasons, you'll find the best mix of local and organic favorites with conventional classics—from free-range chicken to Frosted Flakes. We're all about choice, so you can feed everyone at the table, no matter their food preference or diet."
Ready for a tour?  Let me show you around the store!

You'll find the freshest, locally-grown seasonal produce but if there's something you need that's not in season, chances are they'll have that, too.
One of the first things I noticed is their bulk fresh herbs section.  There are countless times when all I need is just a tiny sprig of something or a few mint leaves for garnish and end up having to buy a whole package of the herb.  New Seasons has the perfect solution – just take what you need.
Check out their gorgeous meat department.   If you've never thought of meat as beautiful, just look at this!
The staff grinds their meat in-house from all muscle and even makes their own sausages.  For your convenience they also sell ready-to-cook items like stir-fries and seasoned chicken.
They stock the freshest seafood and their meat is all natural without hormones or antibiotics.
In the frozen section you'll find the national brands you're already familiar with along with great local products like pies from Whidbey Island and frozen fruits from Remlinger Farms.
The New Seasons Market on Mercer Island carries products from 150 Puget Sound-area vendors.  Here are just a few examples:
Black Sheep Creamery, Chehalis
Botany Bay Farm, Brush Prairie
Botsford Valley Farm, Olympia
Cascadia Creamery, Trout Lake
Flying M Livestock, Ellensburg
Inaba Farms, Wapato
Jones Farm, Granger
Lummi Island Wild, Lummi Island
Marnies Foods/Four Seasons Gourmet, Seattle
Miss Marjorie's, Seattle
Mt. Townsend Creamery, Port Townsend
Native Harvest, Olympia
Nuflours, Seattle
Parfait Ice Cream, Seattle
Pure Country Pork, Ephrata
Pure Eire Dairy, Othello
Reister Farm, Washougal
Rusty's Famous Cheesecake, Seattle
Seven Red Tagines, Mercer Island
Tiny's Organic, Wenatchee
Back to our tour…..
The bulk section has a great selection of dried goods including herbs, spices, coffee beans and dispensers for grinding your own nut butters.
The health and beauty section is stocked with some fun and aromatic local goods like artisan soaps, creams, oils, etc.
Here you can also find conventional over-the-counter medications for a variety of conditions along with all the natural alternatives.
They also have a great selection of natural cleaning products.
New Seasons Market also carries some household products like candles, dishware, dish towels and gifts, many of which are crafted by local artisans.
And then of course there's one of the most important sections in the store…the chocolate!  You'll find a terrific selection of goodies here including some of my favorite cookies from Germany and Great Britain and premium chocolates like Seattle's own Theo's.
Needless to say I stocked up.
The bakery offers a nice selection of hand-crafted organic artisan breads, many of which are non-GMO.  Breads are baked fresh daily and they currently offer 14 varieties.  I sampled some at the store and took some home with me.  They are excellent!
Cheese, heavenly cheese!
They have a full-service cheese counter with knowledgable staff who can explain all the varieties to you and cut however large or small of a wedge you need.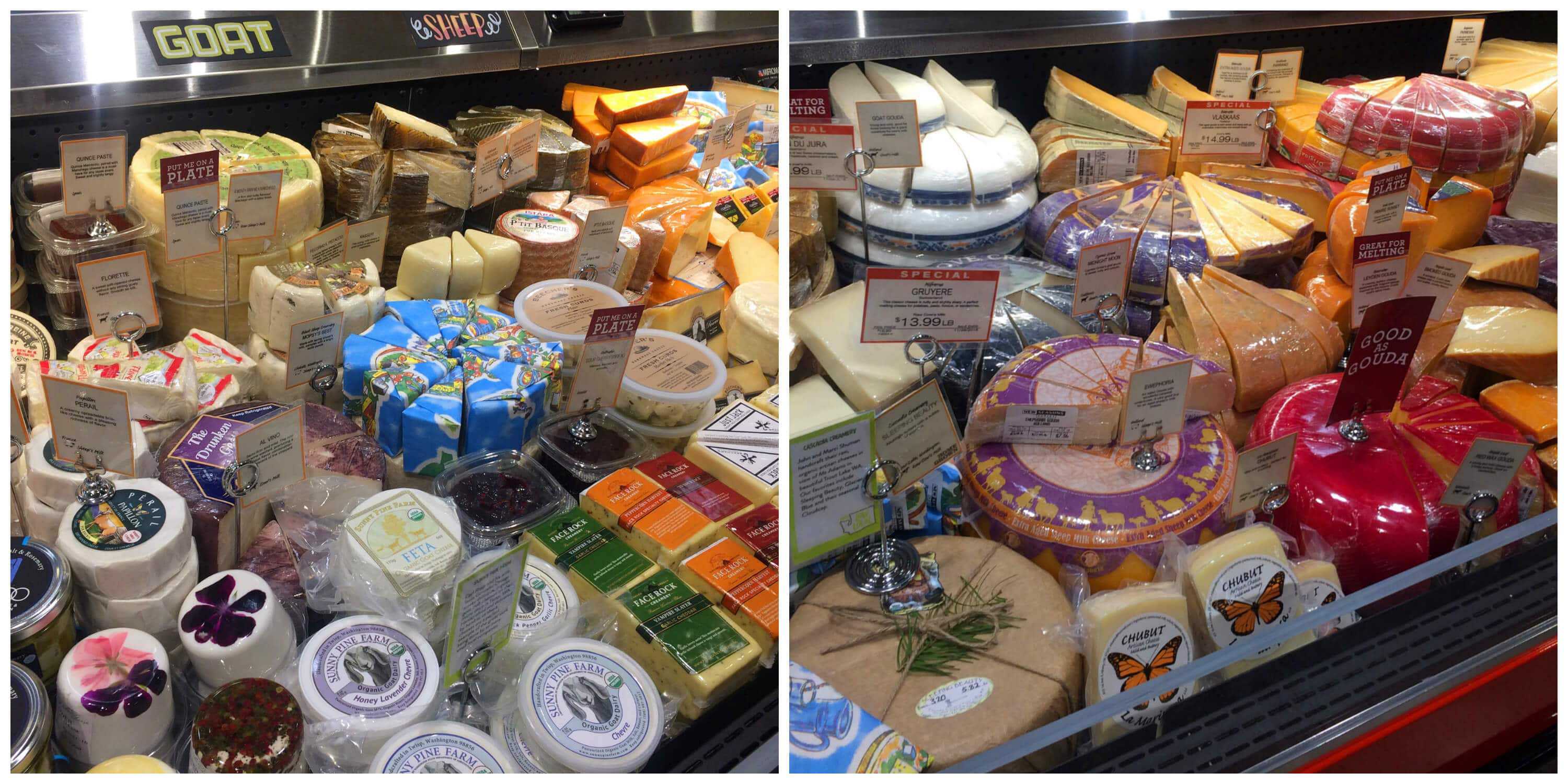 At the deli you can find a nice variety of cold cuts (look at that great selection of salami, yum) and some wonderful premium products like pâté.
Something that New Seasons Market really excels at is a fabulous selection of prepared foods for busy people who want great-tasting food to go.
Take a look at these luscious offerings at the deli counter.
Across the aisle from the deli you'll also find some great grab-and-go food items like sandwiches, quiche, empanadas, granola/ yogurt parfaits, salads and sushi (made fresh daily).
There are also hot and cold self-service bars where you can find everything from mac and cheese to soup and salad.
The selection of ready-to-eat foods is terrific.  Made by in-house chefs, the options are diverse and plentiful.
And just when you thought it couldn't get any better…in steps the Wok Station!
Choose a protein (or not), noodles or rice, all the veggies your heart desires, a sauce, and then watch the chefs cook it all up for you.
I got mine to go and for $8.99 and I had a large serving that left me happy and full.
In addition to the wok station there's a rotisserie chicken station and a station for made-to-order sandwiches.
And then of course there's dessert.  Get an eclair, cupcake or some petit fours along with a hot chocolate and then grab a chair in the indoor seating area.  I seriously need to come back here with my husband for a date night!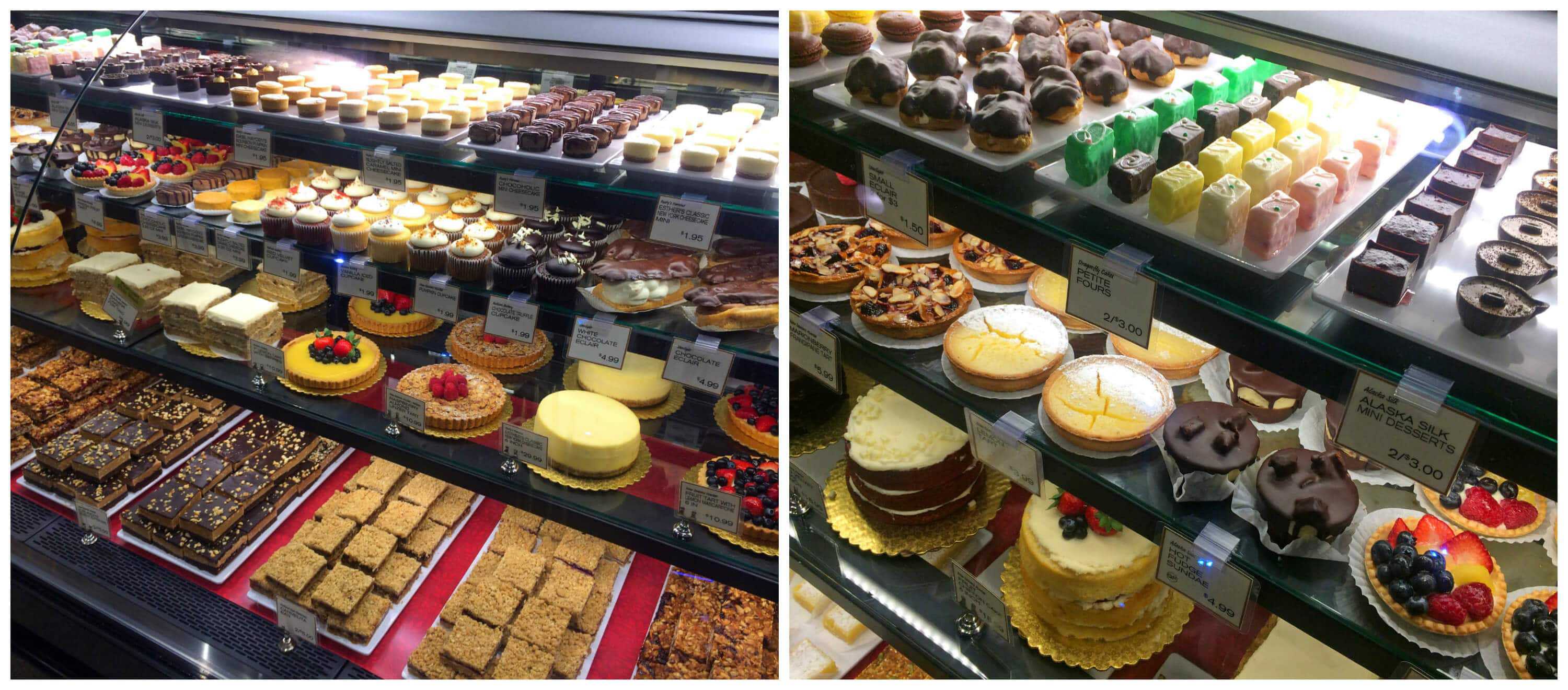 To summarize, here are a few features of New Seasons Market:
Full-service meat and seafood department; all meat and poultry are free of antibiotics and artificial growth hormones and seafood is sustainably source

Abundant deli featuring fresh, seasonal dishes prepared by New Seasons chefs, a hot wok bar, made-to-order sandwiches and meals inspired by South American comfort food
Large produce department emphasizing peak-of-season, local and organic options
In-house bakery offering organic, non-GMO breads baked fresh daily
A grocery selection featuring gluten-free, Paleo, vegan and kosher choices
Health and beauty products in a wellness department staffed by experts
Home goods and unique gifts from local artisans
Full-service floral department with vibrant Northwest blooms and Fair Trade options
Large variety of beer, wine and spirits from the Northwest and around the world
In-store nutritionists who you can schedule consultations with for FREE.
37,000-square-foot fully remodeled store includes green updates and community gathering spaces:
A large outdoor patio lounge seating area, partially covered by the existing pergola repurposed from the site
Rooftop solar panels expected to produce enough energy to off-set the power requirements for exterior signage
Store décor accents made from reclaimed Douglas fir from Seattle's historic 1909 Union Stables
Three high-speed electric car charging stations.
The new location is on Mercer Island at 2755 77th Ave. S.E.  It opens its doors November 10th at 7 a.m. as the first "ultimate neighborhood grocery store" in the Puget Sound.
There are some fun activities planned for the rest of the week (including free chocolate and ice cream samples!).  Check out the full schedule of events.
To find out more about their stores, locations and mission, visit New Seasons Market
"At the end of the day, it all comes down to two things – really good food and a fun place to shop."  – New Seasons Market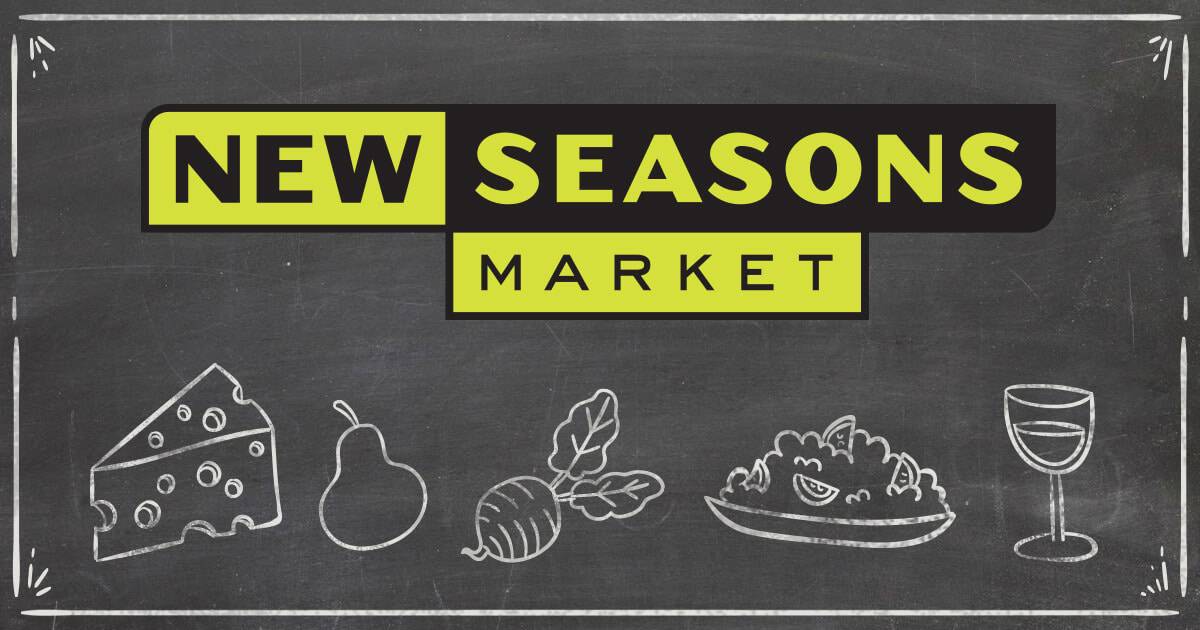 Disclosure:  I've teamed up with New Seasons Market to bring you a series of posts about my experience with their awesome stores.  Thank you to my readers for supporting the brands that help make The Daring Gourmet possible!