We just moved in 3 weeks ago and we're still swimming in boxes!  So for this introductory post I'm using the pictures of the home's interior that were from the home listing when we bought it. 
Every room since has undergone a makeover, some (like the sunroom) a complete remodel, and some rooms have been shifted around.   We also completely remodeled a small guesthouse on our property.
Since then we've also planted 20 more fruit trees, a dozen more berry bushes, and in 2019 we added a nearly 4000 square foot vegetable garden!
2016:  The Killebrew family has moved!
We actually just moved up the road a few minutes from where we were before and are still in the beautiful South Puget Sound area of Washington State.
We have found a beautiful historic home on acreage.  We moved in 3 weeks ago and it still hasn't fully sunk in – we're here!
Our home was built in 1912 with wood milled from the property.  Much of the home is still original but in absolutely immaculate condition like the fir floors, beadboard on the ceilings, leaded glass and original window casings, the original kitchen cabinets and brick wall where the original hearth was.
Our home sits on nearly 8 acres complete with gorgeous old cedars and maples, fruit trees, berries, garden area, workshops, guest house, stone greenhouse and a red barn.  I can't even tell you how excited we are to get our hands in the dirt come Spring and pick fruit come Autumn!
We are the 5th owners of the home and the owners prior to us lived here for 35 years.  This wonderful couple who have now built a home nearby, whom we have gotten to know and have the privilege of calling friends, not only kept the existing home in pristine condition, they also added onto the home and did so with such quality craftsmanship that you would never guess it wasn't part of the original structure.  Our home inspector said that the entire home was of exceptional build quality.
We owe the previous owners a debt of gratitude for keeping it – and making it – what it is today and we feel so blessed to be able to call this our home.  We plan on setting down roots here for good, look forward to raising our kids on this beautiful property and providing them a loved-filled home they can always come back to.
We have some very exciting plans for our home and property and it's going to be playing a prominent role on my blog in the future, so I wanted to share our experience with you from the start.
Once we get settled in with our things I'll be publishing a follow-up post.
The snow pictures at the end of the post however were taken just a few days ago.  The snow didn't come in time for a White Christmas, but it came two days later which was close enough.  It's beautiful!
Ready for a little virtual tour?
Then come take a walk down our driveway!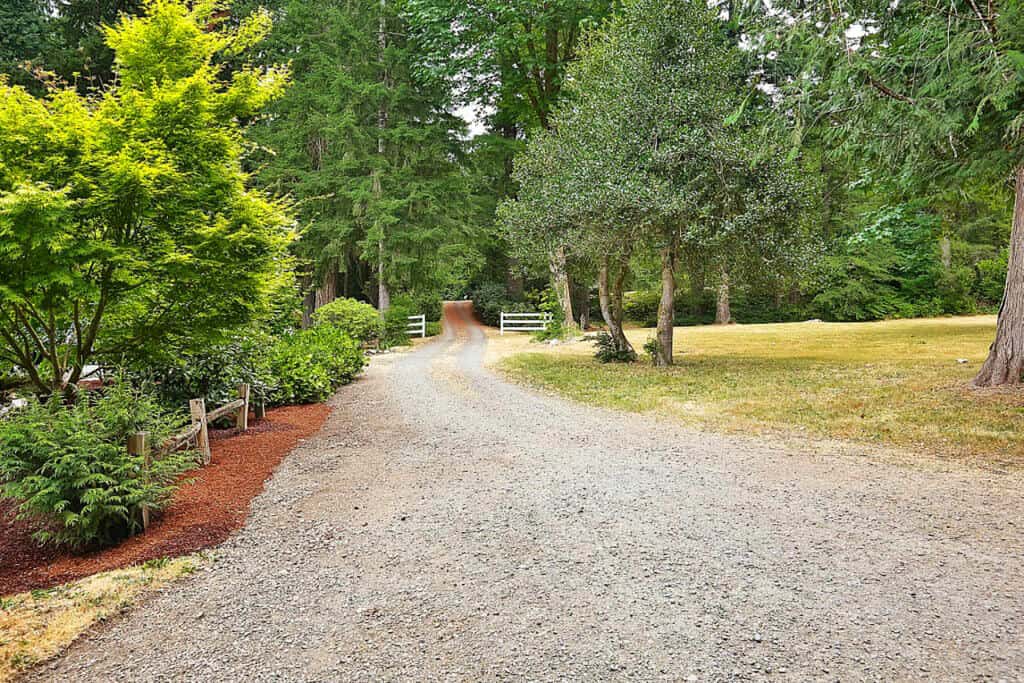 The three windows on the side of the house are one of the additions – it's a sunroom that we use as the play and craft room.
The huge wrap-around porch is one of our favorite features!
On the left is one of the two workshops and the guesthouse.  One of the property's several gorgeous huge apple trees is on the right with two Asian pear trees straight ahead.
Once the previous owners downsized their gardening efforts they built a dedicated garden spot.  Only natural, organic fertilizers have been used for at least the past 35 years.  We'll be using this area but also largely expanding it to another area of the property.  For our vegetables and some of our fruits, our goal is to be as self-reliant as possible.
The greenhouse is built of concrete block and was the first thing I made a beeline for when we first walked the property.
It's a beautiful greenhouse, very clean and cheerful with great circulation, no odor at all.  On the floor is a trap door that goes down to a massive root cellar (the greenhouse, like the barn, is built on a hillside).
Oh, I'm looking forward to spending many hours in here!
One of our two workshops with a guesthouse.  You can't see it from this angle, but one of our projects that I'll be posting about is remodeling the inside of guesthouse and building a large deck on the top floor with stairs going up to it.  Flower boxes will line upper railings – the views outside are just gorgeous from every angle!
UPDATE:  The guesthouse remodel is complete – check out The Micro-Dwelling Project!
The back of our home.  Next to the porch are three similar looking trees – those are Italian plum trees!!  Oh, the plans I have for those!
The sports court is absolutely fabulous and it just so happens Todd and I are avid tennis players.
And look at those lights – night tennis, anyone?  Or how about shooting hoops at midnight on a warm Summer's evening?
Okay, let's step inside our home.
Again, these interior pictures are from the home listing when we bought it and the furnishings are not ours, they are the previous owners'.  We're still swimming in boxes and it's going to take some time to get settled!
The electric, plumbing and bathrooms have all been updated and the bathrooms are contemporary but with a nice country feel with lots of warm wood.
The kitchen still has a lot of original features which makes it very unique and adds to its character.  The ceiling is the original beadboard and to the left – you can barely see it from this angle – is a brick enclave in the wall that used to be the original hearth.
The tall white cabinets on the right wall are 1912 original.  We're going to be remodeling the kitchen (I'll be posting about it when the time comes) but Todd and I are both sentimental and really love and appreciate old things.  So in our kitchen design we will be keeping these original elements in place and updating around them for a beautiful blend of historic and contemporary.
The wall oven in the kitchen is an old General Electric oven from somewhere around the late 40's to early 50's.  Isn't it awesome??  It's in fantastic aesthetic condition and still works perfectly.
The previous owners told us that his mother moved in with them when she was 94 years old and lived there for several more years.  She had always been a prolific and exceptionally skilled baker and continued to cook and bake in their home after she moved in.  They told us, "she said this was the absolute best oven she had ever used."
If only this oven could speak, the stories it could tell of decades of home-baked bread, aromatic roasts and cookies lovingly made.
I've been using this oven almost every day.  I love it and we'll be keeping it as a second oven when we remodel the kitchen.
Update 2017:  Our kitchen has been fully remodeled. 
See the entire demolition and remodel process from start to finish HERE.
Continuing on….
Our dining room.  The stairs going upstairs are hidden behind that wall by the window on the left.  More of that gorgeous original beadboard on the ceiling.  And out of every window you see those beautiful lush cedars and maples.
The living room is one of the add-ons and we're still amazed at the quality and detail and at how they so perfectly maintained the old-style feel.  They carried on the theme of the beadboard ceiling and custom-made window and door casings to match the rest of the house.  Every room in the house, except for the kitchen and sun room (brick), have beautiful fir floors.
That antique spinning wheel in the back left of the room…*swoon*.
Our study has gorgeous built-ins and a bay window.
We'll be using it as our study and the kids' school room complete with globes and maps of the world and the American flag.
The sunroom is another addition to the home.  We're using it as the play room and general hangout room and two of the walls now feature bookshelves stocked with all my cookbooks.  I love all the wood!
One of the bedrooms upstairs.  Anne of Green Gables has always been one of my all-time favorite movies and that's what some of these rooms remind me of.  Our very own Green Gables.
The kids' bathroom upstairs.
Part of the hallway upstairs – original 1912 fir floors.
The master bedroom is the other addition to the home.  Vaulted ceilings, wood beams, fir floors and breathtaking views from the windows on two of the walls.
The master bathroom.
The master bathroom.  Vaulted ceilings and skylight.  Needless to say, our kids take their baths in here – with that gloriously deep tub and surrounding tiled walls that lead to the shower area, it's completely splash-proof!  (My life has suddenly been made a lot easier)
We've always dreamed of a home and property like this and can hardly believe it's actually come true.
As I mentioned earlier, we have some really exciting plans in store for our property and look forward to sharing them with you in the future!  In the meantime, we wanted you to become acquainted with it – welcome to our home!
As the final part of our tour, we're going to end with a few pictures of our property bathed in snow taken just a few days ago.  It's a Winter Wonderland!
Snowman building, sledding and even skiing on our property!
Welcome to our home and thank you for joining us!
UPDATE:  Here are a few pics of our property during the other seasons.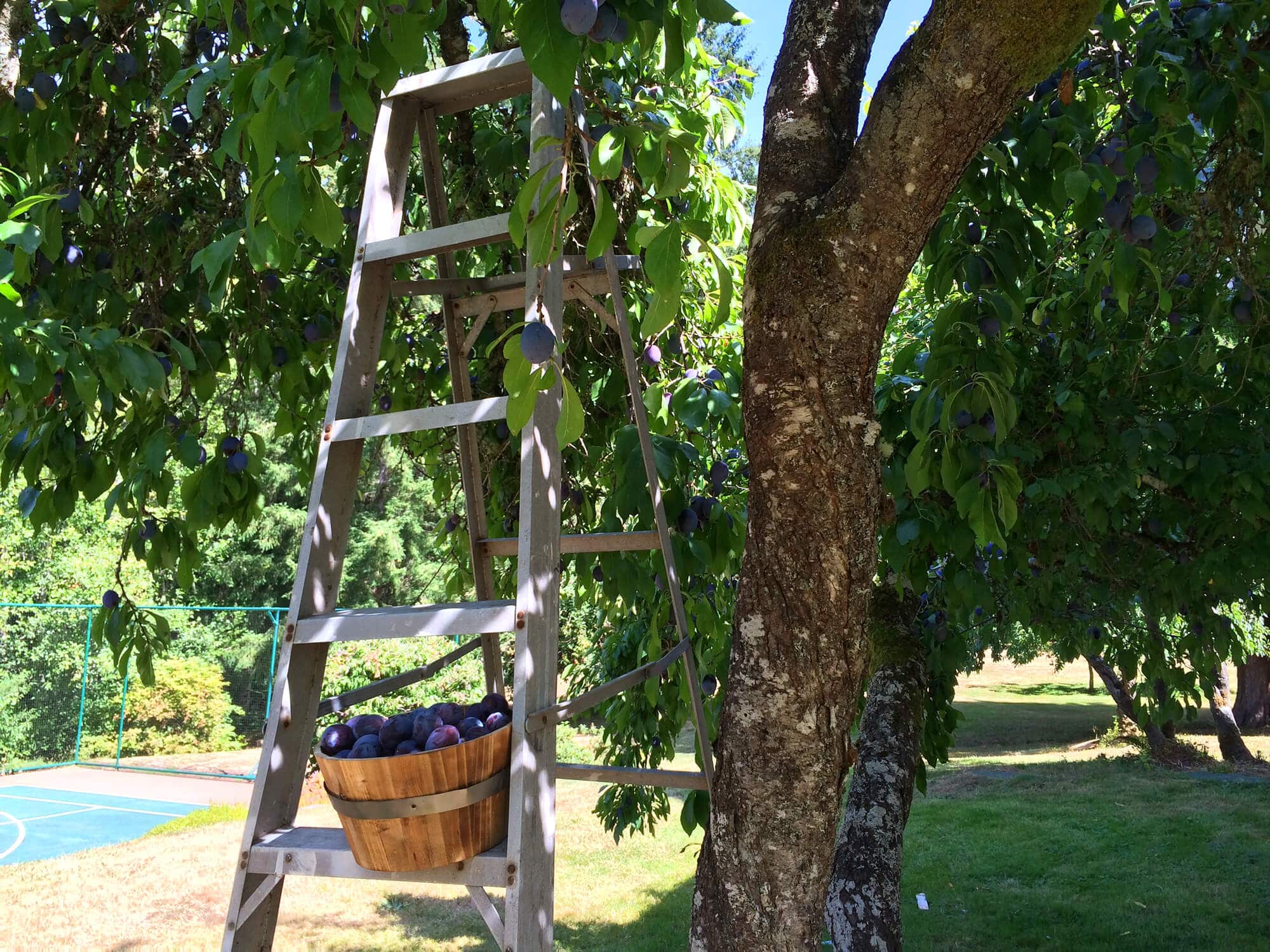 All images copyright The Daring Gourmet except for interior home pics (excluding the bathroom) which are courtesy John L. Scott.