Here in the Killebrew home we enjoy family dinners together each Sunday after church and invite my family over to join us.  We decided to have a Japanese theme today.  My husband, Todd, played the prominent role in the meal prep.  But before getting to the food discussion, I should introduce you to Todd since he is, after all, the main character in today's culinary adventure.  Let me tell you a little about him with the help of some photographs.  Warning:  Cheesy, sentimental, but thoroughly genuine.
Originally from Alaska and raised in Arizona (both begin and end with the same letters, but that's about all they have in common).  Both are states with extreme temperatures at opposite ends of the spectrum and he and I are now perfectly happy in the State of Washington which is the perfect temperature compromise – mild winters and mild summers.
Todd is a doctor by profession, but when he's home and during his spare time he…
…is a devoted and loving father to our toddler son and baby daughter…
…is an amazing lead guitar player (not to mention drop-dead gorgeous)…
…is outdoors-loving, fit and active…
…is a skilled home mechanic and enjoys working on cars (he would someday love to own either a '55-57 Buick Roadmaster or Century, a '62 Ford Galaxy or '62 Cadillac convertible, or a '63-67 Corvette Stingray…so if you have any classic car donations to make…)…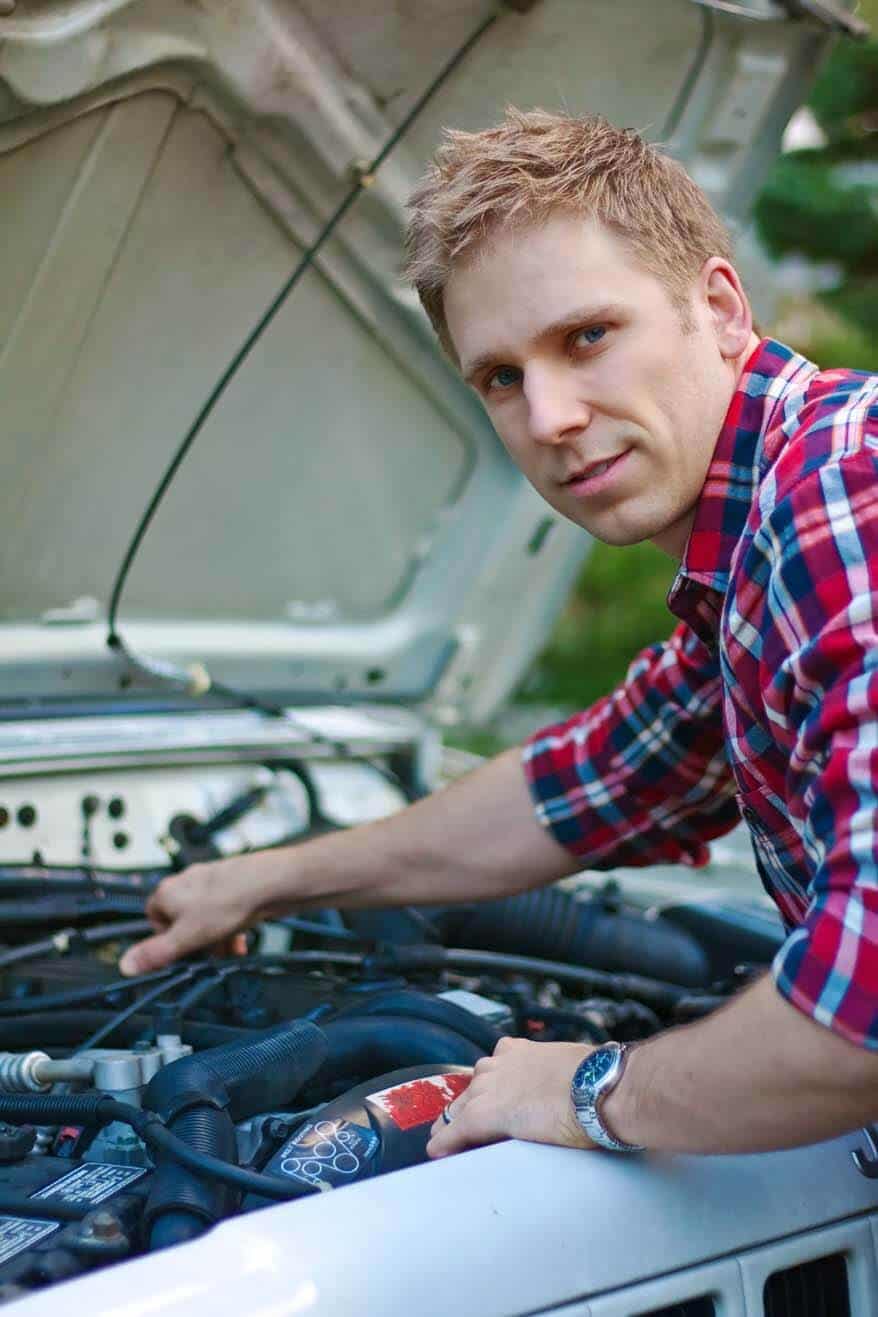 …is a man with a tender and compassionate heart…
…is a super hard worker.  He's also passionate about self-reliance.  After a rare wind and snow storm last winter he drove around chopping up fallen trees to stock up on firewood…
…did I already mention ultra hunky?…
…is a man with tremendous patience – he puts up with my crazy photo shoots (yes, the hat was my idea)…
AND…drum roll…he is our in-home personal family sushi chef!  Which brings us back to today's discussion.  Our Japanese-themed Sunday family dinner.  When it comes to cooking, Todd's forte is sushi.  He loves sushi (it's the food he would choose if he could eat only one thing the rest of his life – yes, he loves it that much) and he loves to make sushi.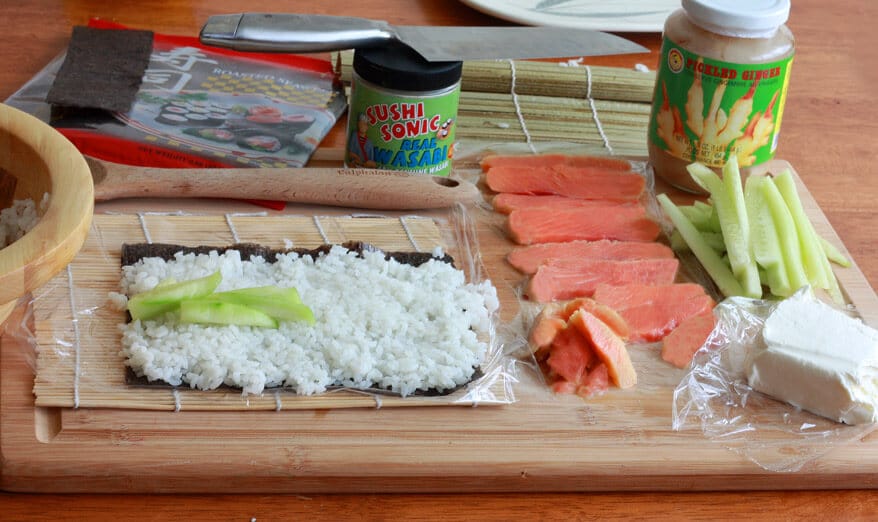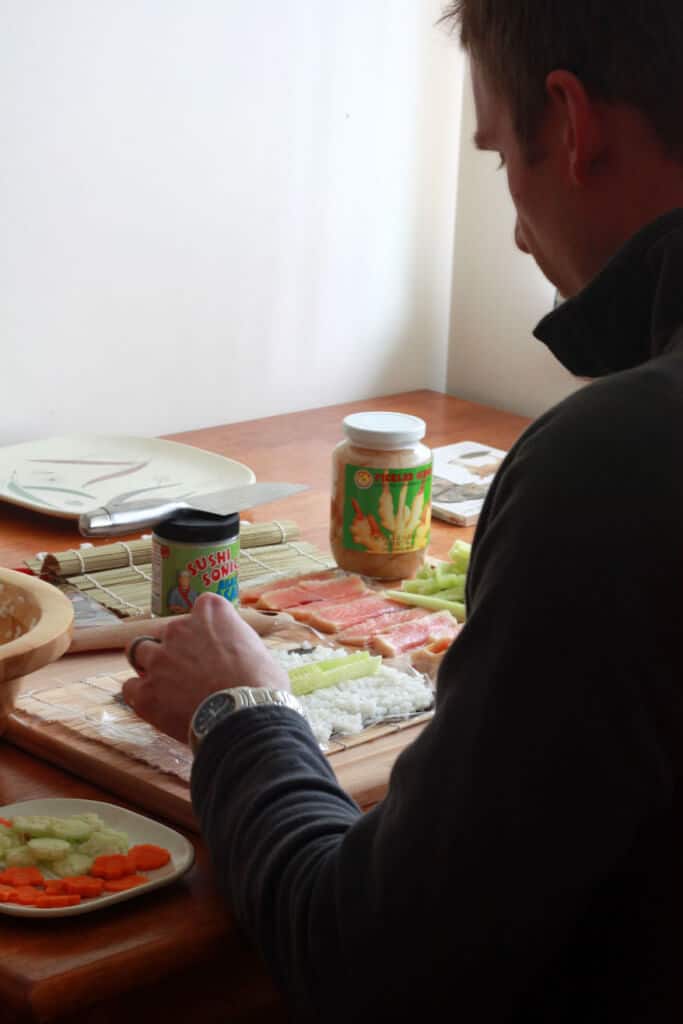 The salmon off to the right…while he was preparing those he turned to me and said, "I put some seat-belts on those ones."  It's cute little comments and things like that that make me fall in love all over again with him.
While Todd made the sushi, I made the soup and the tempura-battered and fried zucchini.
Everything worked out perfectly.  The kids both took their naps at the same time and we set to work in the kitchen.  They woke up just as we were finishing.  The timing was perfect.  At the end of our kitchen teamwork, here is what we ended up with for our Japanese-themed Sunday dinner:   
My Japanese Mushroom, Tofu and Vermicelli Soup,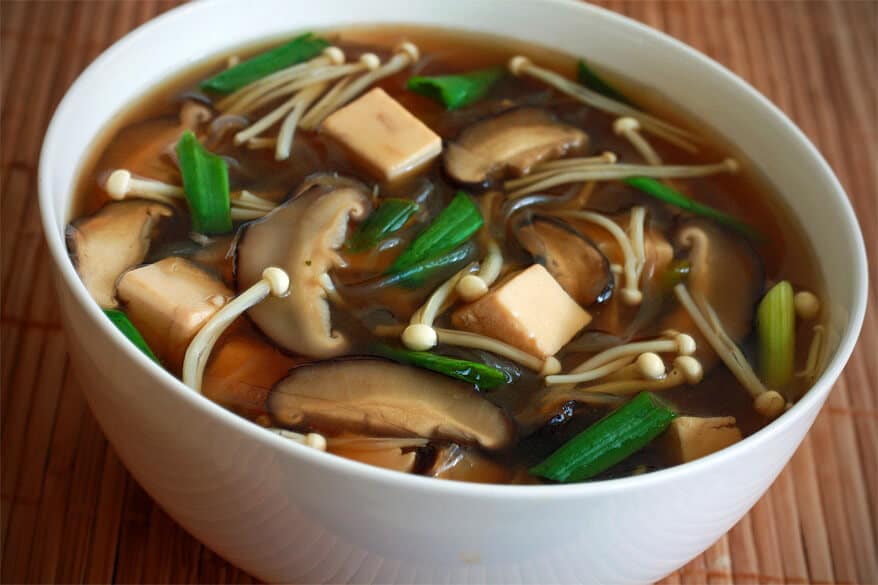 Some tempura-battered and deep-fried vegetables.
And the focal point, Todd's famous sushi.
My mom made and brought cheesecake for dessert.  Though not quite Japanese in origin, enjoying her cheesecake was the perfect way to end a perfect Sunday.
Another day in the life of the Killebrew family.  Thanks for joining us!