This post contains affiliate links.
Thank you to Campbell's and BlogHer for sponsoring this post!


Real life.  Long, busy days.  Little to no time for cooking.  It happens.
Food bloggers included.
And I'll be the first to admit it, which is why I'm sharing this post with you today.The fact is, even though I have a "from scratch" cooking philosophy and that is what The Daring Gourmet is 100% about, there are occasions, not often but occasions, when I deviate from that behind the scenes.  As anyone who leads a busy life will tell you, especially mothers of young, rambunctious children such as myself, the convenience of quick-to-make food is invaluable.  There are days when I literally have 15 minutes to prepare a meal for my family.  Can you relate? And rather than resort to take-out food, I like to keep a few items on hand that are quick to prepare and I can feel okay about serving to my family. Campbell's Sauces are among them.  Let me tell you why.
For pre-prepared food, I'm impressed with the ingredients. Also, Campbell's Sauces are versatile.  You can prepare them as instructed on the package, or you can quickly and easily transform them into something different, incorporating vegetables and other ingredient of choice.
Bottom line:  Campbell's Sauces are super quick to prepare, versatile, are made with ingredients you can pronounce, and taste good.  They enable you to put a meal on the table – something other than that unhealthy fast food – on days when when you just don't have the time – or don't want to take the time at the expense of other priorities – to make a more time-consuming meal.
Insanely quick and easy to make, here are a few of the Campbell's Sauces we've tried.
Shrimp Scampi – now what seafood lover doesn't enjoy a good shrimp scampi?  Whip this one up in literally 5 minutes, sprinkle with some fresh chopped parsley (because fresh chopped parsley makes everything look gourmet), and you have a meal that looks great and will satisfy the tummies around your table.
It's as simple as heating up a little oil in a skillet, briefly frying some fresh shrimp, pouring in the sauce and letting it simmer for a minute.  For a fancier presentation, leave the tail on the shrimp.  (Not only does it look classier, it also saves you prep time,  ba-da-ching!)  (Note:  For the pics below my husband agreed to by my hand model)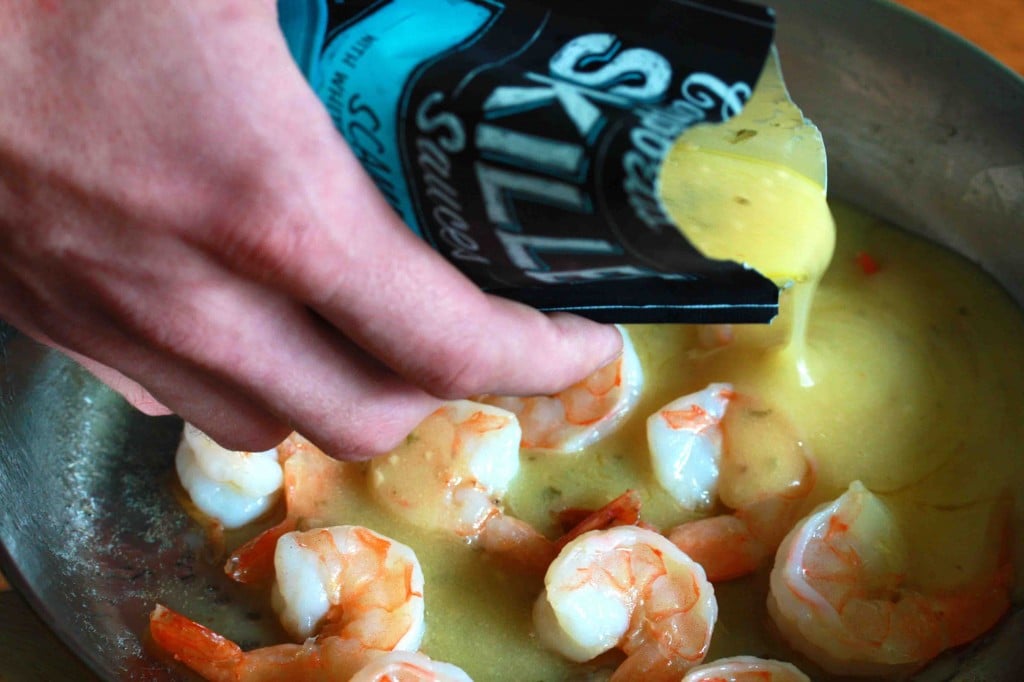 Serve it over hot pasta and garnish with some fresh chopped parsley (remember what we said earlier – fresh parsley makes everything look classy!)  That's it, you're done!
We also tried the Sesame Chicken Sauce.  An enjoyable Asian-style meal in less than 15 minutes.
Chicken Marsala – again, ready in 15 minutes.
You know the routine.  Heat the oil and fry the chicken breasts until browned on both sides.
(Thanks again, Todd, for being my hand model)
Add the sauce and simmer for a few minutes.
Serve on a bed of hot pasta and garnish with – you got it – fresh chopped parsley!
Just a few days ago, the day we moved into our new home and were dead tired and drowning in boxes, we tried the Thai Curry Chicken.  Both our 2 year old and 4 year old ate their entire servings.
That's right, heat the oil, brown the chicken…
Add the Thai curry sauce…
Let it simmer for a couple of minutes…that's it!
Serve it with some steamed rice and garnish with fresh chopped…CILANTRO!  Gotcha that time!
So there you have it, folks.  For those times when you only have 5-15 minutes to prepare a hot meal and don't want to resort to unhealthy take-out food, consider Campbell's Sauces.
Sweepstakes Time!!   (***These Sweepstakes Are Now Ended***)
Simply answer this question in a comment below and you'll be automatically entered into the sweepstakes to win a $100 Target Gift Card:  What do you do to de-stress after a long, busy day?