Print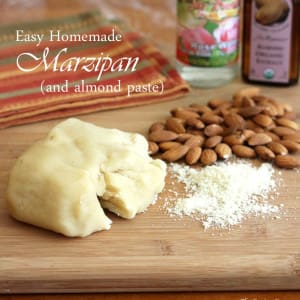 Easy Homemade Marzipan or Almond Paste
Making your own marzipan or almond paste couldn't possibly be any easier - or tastier!
Servings
6
Makes about 12 ounces
Place the almond flour and powdered sugar in a food processor and pulse until combined and any lumps are broken up. Add the almond extract and rose water and pulse to combine. Add the egg white and process until a thick dough is formed. If the mass is still too wet and sticky, add more powdered sugar and ground almonds. Keep in mind that it will become firmer after it's been refrigerated.

Turn the almond marzipan out onto a work surface and knead it a few times. Form it into a log, wrap it up in plastic wrap and refrigerate.

Will keep for at least a month in the refrigerator or up to 6 months in the freezer. Bring to room temperature before using in any recipe.

Makes about 12 ounces of marzipan or almond paste
* Egg white is what is traditionally used. If you're concerned about raw egg you can use pasteurized egg whites in the carton instead. If you absolutely must (though I don't recommend it), you can use a few tablespoons of corn syrup instead.
* Marzipan vs. Almond Paste - the difference: Almond paste is softer and is used in baked goods. Marzipan is firmer and is used in making candies/chocolates or as fondant for cakes. Marzipan also uses rose water. To adjust this recipe according to what you're using it for, follow this recipe as instructed for almond paste (I still include the rose water because it tastes amazing), or add an extra 1/4 cup or more of ground almonds/almond meal until you reach a firmer consistency (one that you can roll out with a rolling pin without it sticking).
Nutrition Facts
Easy Homemade Marzipan or Almond Paste
Amount Per Serving
Calories 281
Calories from Fat 117
% Daily Value*
Total Fat 13g 20%
Sodium 9mg 0%
Potassium 8mg 0%
Total Carbohydrates 36g 12%
Protein 6g 12%
* Percent Daily Values are based on a 2000 calorie diet.