If you're looking for an authentic marzipan recipe that's easy to make, is much cheaper than store-bought, and tastes absolutely phenomenal, you've come to the right place!  Naturally gluten-free and can easily be made vegan.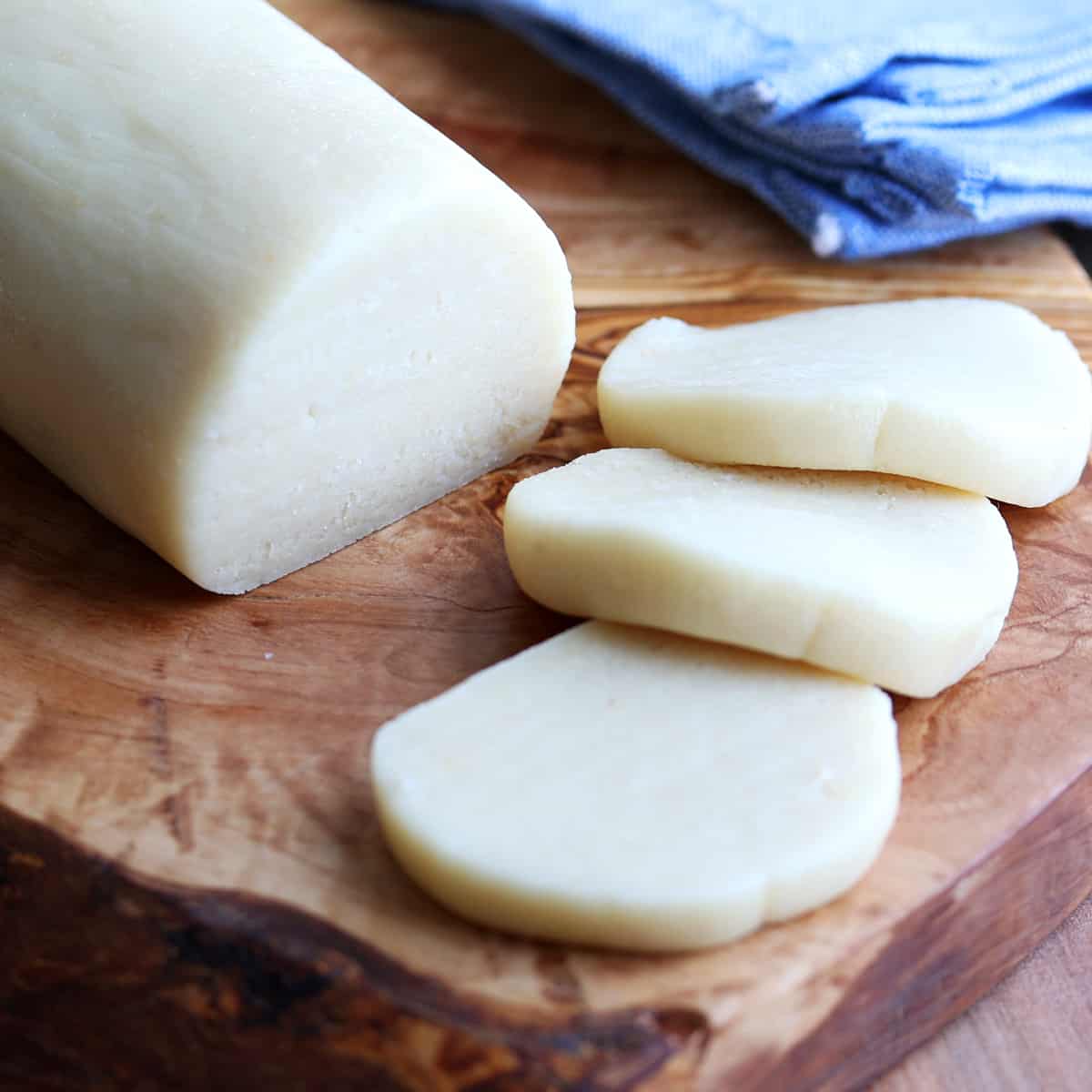 Growing up in Germany, home to the world's most famous marzipan, I was practically raised on this stuff.  Well, not really, but I wouldn't have protested had my parents tried :)  Marzipan is incredibly delicious.  But it's also expensive to buy.  The way around this?  Make your own!   The good news is that marzipan and almond past are also super easy and quick to make and now you can make your own anytime, anywhere.  Yes, your life is forever changed.  Look no further, this is simply the BEST homemade marzipan recipe!
Marzipan can be found everywhere in Germany.  Just a few hours north of where I grew up in Stuttgart is the historic town of Lübeck, world famous for its marzipan.  It's also a beautiful, scenic port town.  We visited it frequently as a family and later as a young adult I once took on the challenge and biked 72 miles from Rendsburg to Lübeck in the middle of summer, a memory I'll never forget!
The Holstentor is Lübeck's most famous feature, a Brick Gothic construction from Medieval times.  It has been a UNESCO world heritage site since 1987.  Lübeck is also the home of Niederegger Marzipan, probably the most famous marzipan in the world.  If I were to weigh how much of that marzipan I ate during my 23 years in Europe it would probably come close to 893 pounds.   Niederegger has been around since 1806 producing the highest quality marzipan, including a class that is made from 100% almonds (no sugar), and it uses only the finest almonds from around the Mediterranean.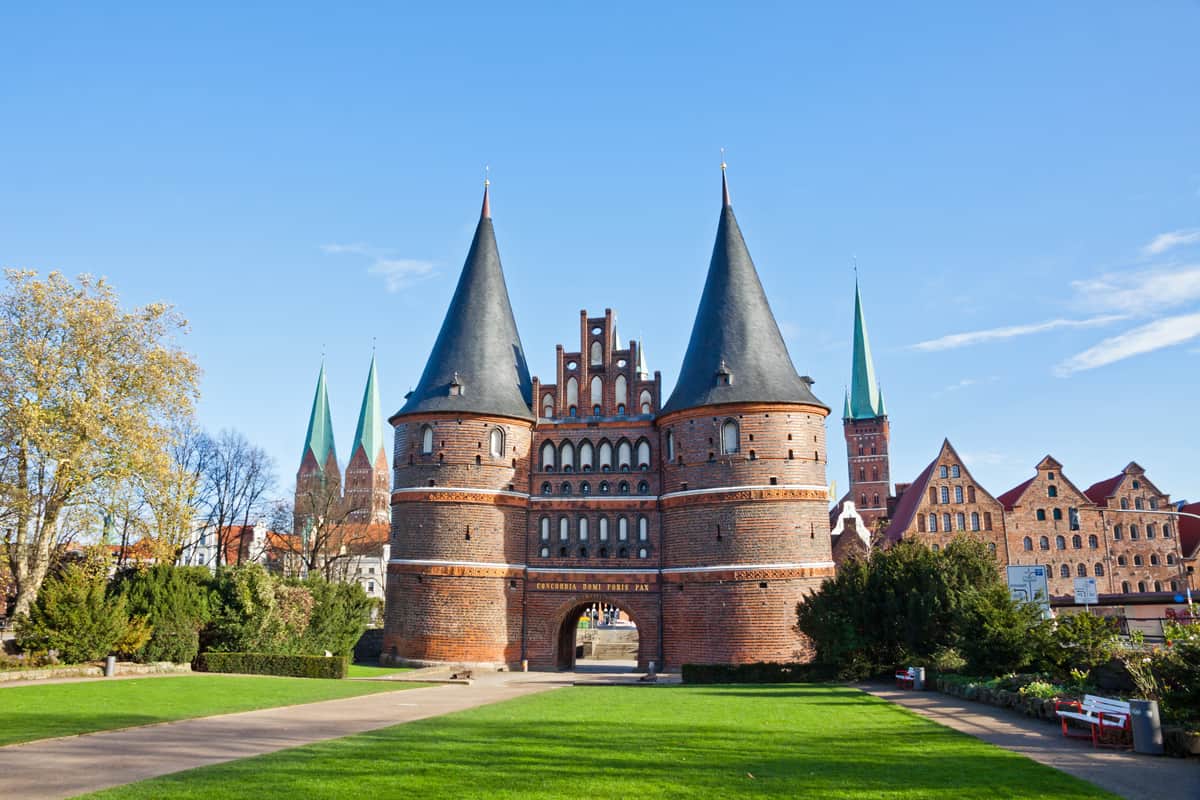 What is Marzipan?
Marzipan is a sweet confectionery paste made from ground almonds and sugar.  Its texture is smooth and pliable, making it easy to mold into various figures and shapes.
Though marzipan has long been associated with Germany and Italy in particular, its roots are actually in the Orient.  As far back as 850, a Persian doctor by the name of Rhazes praised the curative properties of almond and sugar paste.  (See, now why can't our doctors today be equally so inspired?)  When the Crusaders returned to Europe from the Orient they brought this delicacy back with them.  Initially only enjoyed by kings and the very wealthy, by the 19th century when sugar was being extracted from sugar beets, making it cheaper, marzipan became widely accessible.  It has been a prized and popular treat ever since.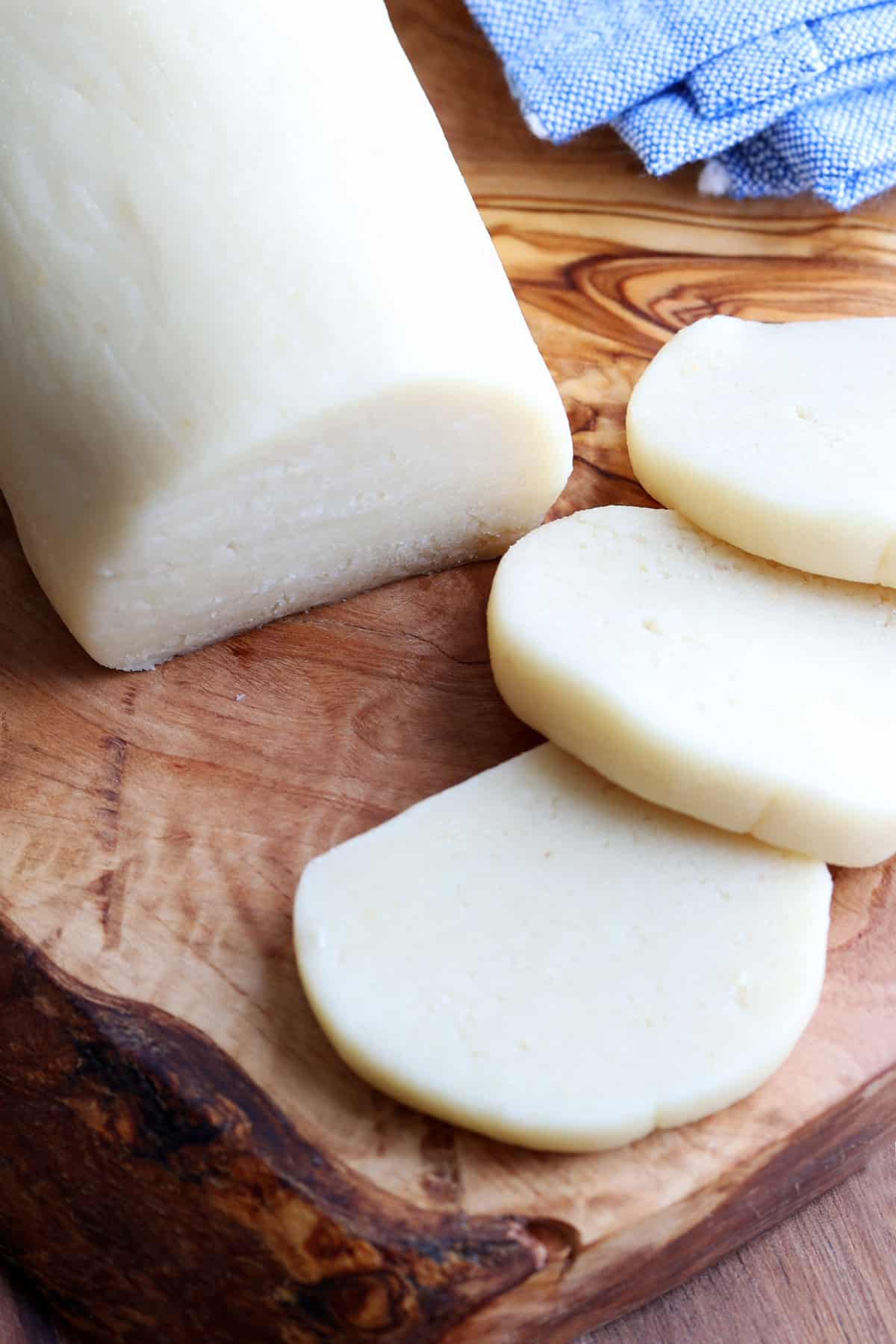 Marzipan vs. Almond Paste 
In part it comes down to where you live.  In Europe it's widely referred to as marzipan whereas here in North American the term almond paste is more common.  However there is also a difference in consistency resulting from a different ratio of almonds to sugar.
Almond paste is softer, made with a higher ratio of almonds to sugar, and is used in baked goods either as a filling, such as for pastries and tarts, or is incorporated into the pastry or cake batter.  Almond paste usually includes almond extract.
Marzipan is firmer, made with a higher ratio of sugar to almonds, so it can be shaped and molded and used for making candies/chocolates or as fondant for cakes.  Marzipan traditionally includes rose water.
To adjust this recipe according to what you're using it for, follow this recipe as instructed to make almond paste (I still include the rose water because it tastes amazing and it's what I'm used to being from Germany and growing up with German marzipan), or if you're making marzipan add an extra 1/4 cup or more of sugar until you reach a firmer consistency (one that you can roll out with a rolling pin without it sticking).
And for a delicious variation be sure to also check out our Pistachio Marzipan!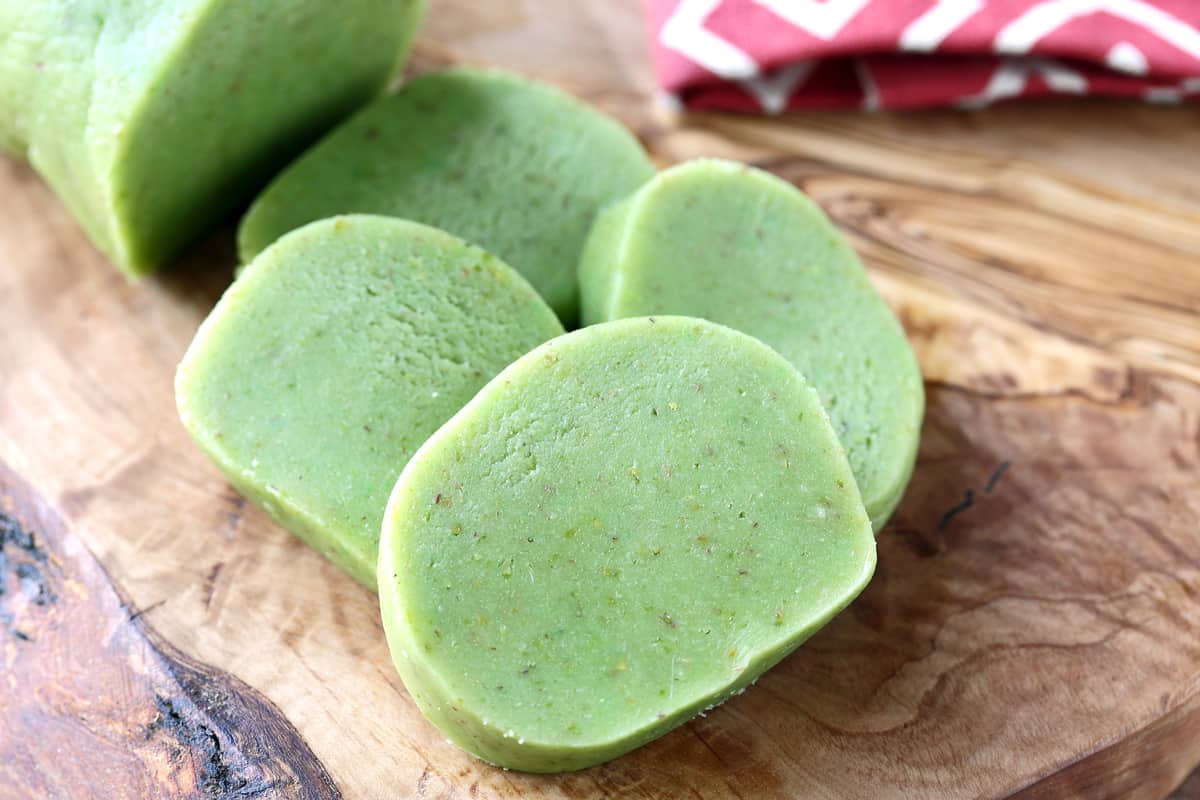 How to Use Marzipan and Almond Paste
Marzipan and almond paste are versatile ingredients that can be used in a variety delicious ways.  Here are few ideas:
Candy Making: Marzipan can be shaped into bite-sized pieces and coated with chocolate to create chocolates or truffles (try our Marzipan Truffles and Marzipankartoffeln).  Or you can make the famous confection from Salzburg, Austria, Mozartkugeln.  It is also commonly shaped into various figures like real-life looking fruits and vegetables. If you're crafty, marzipan is a really fun (and tasty!) medium to work with!
Filling Pastries and Adding to Baked Goods:  Use it to fill pastries such as croissants, buns, tarts, pies, Danish pastries, and of course the famous German Stollen.  It can also be used to make cookies like Almond Horns and Bethmännchen or cakes like our Cherry Marzipan Streusel Cake and Pineapple Cake with Marzipan.  It can also be crumbled and added to crisps, crumbles, cobblers, streusel toppings, cookie dough, muffin batter, or a variety of sweet breads.
Making Decorations: Marzipan very pliable and ideal for using to create decorative elements for cakes and cupcakes.  You can shape it into various figures such as flowers, fruits, and animals.  You can easily add food coloring to it to make a variety of colors to work with.  Once the shapes are made, let them sit out at room temperature where they will form a dry outer coating and firm up.  Then you can place them on the cake.
Cake Covering:  Roll the marzipan into a thin sheet and use it to cover cakes like Battenberg cake and Christmas cake for a smooth and sweet almond-flavored layer.  You can then apply decorative icing on top of it if you wish.
Marzipan Recipe and Almond Paste Recipe
Let's get started!
Add the almond flour to a food processor.   Add the powdered sugar to the almond meal and pulse to combine and break up any lumps.  (**Diabetics or those looking for a sugar-free marzipan / almond paste option, you can use Swerve Confectioner Sweetener.)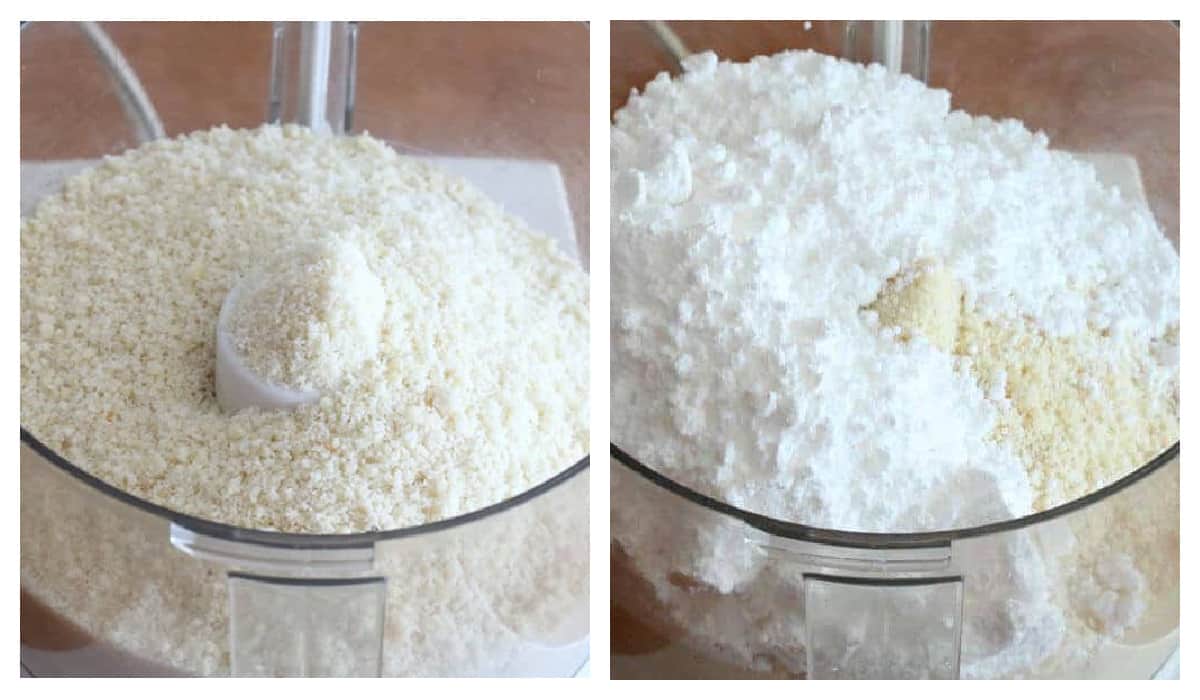 Add the rose water, almond extract, and egg whites (or alternatives, see recipe below) and pulse to combine.
Use good quality almond extract and rose water (and be sure it's food grade).  Nothing will spoil the flavor of the almond paste more than poor quality extracts.
Process the ingredients until it comes together in a firm mass.
If it's too wet, add some more almond flour.   Keep in mind though that it will become firmer after it's been refrigerated.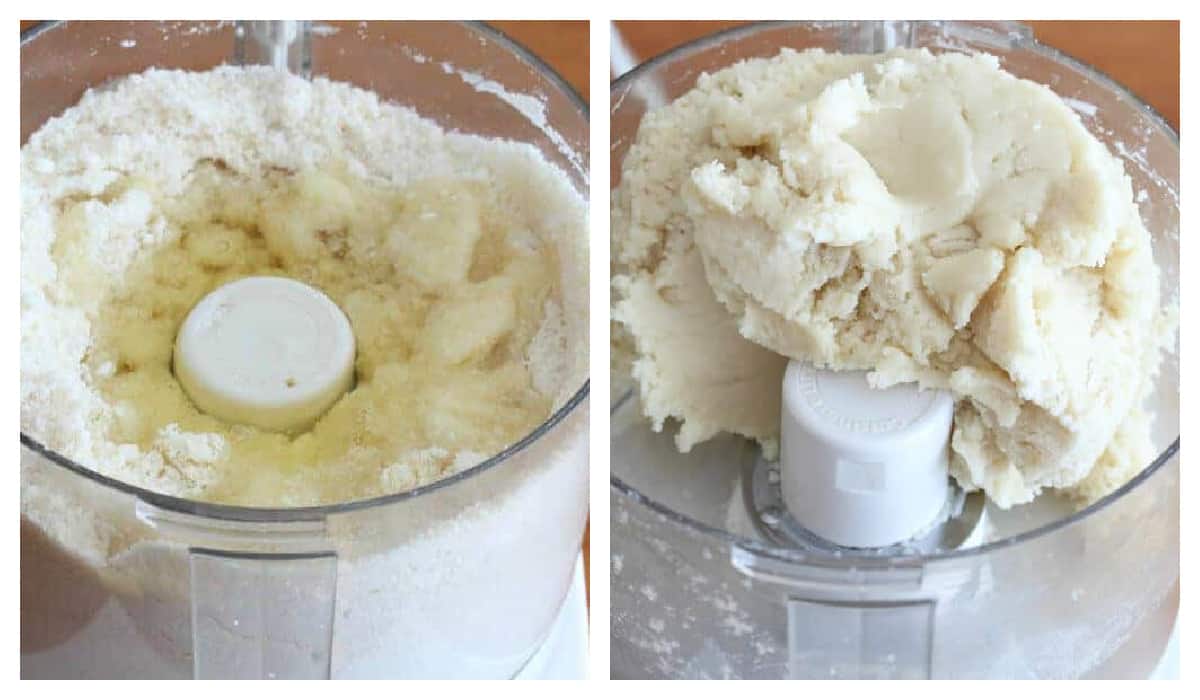 Turn it out onto a work surface and knead it a few times just to make sure all the ingredients are fully combined.
Form the dough into a log, ball or disc and wrap it tightly in plastic wrap.
It will keep in the refrigerator for several weeks (provided you used very fresh egg white).  It will keep even longer if you use a sugar syrup alternative (see recipe below).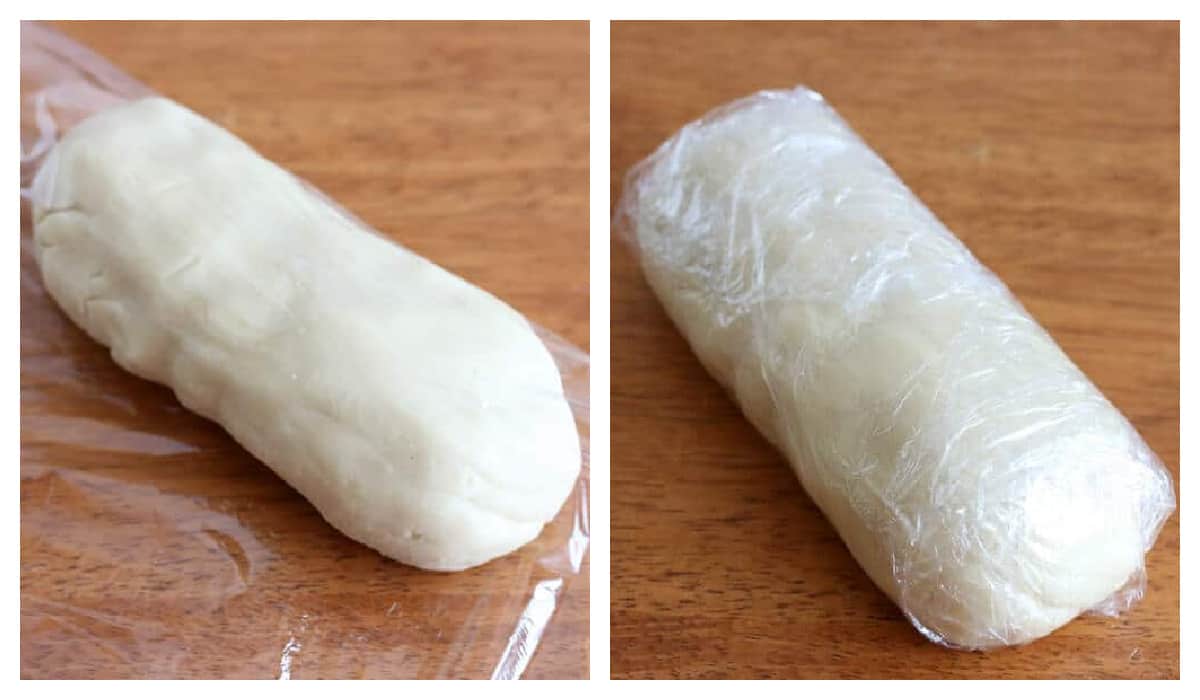 Warm it to room temperature before using.
Enjoy!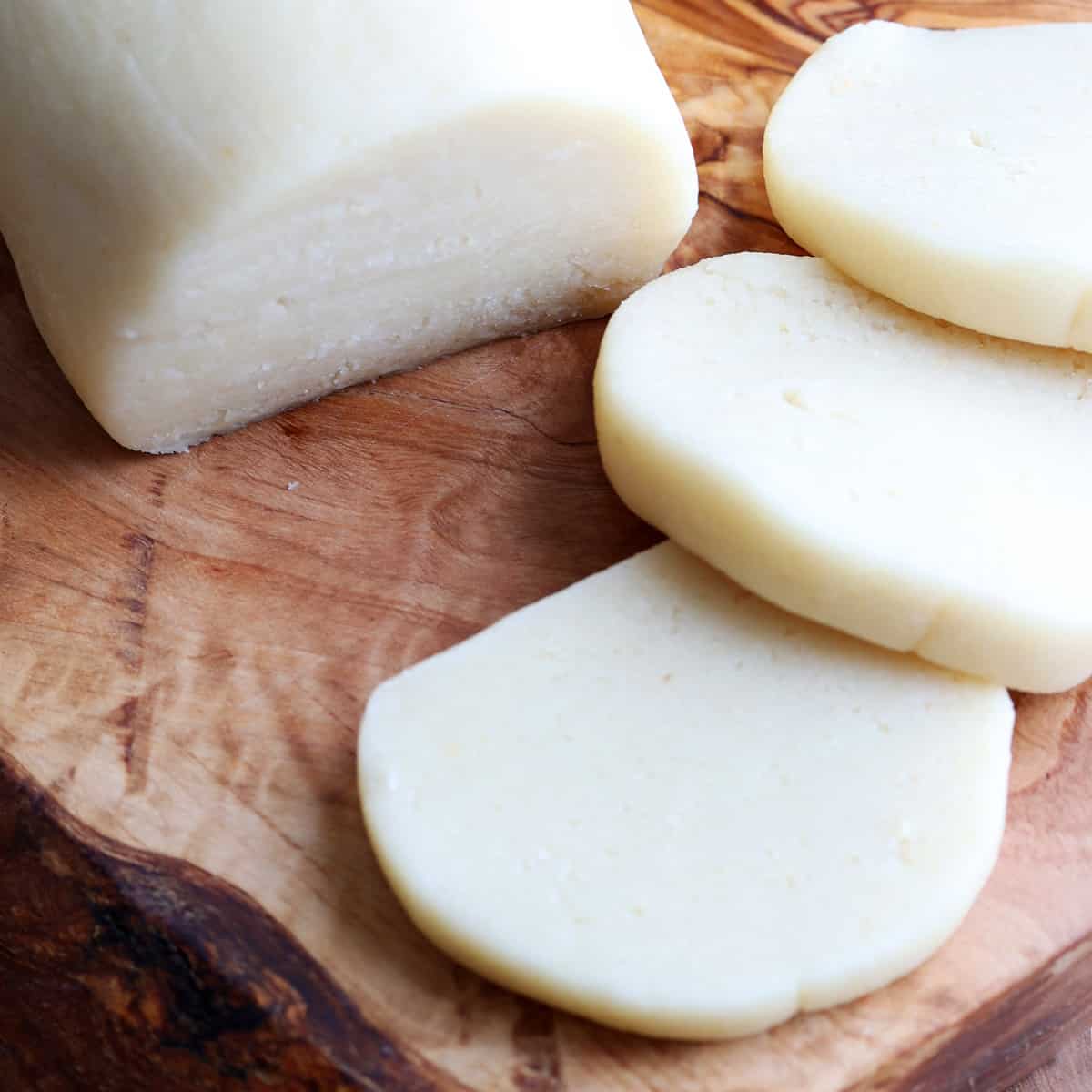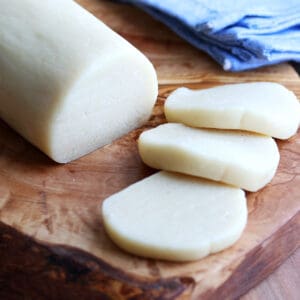 BEST Marzipan or Almond Paste
Making your own marzipan or almond paste saves a lot of money and it couldn't possibly be easier - or tastier!
Ingredients
1 1/2

cups

very finely ground blanched almond flour/meal

, or blanch, grind and dry your own almonds - I recommend the bought almond meal to ensure it's finely ground and sufficiently dry

1 1/2

cups

powdered sugar

2

teaspoons

quality pure almond extract

1

teaspoon

quality food grade rose water

1

egg white

(if you can't find pasteurized eggs and that is a concern to you, you can substitute liquid pasteurized egg whites ​or reconstituted powdered egg whites) (vegans: use egg substitute or 4+ tablespoons corn syrup, golden syrup, or other liquid sweetener)
Instructions
Place the almond flour and powdered sugar in a food processor and pulse until combined and any lumps are broken up. Add the almond extract and rose water and pulse to combine. Add the egg white and process until a thick dough is formed. If the mass is still too wet and sticky, add some more almond flour. Keep in mind that it will become firmer after it's been refrigerated.

Turn the almond marzipan out onto a work surface and knead it a few times. Form it into a log, wrap it up in plastic wrap and refrigerate.

Will keep for at least a month in the refrigerator or up to 6 months in the freezer. Bring to room temperature before using in any recipe.

Makes 13-14 ounces.
Notes
To make a firmer Marzipan that you can shape into figures for decorations, add 1/4 cup or more of sugar until you reach the desired level of firmness (keep in mind it will also become firmer after it refrigerates).  
Nutrition
Serving:
2.5
oz
|
Calories:
281
kcal
|
Carbohydrates:
36
g
|
Protein:
6
g
|
Fat:
13
g
|
Sodium:
9
mg
|
Potassium:
8
mg
|
Fiber:
2
g
|
Sugar:
30
g
|
Calcium:
59
mg
|
Iron:
1.1
mg
Originally published on The Daring Gourmet June 23, 2014