Look no further for what is consistently ranked the BEST sweet and sour sauce recipe on the web!  There are so many ways to enjoy this popular and versatile sauce (see blog post for ideas) and it takes just 5 ingredients and only 5 minutes of prep/cook time.  This homemade sweet and sour sauce couldn't be simpler to make and it tastes so much better than store-bought or takeout!
What is Sweet and Sour Sauce?
Sweet and sour sauce is a popular condiment made, just as its name suggests, by combining sweet and sour flavor components (a sugar and a vinegar) with a thickener to make a sauce that is used for dipping, drizzling, and incorporated into dishes.  Chinese food and sweet and sour sauce go hand in hand and for that reason you'll find it served in every Chinese restaurant and at every takeout.  If you've never made your own, it's time to get on board because not only is it incredibly easy, it tastes WAY better than store-bought and what you get at your local takeout.  Plus it's free of preservatives, chemicals and junk ingredients.
How To Use Sweet and Sour Sauce
Sweet and sour sauce features a balanced combination of sweet and tangy flavors, making it a versatile condiment that can be used in various ways to enhance the flavor of your dishes.   Here are a few ways to use it:
Dipping Sauce:  This is the ultimate dipping sauce for things like potstickers, egg rolls, spring rolls, wontons, dumplings, tempura, fish sticks, and chicken nuggets.  Pour the sauce into small bowls to serve alongside your favorite foods and snacks.
Stir-Fry Sauce: Use this as a base for stir-frying vegetables, meat, or tofu.  Stir fry your meat/tofu and veggies and then add the sauce towards the end of the cooking process.  Toss everything together and serve it over steamed rice or noodles.
Marinade:  Add the sauce to the meat or tofu before grilling, let it marinate for at least 30 minutes, then proceed with grilling.
Glaze: This works great as a glaze for grilled or roasted meats and seafood like chicken, pork, fish and shrimp.  Brush the sauce over the meat during the last few minutes of cooking for a tasty, caramelized glaze.  This also works great for things like baked chicken drumsticks and wings.
Salad Dressing: Mix some of this sauce with your salad oil, and add a dash of toasted sesame oil if you like, to make an Asian-inspired salad dressing for your greens.
Sandwich Spread: Use this as a spread for your sandwiches and wraps for an Asian twist.  It goes particular well with chicken, turkey and pork.
Pizza Sauce: Get creative and drizzle this over your pizza for an Asian twist, for example chicken or ham, pineapple, peppers, and onions.
How Long Does Sweet and Sour Sauce Keep?
Store it in a non-reactive airtight container (I prefer glass) in the fridge where it will keep for up to 3 weeks.
Do I Have To Use Red Food Coloring?
Not at all!  You can make this without food coloring.  One of the advantage of making homemade anything is that you don't have to include the junk ingredients that the store-bought stuff often uses.  The red food coloring is purely for aesthetics and tastes exactly the same without it.  If you prefer the red color but don't want to use chemicals in your food there are natural food coloring options and I provide a link to one option in the recipe card below.
Sweet and Sour Sauce Recipe
Let's get started!
Get your five ingredients ready to go because making this sauce goes fast.  Measure out your pineapple juice, vinegar, brown sugar, soy sauce and ketchup.  Prepare the cornstarch slurry and set it aside.
Add all of the ingredients except for the cornstarch slurry in a small saucepan and bring to a boil.
Stir in the cornstarch slurry and simmer for another minute until thickened.
You can stop at this point or, if you want, you can add 2-3 drops of food coloring to make your sauce look the way it does at the Chinese takeout.  Check out this all-natural food coloring.
Let the sauce cool completely.  Store it in an airtight jar in the fridge where it will keep for up to 3 weeks.
Enjoy!
For more phenomenal homemade Asian sauces be sure to try our: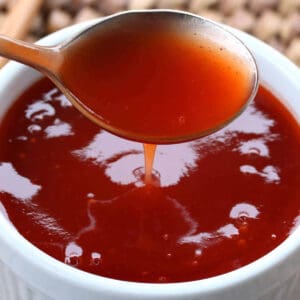 BEST Sweet and Sour Sauce
Making your own sweet and sour sauce couldn't be any easier!  Plus it's free of junk ingredients and tastes MUCH better than store-bought!
Ingredients
1

cup

canned pineapple juice

, see note

3/4

cup

packed light brown sugar

OR brown sugar alternative

(for low sugar option)

1/3

cup

rice vinegar

, found in the Asian or general vinegar section of any grocery store, or you can substitute apple cider vinegar

3

tablespoons

ketchup

2

tablespoons

soy sauce or tamari (GF)

For the Cornstarch Slurry: 1 1/2 tablespoons cornstarch dissolved in 2 tablespoons water

Optional: 2-3 drops all-natural red food coloring

(the one I've linked to is natural, colored with beets. It's in powdered form, simply stir some in to a couple of teaspoons of water and add it to the sauce)
Instructions
Place all of the ingredients, except for the cornstarch slurry, in a small saucepan and bring to a boil. Stir in the cornstarch slurry and simmer for another minute until thickened, stirring constantly. If using red food coloring, stir it in.

Let the sauce cool completely and store in an airtight container in the refrigerator for 2-3 weeks.
Video
Notes
* Freshly squeezed pineapple juice contains enzymes that will break down the cornstarch and prevent the sauce from remaining thick, so either use canned or bottled
Nutrition
Serving:
2
tablespoons
|
Calories:
52
kcal
|
Carbohydrates:
12
g
|
Sodium:
154
mg
|
Potassium:
47
mg
|
Sugar:
12
g
|
Vitamin A:
15
IU
|
Vitamin C:
1.7
mg
|
Calcium:
11
mg
|
Iron:
0.2
mg
Originally published on The Daring Gourmet April 9, 2017