The famous Japanese steakhouse sauce that's phenomenal for dipping, drizzling and enjoying with your grilled meats, seafood, vegetables, rice, noodles and more!  This homemade Yum Yum Sauce recipe is super quick and easy to make and tastes at least a hundred times better than store-bought, and without any junk ingredients!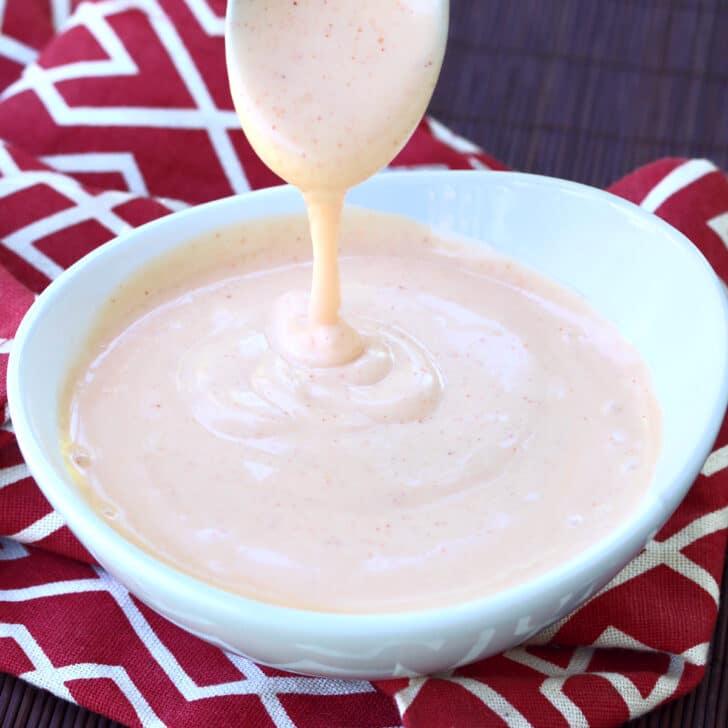 One of our favorite places to go for date night is our local Japanese steakhouse for a hibachi grill dinner.  Todd usually gets his standard, sushi, while I enjoy sampling the grilled chicken, vegetables, rice and noodles….all drizzled with the deservedly popular sweet and slightly tangy Japanese steakhouse sauce known affectionately as "Yum Yum Sauce."  Here's our homemade yum yum sauce that captures the flavor you know and love!
What is Yum Yum Sauce?
While this sauce is referred to as a Japanese steakhouse sauce, you won't find it in restaurants in Japan because it is an American invention.  But it is a key component to the Japanese restaurant experience in the United States and Canada.  It's uncertain who was the first chef to invent it but chef Terry Ho is credited with being the first to bottle and mass produce it.  He had been serving it at his Casual Japanese restaurant and it become so popular that he jumped on the opportunity to bottle it and make it commercially available.
This Japanese-American is also known as white sauce, shrimp sauce, hibachi sauce and yummy sauce.  But whichever name you know it by the consensus is that it is indeed YUMMY!  No Japanese steakhouse meal is complete without it – whether drizzled on grilled chicken, fried rice and noodles, vegetables and as a dipping sauce for shrimp, potstickers and sushi, it's simply delicious!
What to Serve with Yum Yum Sauce 
This sauce is extremely versatile and the flavors pair will a wide variety of foods.  It's similar to what's known in the U.S. as "Fry Sauce" (mayonnaise and ketchup) but with additional ingredients.  You could consider it fry sauce on flavor steroids!  Here are a few ways to use it:
As a dipping sauce for shrimp
Drizzled over fried rice and noodles
With grilled chicken, meat and seafood
Slathered on hamburger and hot dog buns
With French fries and sweet potato fries
As a dipping sauce for potstickers and wontons
As a vegetable dip
With sushi and rice balls
In pasta salads
In potato salads
As a salad dressing
On baked potatoes
Can Yum Yum Sauce Be Made in Advance?
Absolutely, in fact it's recommended for the best flavor.  At minimum it should be made 2 hours in advance but a day in advance is better.  Yum Yum Sauce will keep for up to a week in the fridge.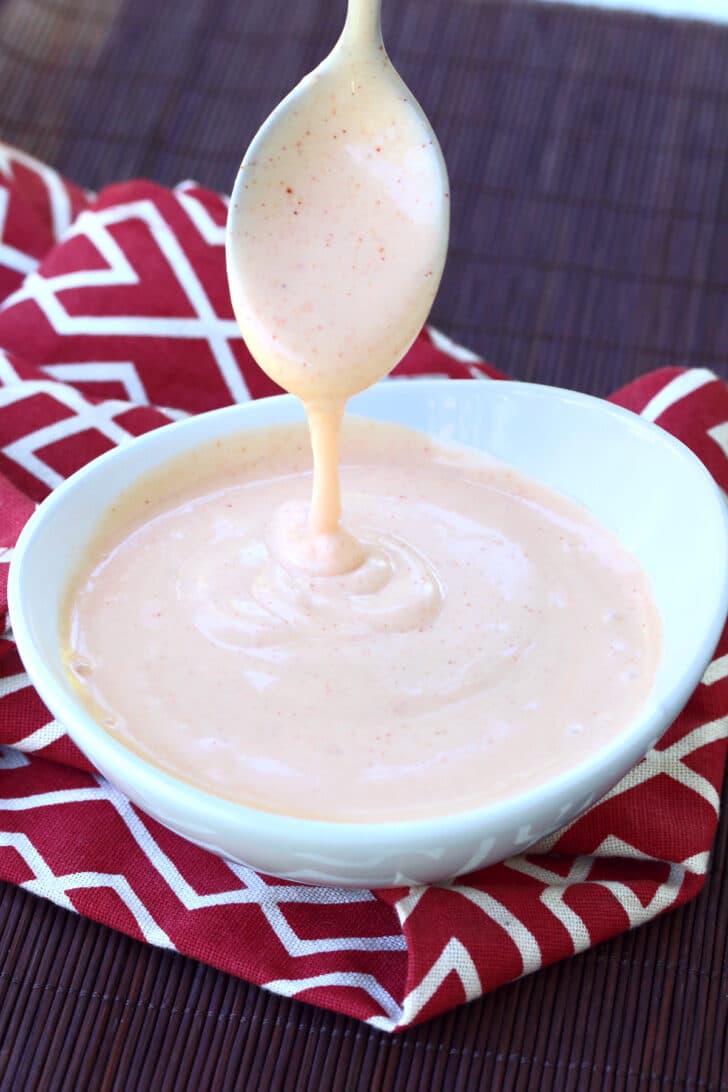 Yum Yum Sauce Ingredients
This popular sauce is fairly sweet with a slight bit of tang.  The main ingredients for yum yum sauce are standard but every Japanese chef uses different own ratios and some include their own special touches, so feel free to experiment.  We recently had the BEST hibachi sauce ever at our local Japanese steakhouse.  I asked the chef and he revealed his secret addition: Mirin.  It adds flavor and complexity and we're including it in our recipe.
Mirin is Japanese sweet rice wine used for cooking.  It's similar to sake but is sweeter and has a lower alcohol content.  If you don't have access to mirin you can substitute a dry sherry or white wine mixed with 1 teaspoon of sugar.
Our yum yum sauce ingredients include mayonnaise, sugar, butter, paprika, ketchup, rice vinegar, garlic powder, onion powder and mirin.  For a smokier version you can add a touch of smoked paprika.  And if you like a little heat add some hot sauce or cayenne pepper.  Go easy on the ketchup and the paprika as this sauce should be a very pale pink color (hint, it's sometimes also called white sauce).  That said, if your preference is darker feel free to add more.
As with most condiments you can buy this sauce in the store but let me tell you, NOTHING beats the flavor of homemade!
Yum Yum Sauce Recipe
Let's get started!
Place all of the ingredients in a small bowl, stir to thoroughly combine, cover and chill for at least 2 hours before using.  For best flavor results let it chill overnight to give the flavors more time to meld.  Store in an airtight jar in the fridge and it will keep for up to a week.
It's as easy as 1, 2, 3 and the result rivals your favorite hibachi restaurant yum yum sauce!
Enjoy!
For more delicious homemade Asian sauces be sure to try our: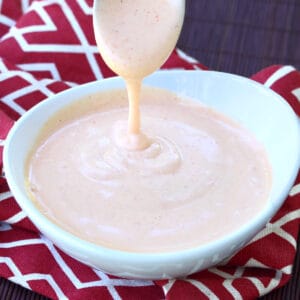 BEST Yum Yum Sauce
The famous Japanese steakhouse sauce that's phenomenal for dipping, drizzling and enjoying with your grilled meats, seafood, vegetables, rice, noodles and more!  Super easy to make and at least a hundred times better than store-bought!
Ingredients
1

cup

quality mayonnaise

1

tablespoon

ketchup

1

tablespoon

melted butter

1

tablespoon

mirin

2

teaspoons

rice vinegar

1/4

teaspoon

paprika

3/4

teaspoon

garlic powder

3/4

teaspoon

onion powder

1

tablespoon

granulated sugar

1-2

tablespoons

water

, or until desired consistency is reached

optional: a few splashes of hot sauce or cayenne pepper for a touch of heat

optional: a small pinch of smoked paprika for a hint of smokiness
Instructions
Thoroughly combine all the ingredients in a small bowl, cover and chill for at least 2 hours before serving. Preferably overnight for best flavor results.

Store in an airtight jar in the fridge where it will keep for up to a week.

Makes 1 1/4 cups
Video
Nutrition
Serving:
1
tablespoon
|
Calories:
78
kcal
|
Carbohydrates:
1
g
|
Protein:
1
g
|
Fat:
9
g
|
Saturated Fat:
2
g
|
Cholesterol:
6
mg
|
Sodium:
86
mg
|
Potassium:
5
mg
|
Sugar:
1
g
|
Vitamin A:
41
IU
|
Calcium:
1
mg
|
Iron:
1
mg
Originally published on The Daring Gourmet June 19, 2020