For an absolutely phenomenal homemade Teriyaki Sauce recipe, look no further!  Ready in 10 minutes, no junk ingredients, and crazy delicious – you'll never use store-bought again!  It's simply the BEST!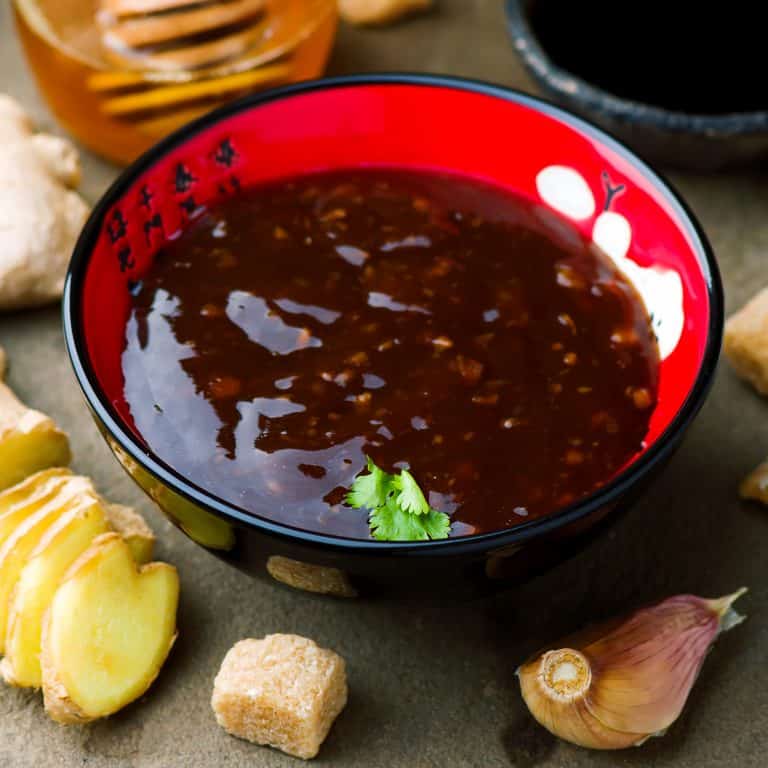 It happened one too many times.  I needed teriyaki sauce for a recipe and thought I had some on hand only to find – after all the other ingredients had already been prepped – that there wasn't any.  No doubt you can relate to this scenario, whether it's teriyaki sauce or some other condiment like tahini paste, black bean sauce, or hoisin sauce. So I whipped up my own homemade teriyaki sauce…and have never touched store-bought since!
Trust me, after making this teriyaki sauce recipe, you won't either.
This sauce is popular all around the world with its dark, bold, savory-salty-sweet flavor with lots of umami undertones.  Its primary ingredients include soy sauce, brown sugar, garlic, ginger, honey and mirin.
The word teriyaki refers to both a Japanese cooking technique as well as to the sauce.  It was developed in the 17th century and has become synonymous with Japanese cuisine, being served all over the world.  The term teri in teriyaki refers to the aesthetic shine on the food created by the sugar content in the sauce, while yaki refers to the method of grilling.  With its shiny luster and robust flavor, teriyaki sauce is a natural pairing for grilled foods.
How To Use Teriyaki Sauce
Quick and easy to make, this sauce is as versatile as it is delicious.  Use it as a sauce or as a marinade (simply omit the cornstarch).  You can use it for beef, chicken, fish and seafood, as a glaze, for barbecuing, in Asian salad dressings, in noodle dishes, stir-fries and more.
Teriyaki sauce is a versatile and flavorful Japanese sauce that can be used in various ways to add a sweet and savory taste to your dishes. Here are some common ways to use teriyaki sauce:
Marinating Meat, Poultry, Seafood or Tofu:  Simply omit the cornstarch and use this sauce as a marinade.  Place the protein in a ziplock bag, pour in the sauce, and allow it marinate for at least 30 minutes before cooking.
Grilling:  Brush this sauce onto your proteins or veggies to create a delicious caramelized glaze.
Stir-Fies:  This makes an excellent base sauce for stir-fries of all kinds.
Baked Chicken, Pork, Salmon or Tofu:  Slather this on and bake to create a delicious sticky glaze.
Dipping Sauce:  This makes a great dipping sauce for sushi, spring rolls, dumplings, tempura, or other appetizers.
Bowl or Rice Topping:  Drizzle it over your rice bowls with your grilled teriyaki chicken, pork, beef, salmon or tofu and some steamed or stir-fried veggies.
Glaze for Roasted Vegetables: Brush some of this sauce onto roasted vegetables for a sweet and savory glaze.
Sandwiches, Wraps or Burgers:  This adds a burst of flavor to your favorite sandwiches and burgers.
Noodles:  Add a drizzle of teriyaki sauce to noodle dishes, such as udon or soba, and toss to coat.
Salad Dressing:  Combine the teriyaki sauce with some oil, vinegar or lemon juice, and a little sesame oil for a unique and flavorful salad dressing.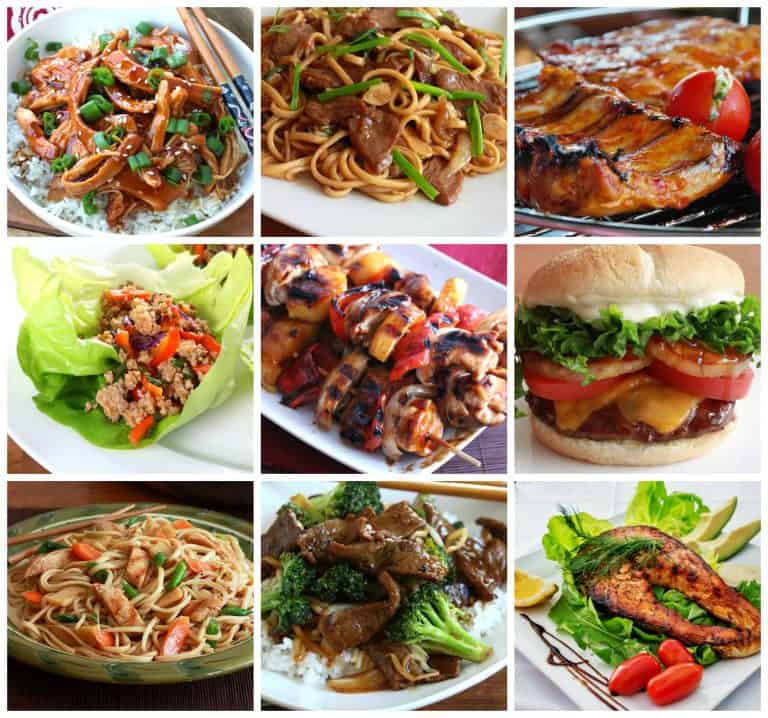 Can I Use It As a Marinade?
Absolutely.  Simply omit the cornstarch, let the sauce cool completely, and you've got the perfect teriyaki marinade!
Wonderfully versatile, this is a sauce you can whip up quickly in a pinch to boost the flavor of your Asian-inspired dishes.
Teriyaki Sauce Recipe
This is a super quick and easy sauce to make, all you have to do is:
Combine the soy sauce, brown sugar, ginger, garlic, honey, sesame oil, mirin and water mixed with cornstarch together in a bowl
Transfer the mixture to a small saucepan and simmer for about 4 minutes until thickened.
Your sauce is ready!
You can use it right away or store it in the fridge for up to a couple of weeks.  And the flavors will get even better over time.  Enjoy this fantastic best homemade teriyaki sauce in the dish of your choice!
Ready in less than 10 minutes, thoroughly delicious and free of fillers or junk ingredients, there simply is no good reason to EVER use store-bought again!
Enjoy!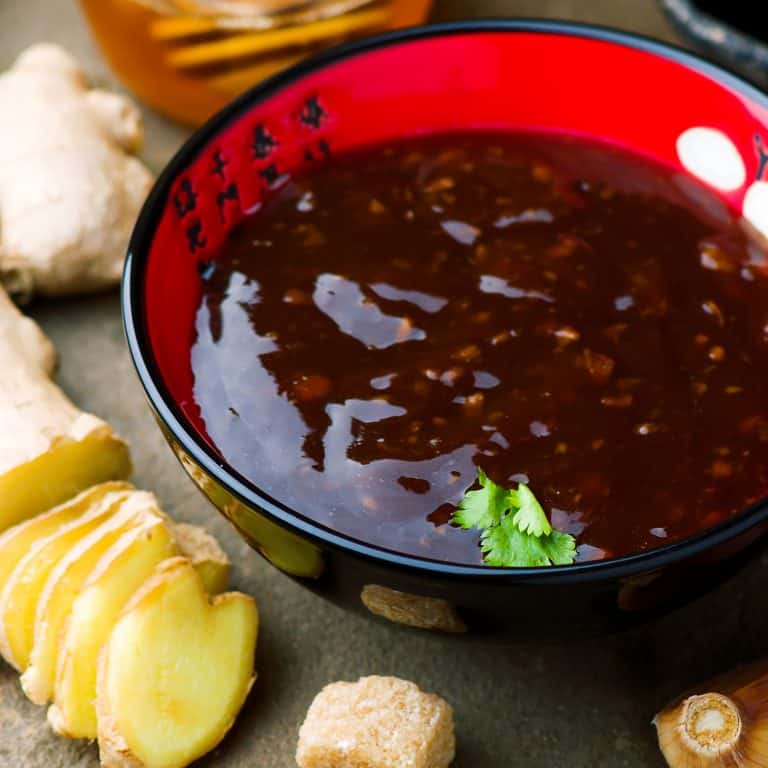 Be sure to try these other fabulous homemade sauces!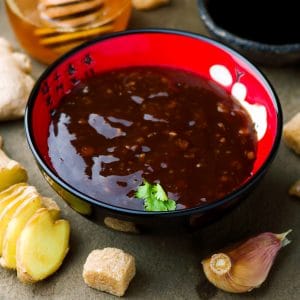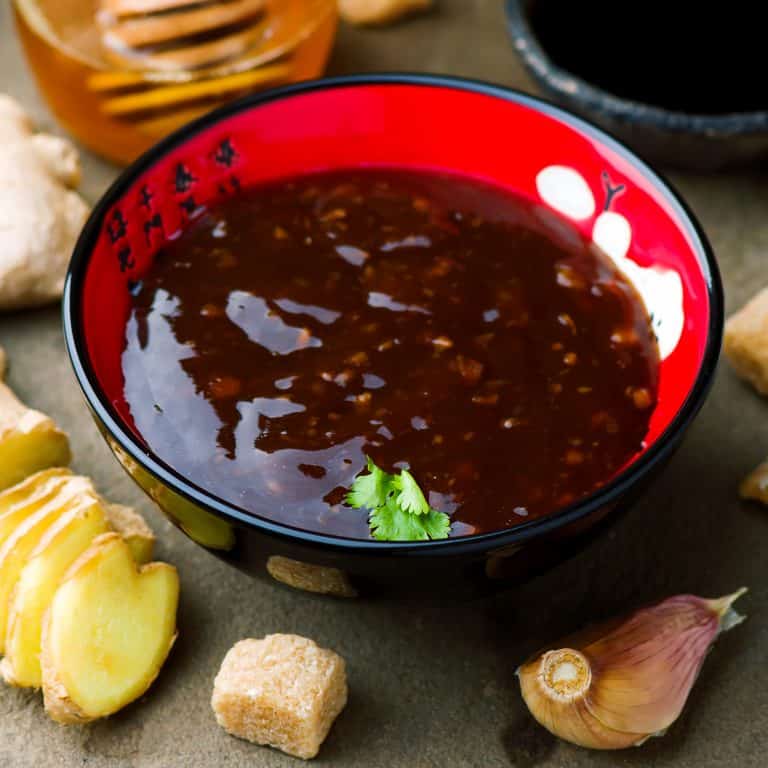 BEST Teriyaki Sauce
The best homemade teriyaki sauce recipe EVER! You'll never get store-bought again!
Ingredients
1/2

cup

tamari

, can substitute low sodium soy sauce. Note: tamari has more flavor than soy sauce and significantly less sodium.

1/4

cup

brown sugar

see brown sugar alternative

(for low sugar option)

1 1/2

teaspoons

fresh ginger

,minced

1

teaspoon

garlic

,minced

1

tablespoon

honey

(Vegans: use agave nectar or sweetener of choice)

1

teaspoon

sesame oil

3

tablespoons

mirin

(see note)

1/4

cup

water mixed with 3 teaspoons cornstarch
Instructions
Combine all ingredients in a small saucepan, bring to a boil, reduce heat and simmer for about 4 minutes. Remove from heat and let cool.

Store in the fridge for up to a week. Makes about 1 1/4 cups teriyaki sauce.
Video
Notes
Mirin is a sweet Japanese rice wine, similar to sake but with a lower alcohol content and higher sugar content. If you don't have mirin, you can use sherry with a pinch of sugar added to it.
NOTE:  If using as a marinade omit the cornstarch and let the sauce cool completely before using.
Nutrition
Calories:
48
kcal
|
Carbohydrates:
10
g
|
Protein:
1
g
|
Sodium:
574
mg
|
Potassium:
26
mg
|
Sugar:
7
g
|
Vitamin C:
0.1
mg
|
Calcium:
6
mg
|
Iron:
0.3
mg
Originally published on The Daring Gourmet May 27, 2013