Benihaha Ginger Sauce Recipe (Copycat).  Enjoy your favorite Japanese steakhouse experience right at home with this fresh and zingy homemade ginger sauce.  Drizzle this over or mix it in with your fried rice, grilled veggies, or use it as a dipping sauce.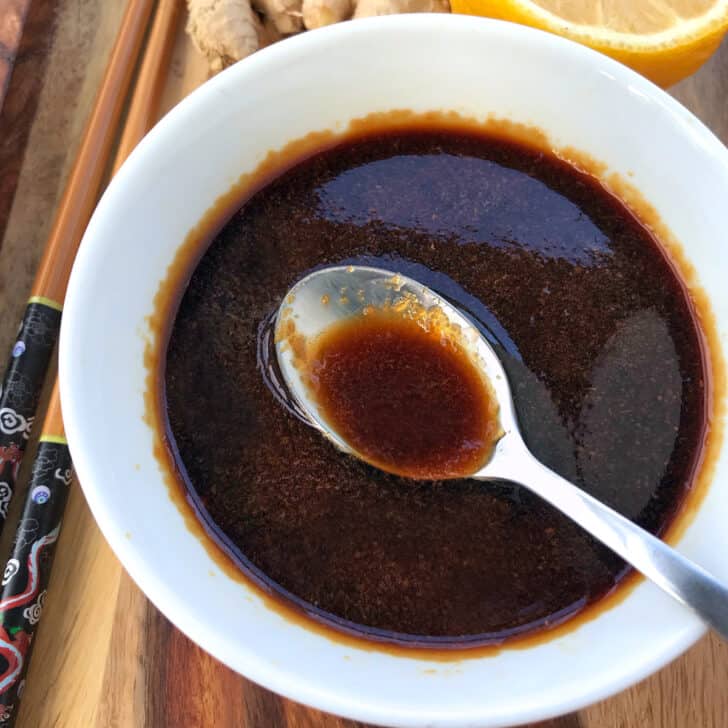 What is Ginger Sauce?
If you've been to a Japanese steakhouse before, you probably already know how irresistible ginger sauce is.  If not, you're definitely in for a treat. When I make a hibachi style dinner at home, I dip practically everything into this mouthwatering sauce. I think the perfect bite of hibachi is 50% meat, 50% ginger sauce.  Okay, maybe that ratio is slightly off but you know what I mean…it's THAT good!  
Hibachi cooking originated in Japan where the first modern hibachi restaurant opened in the 1940's.  A couple of decades later, in the 1960's, hibachi found its way to the United States and it has been wildly popular ever since, taking a prominent seat in American restaurant culture.  Both Ginger Sauce and Yum Yum Sauce are the most popular Japanese steakhouse hibachi sauces.  If you've been to the the popular Benihana Japanese Steakhouse chain you'll know that their ginger sauce is their #1 requested sauce.  
The ingredients in this copycat Benihana ginger sauce recipe are simple, fresh, and simply incredible when they're all blended together.  It's made with just 6 ingredients that may already have on hand and it's whipped up in just a matter of seconds.  Once you make a batch at home, you'll see why I'm singing the praises of this sauce!
This ginger dipping sauce recipe is also vegan friendly.  You don't need shrimp or steak to dip into it, either. You can mix this sauce in with your fried rice, noodles, hibachi grilled vegetables, etc, or use it as a dipping sauce for your veggie egg rolls.  
How to use Ginger Sauce
There are a number of ways you can enjoy this delicious Japanese steakhouse ginger sauce. While I love using mine to dip in hibachi cooked steak, chicken, pork, shrimp, and grilled veggies, you can also use it as a dipping sauce for wontons, potstickers, egg rolls, and sushi. It's also great drizzled over rice and noodles.  Or spoon some onto salmon steaks and then bake or grill them. 
And if you want to elevate your salad skills, use this sauce as a dressing over your favorite leafy greens.  Just add some oil to it, give a thorough shake, and pour.  It's a great way to add flavor and zing to your salads!
Ginger Sauce Recipe
Let's get started!
As previously mentioned, this homemade ginger sauce can be made in just a few minutes. You might already have some of the ingredients on hand and the cleanup afterwards is also quick and easy. 
To make this sauce, you just need to place everything into a blender and then blend it all together until it's smooth.  That's all there's to it!
Store it in an airtight jar in the fridge where it will keep for up to 5 days.
Ingredient Notes:
 If you want the ginger to be less pronounced, you can use less than what the recipe calls for. If you really want the ginger to stand out, use a little bit more.

You can substitute low sodium soy sauce for the tamari but we highly recommend using tamari.  Tamari has a richer, deeper, more complex flavor than soy sauce and so is particularly suited for dipping.   

The brown sugar provides a nice balance of sweetness to spicy zing of the ginger but it is entirely optional.
Be sure to try these other delicious Asian sauces: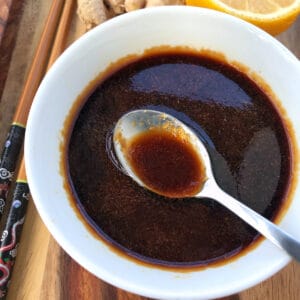 Ginger Sauce (Japanese Steakhouse)
Enjoy your favorite Japanese steakhouse experience right at home with this fresh and zingy homemade ginger sauce!
Ingredients
1/2

cup

chopped yellow onion

1 1/2

tablespoons

chopped fresh ginger root

, peeled (use more or less depending on strength preference)

1/3

cup

tamari

(highly recommended for the best flavor, but can substitute low sodium soy sauce)

3

tablespoons

rice vinegar

zest and juice of one lemon (1 1/2-2 tablespoons juice)

2

teaspoons

brown sugar

(optional)
Instructions
Place everything in a blender and blend until smooth. 

Store in a sealed jar in the fridge for up to 5 days. 

Makes about 3/4 cup ginger sauce.
Nutrition
Serving:
2
tablespoons
|
Calories:
16
kcal
|
Carbohydrates:
2
g
|
Protein:
2
g
|
Fat:
1
g
|
Saturated Fat:
1
g
|
Sodium:
721
mg
|
Potassium:
54
mg
|
Fiber:
1
g
|
Sugar:
1
g
|
Vitamin A:
1
IU
|
Vitamin C:
1
mg
|
Calcium:
6
mg
|
Iron:
1
mg