This spicy and incredibly flavorful Jamaican Jerk Sauce recipe will transport you to the sunny heart of the Caribbean!  Quick and easy to make and irresistibly delicious on chicken, pork, beef, fish, seafood, tofu, and grilled veggies!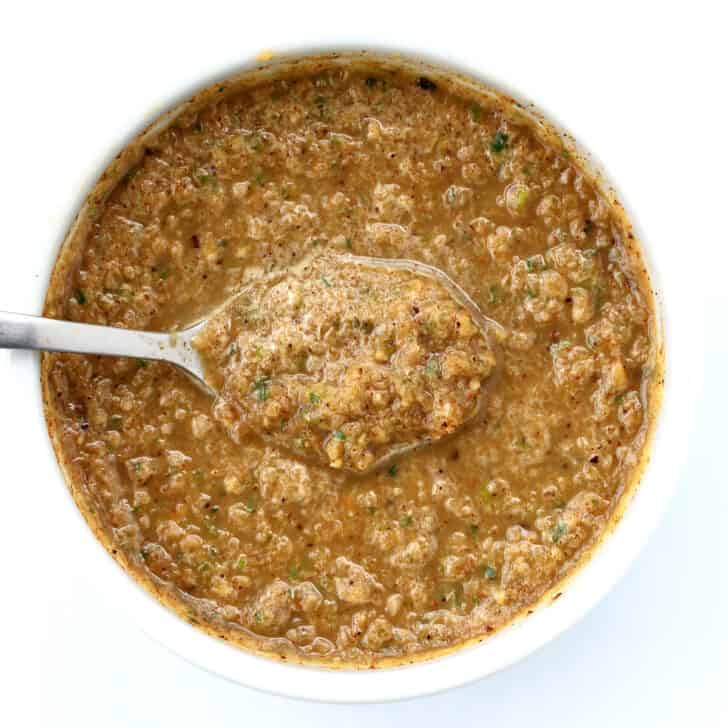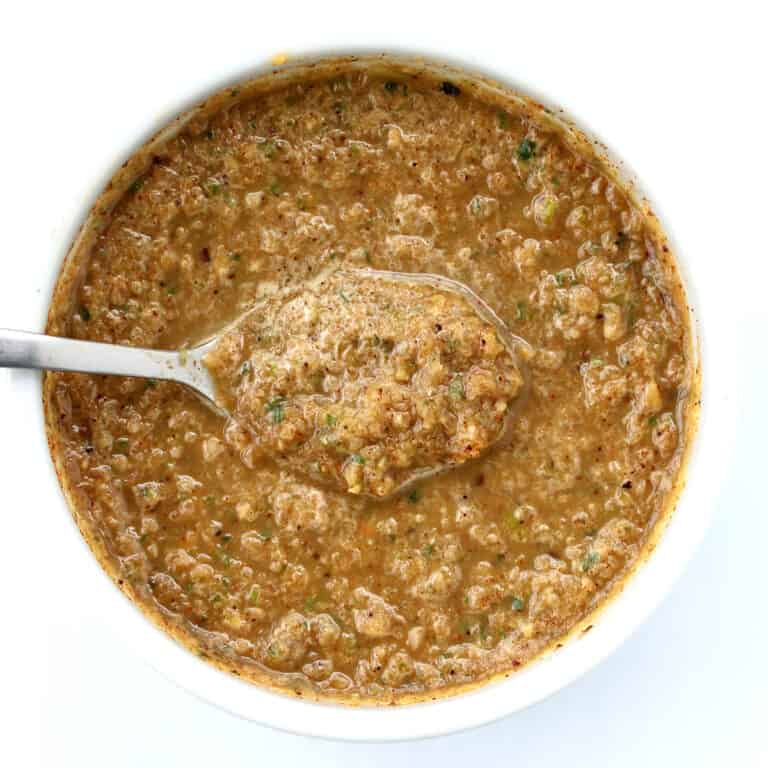 What is Jerk Sauce?
If you've never had Jamaican Jerk style chicken, pork, or seafood, you're really missing out! Luckily for you, I've created an easy to follow recipe that is savory and delicious. If you're like me, and you find yourself craving the mouthwatering flavors of Jamaican Jerk, you've definitely come to the right place!
From the Caribbean island nation of Jamaica, "jerk" is a term that refers to both the cooking method of slow roasting meat over a fire as well as to the sauce/marinade and seasoning rub.  Jerk marinade or sauce are used to season the meats and consist of allspice, onions, garlic, Scotch bonnet peppers, soy sauce, brown sugar, ginger, cinnamon, nutmeg, cloves, and thyme.   These spices are also commonly used as a dry rub known as Jamaican jerk seasoning. 
I'm thoroughly in love with the flavors of this Caribbean cuisine and this jerk sauce recipe really captures the authentic flavors of traditional Jamaican cooking.  
Trust me, once you've marinated your choice of meat in this jerk sauce, you'll find yourself craving this cuisine and coming back for more! Jerk sauce makes each bite of meat more flavor-packed than the last. There are so many flavorful spices and ingredients that go into this Caribbean jerk sauce that it's truly an unforgettable experience for the taste buds!
How to Use Jerk Sauce 
The options are pretty limitless!   Jerk sauce can be used to marinate just about any meat you'd like. Chicken, beef, fish, shellfish, pork, sausages, and even tofu, can all be soaked in this Jamaican sauce, and the result will be delicious every time! Make sure you marinate the meat in the fridge for at least 8 hours, preferably overnight, that way the flavor really has time to settle in and pack a punch.  You can also baste use this delicious sauce to baste grilled or roasted vegetables.
Be sure to check out our recipe for the ever popular Jerk Chicken!
Jamaican Jerk Sauce Recipe
This unforgettable sauce can be whipped up in just a few minutes. Easy, delicious, and quick  – what's not to love?
A quick note before we begin:  Jerk is VERY heavy on allspice.  It's the central ingredient in jerk.  I always say that Jamaican's use allspice the way Hungarians use paprika:  Not by the teaspoon but by the handful!  Compared to what you'll typically find in Jamaica, this recipe tones down the allspice but it contains more than many recipes you'll find online.  Experiment to find your own preferred flavor balance.
Let's get started!
To make this Jamaican Jerk Sauce, simply place all of the ingredients in a food processor or blender. Then, pulse the ingredients until you reach the desired consistency (generally jerk sauce is a smooth but slightly chunky sauce but you can opt for a chunkier sauce or a smoother sauce depending on what you're using it for).  That's all there is to it!
Note about Hot Peppers:  If you really want to turn up the heat, add another scotch bonnet or habanero pepper. Just be careful because they're HOT!   Scotch bonnet peppers are a bit hotter than habaneros (and also have more flavor), so adjust accordingly. Remember, you can always add more pepper, but you can't take it out once it's blended in!
Want to make more delicious homemade sauces?  Be sure to try these favorites: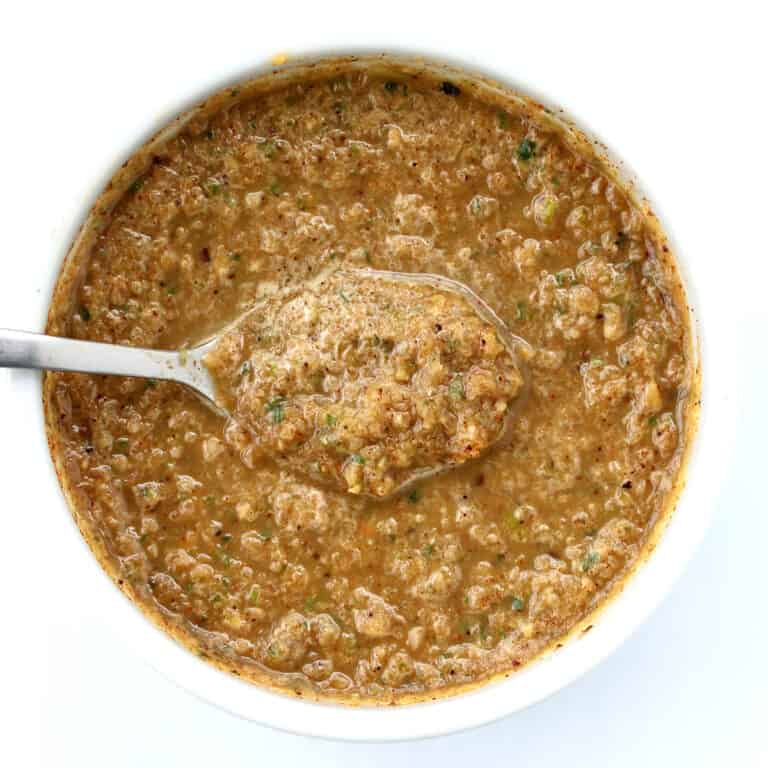 Jamaican Jerk Sauce
This spicy and flavorful Jamaican Jerk Sauce will transport you to the sunny heart of the Caribbean!
Ingredients
1

medium to large yellow or red onion

, roughly chopped

4

green onions (scallions)

, roughly chopped

5

cloves

garlic

, peeled

1

inch

piece fresh ginger root

, peeled and sliced

1

Scotch bonnet or habanero pepper

(use more if you like it REALLY hot, omit or only use a portion if you don't like a lot of heat)

1

tablespoon

neutral tasting oil

(e.g. avocado, canola, peanut)

2

tablespoons

soy sauce

3

tablespoons

freshly squeezed lime juice

1

tablespoon

apple cider vinegar

2

tablespoons

brown sugar

1

tablespoon

honey

1

tablespoon

fresh thyme leaves

(or 1 teaspoon dried)

1

tablespoon

ground allspice

1

teaspoon

ground cinnamon

1/4

teaspoon

ground nutmeg

1/8

teaspoon

ground cloves

2

teaspoons

salt

1

teaspoon

freshly ground black pepper
Instructions
Place all of the ingredients in a food processor or blender, then pulse the ingredients until you reach the desired consistency. (Generally jerk sauce is a smooth/slightly chunky sauce but you can opt for a chunkier sauce or a smoother sauce depending on how you prefer it). Store in the fridge in an airtight jar where it will keep for up to a week.

Makes approx. 1 1/2 cups
Nutrition
Serving:
2
tablespoons
|
Calories:
36
kcal
|
Carbohydrates:
6
g
|
Protein:
1
g
|
Fat:
1
g
|
Saturated Fat:
1
g
|
Trans Fat:
1
g
|
Sodium:
479
mg
|
Potassium:
60
mg
|
Fiber:
1
g
|
Sugar:
4
g
|
Vitamin A:
82
IU
|
Vitamin C:
5
mg
|
Calcium:
19
mg
|
Iron:
1
mg
Originally published on The Daring Gourmet February 4, 2021